Considering using PowerPack Addons? But confused if PowerPack is the best addon for Elementor page builder.
In this article, we'll take an in-depth look into the PowerPack features, widgets, and what makes it one of the best Elementor add-ons available in the market.
So without any further ado, let's dig in!
What Are Elementor Addons?
Elementor add-ons are WordPress plugins specifically designed to enhance & accelerate the functionality of the Elementor page builder.
Indeed Elementor is the most popular and user-friendly WordPress page builder that provides all essential features required to create better-functioning WordPress sites; still, there are some places where Elementor lacks.
For instance, it's not a simple process for non-technical users to add advanced styling to the page elements using the built-in functionality of Elementor. The customization process requires you to have advanced CSS & HTML knowledge.
But to provide Elementor users more control over styling features, many WordPress plugin development companies come with a solution: Addons for Elementor.
There are plenty of third-party Elementor addons available with some unique features and impeccable styling options. But what makes PowerPack different from the other Elementor add-ons?
Let's check it out!
Why PowerPack Is the Best Addon for Elementor Page Builder?
PowerPack is one of the best addons for Elementor. It comes with 80+ creatively designed widgets and 200+ pre-built page & section templates, making your website designing and development process much easier & faster.
Top Features of PowerPack Elementor Addon
We have compiled a complete list of the top key features of PowerPack Addons. Let's check it out:
🔥 Unique, Creative & Essential Widgets
PowerPack Addons includes a wide range of unique, creative & essential Elementor widgets that helps you improve your site designing and developing workflow using Elementor and WordPress.
In the unique widgets list section, you'll find options to create magazine sliders, content tickers, recipe pages, etc.
Talking about the creative widget list, you'll get options to display timelines, image accordions, card sliders, and much more using Elementor.
Dividers, headings, and buttons are some of the essential features of any web page. While designing websites, the page designers sometimes ignore the styling aspects of these elements.
In the essential widget section, you'll find a list of PowerPack widgets that help you design the essential web page elements, such as CTA buttons, dividers, headings, and more.
⚙️ Fully Customizable
All PowerPack widgets come with multiple customization options. You can alter each widget's settings and customize them as per your web page design requirements.
🧑‍🚀 Lightweight, Faster & User Friendly
PowerPack Addons for Elementor provides users with complete flexibility to design advanced page elements without coding. Thus PowerPack widgets are completely user-friendly.
Also, PowerPack widgets boast superior code quality optimized for web performance. Minimal usage of external scripts helps you maintain loading time for your WordPress websites.
🎨 Extensive Styling Features
Almost all of the Elementor widgets in PowerPack come with impeccable styling options. The options include customizing color and altering typography and padding, and margins. You can use these styling options by simply clicking a few buttons.
💻 Professional Support
PowerPack comes with a team of coding experts who work diligently to solve PowerPack users' queries.
Is There a Free Version of PowerPack Addons for Elementor?
Yes, PowerPack Lite is the free version of PowerPack Addons. You can download the Free version of PowerPack from the WordPress repository.
The lite version of PowerPack has 30+ Elementor widgets and powerful extensions that you can use to create creative elements on your WordPress sites – without spending a single penny and without writing a single line of code!
PowerPack Lite has 70,000+ Active Installs and 200+ five-star ratings. If you're on a tight budget and looking for a free Elementor addon option, PowerPack Lite is your best choice.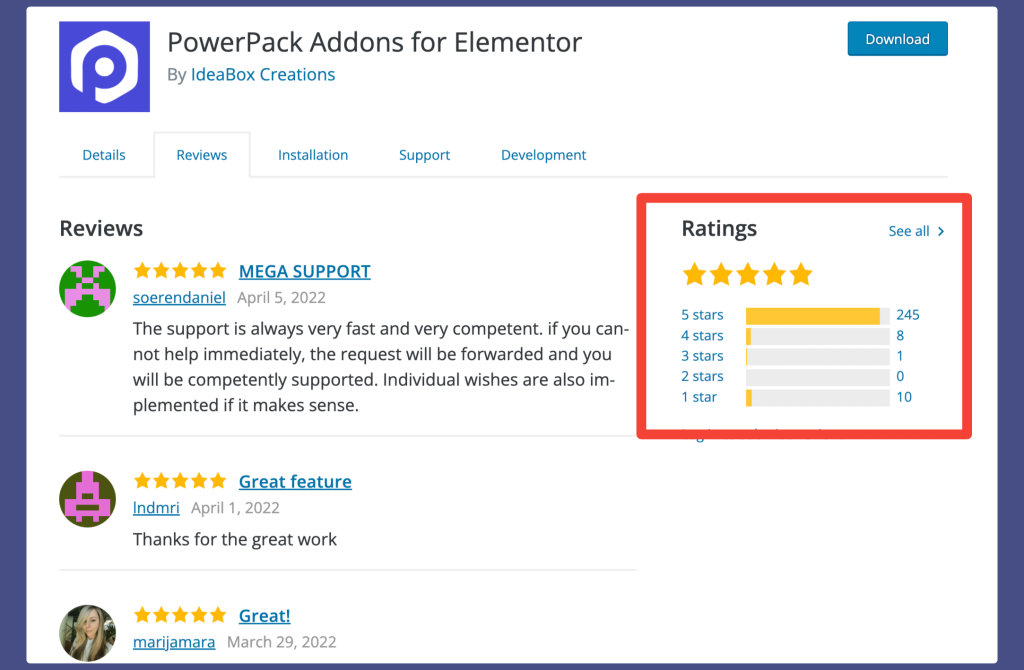 PowerPack Addons for Elementor Lite – Features
Let's check out the complete widget list you get with PowerPack Lite.
Content Widgets
Business Hours Widget: Displays a business's opening and closing hours with various styling options.
Counter Widget: This widget displays important information and business achievements on your WordPress website.
Divider Widget: This widget allows you to break up your content into stylish sections with fancy dividers.
Dual Heading Widget: Create custom dual headings on your page with this widget.
Icon List Widget: This content widget lets you display a list of features with icon fonts or bulleted list numbers.
Info Box Widget: Create beautiful content blocks with icons, headings, descriptions, and call-to-action buttons by using this widget.
Info Box Carousel Widget: A widget that lets you create a slide show of your info box content.
Info List Widget: A widget that allows you to display product features and services with icons and descriptions
Info Table Widget: Design beautiful info boxes with icons, headings, descriptions, and links.
Link Effects Widget: This widget uses this widget to create stylish and attractive links with various hover effects.
Logo Grid Widget: This widget displays clients' or partners' logos in a grid.
Logo Carousel Widget: Showcase client and partner logos in a slider.
Price Menu Widget: Display the price of products or create a menu for a restaurant or service.
Pricing Table Widget: Display pricing packages in a variety of styles.
Promo Box Widget: Create eye-catching promotional banners.
Team Member Widget: Take advantage of this widget to showcase your team's expertise.
Team Member Carousel Widget: Showcase your team members in an elegant carousel.
Advanced Accordion Widget: Create advanced accordions and allows users to toggle between a large amount of content.
Flip Box Widget: Add dual-side content on info boxes with flip animations.
Content Ticker Widget: Display updates, popular news, or messages in the news tickers like panels.
Buttons Widget: Decor your CTA buttons with impressive styling options.
Posts Widget: Create attractive blog post layouts using the advanced posts widget.
Content Reveal Widget: Display more content in less space to organize the layout of your page. The Content Reveal widget lets you reveal additional information with a single button click.
Elementor Contact Form Stylers

Contact Form 7 Styler: Customize Contact Form 7 with Elementor to fit your website design needs.
Also Read: How to Customize Contact Form 7 with Elementor.
Gravity Forms Styler: Style Gravity Forms using Elementor with easy customization options.
Ninja Forms Styler: Style Ninja Forms through Elementor using various customization options.
WPForms Styler: Customize WPForms in Elementor with a wide range of options.
Fluent Forms: Easily style default Fluent form with Elementor.
Formidable Forms: Customize plain-looking Formidable Forms using Elementor without any code.
If you're looking for a way to style custom WPForms with Elementor, check out our detailed article on how to style WPForms with Elementor.
Elementor Image Widgets
Image Hotspots Widget: This widget allows you to display product features, create virtual tours, and display information interactively and easily.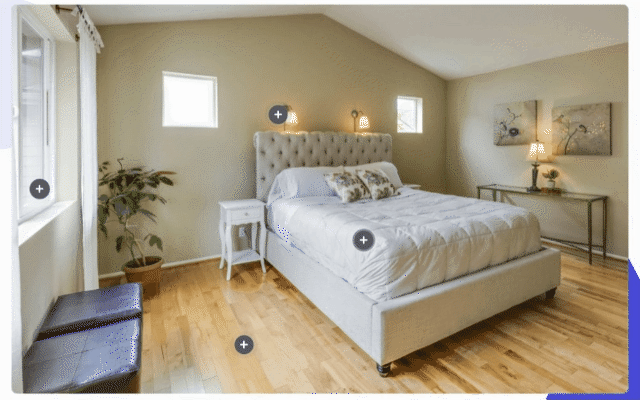 Image Comparison Widget: You can use this widget to compare before and after images.
Image Accordion Widget: This allows users to switch between image panels.
Scroll Image Widget: Add smooth vertical and horizontal scroll effects on the image.
Random Image Widget: Show a random image from a collection of photos.
Heading Widgets
Fancy Heading Widget: Set up stylish headings on your Elementor website with gradient fill and background clipping options.
Dual Heading Widget: Create custom dual headings on your page with this widget.
Social Media Feed Widget
Instagram Feed Widget: This widget lets you create an Instagram gallery on your website with several impressive options.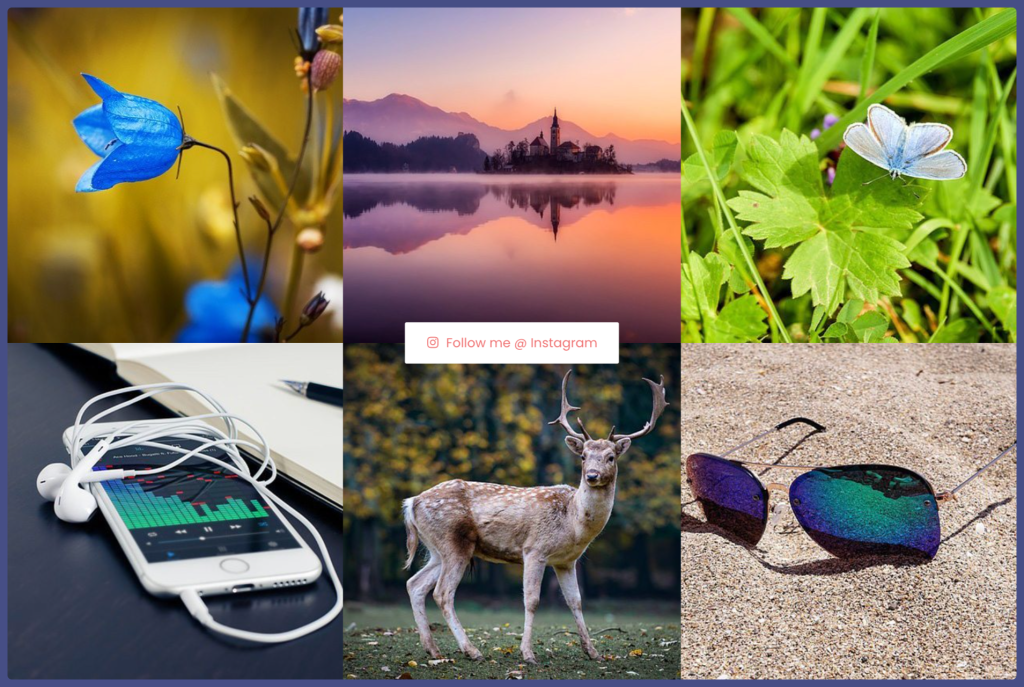 Twitter Widget: Embed Twitter tweets, follow buttons, embedded grid, and timeline.
Looking for a simple way to display your Twitter feed on WordPress with elementor, do check out our post on how to add a Twitter feed to WordPress with Elementor.
Creative Extensions for Elementor – Free
Display Conditions: PowerPack Display Conditions for Elementor is truly a revolutionary feature for WordPress. It allows you to restrict page content for a particular group of visitors. For instance, you can only display page content to logged-in users or to users using a specific operating system. Even you can display content based on a particular browser or to the visitors depending on its user roles like administrator, subscriber, author, visitor, etc.
Animated Gradient Background: This feature lets you add fantastic and eye-catching animated backgrounds to your web pages' sections and columns.
Wrapper Link: Wrapper Link feature, as the name suggests, allows you to add a hyperlink to any widget, column, or section of your Elementor website.
These are some of the PowerPack features that you get absolutely free of cost.
PowerPack Addons for Elementor – Reviews by Real Customers
We might sound biased, so let's see some reviews by PowerPack customers.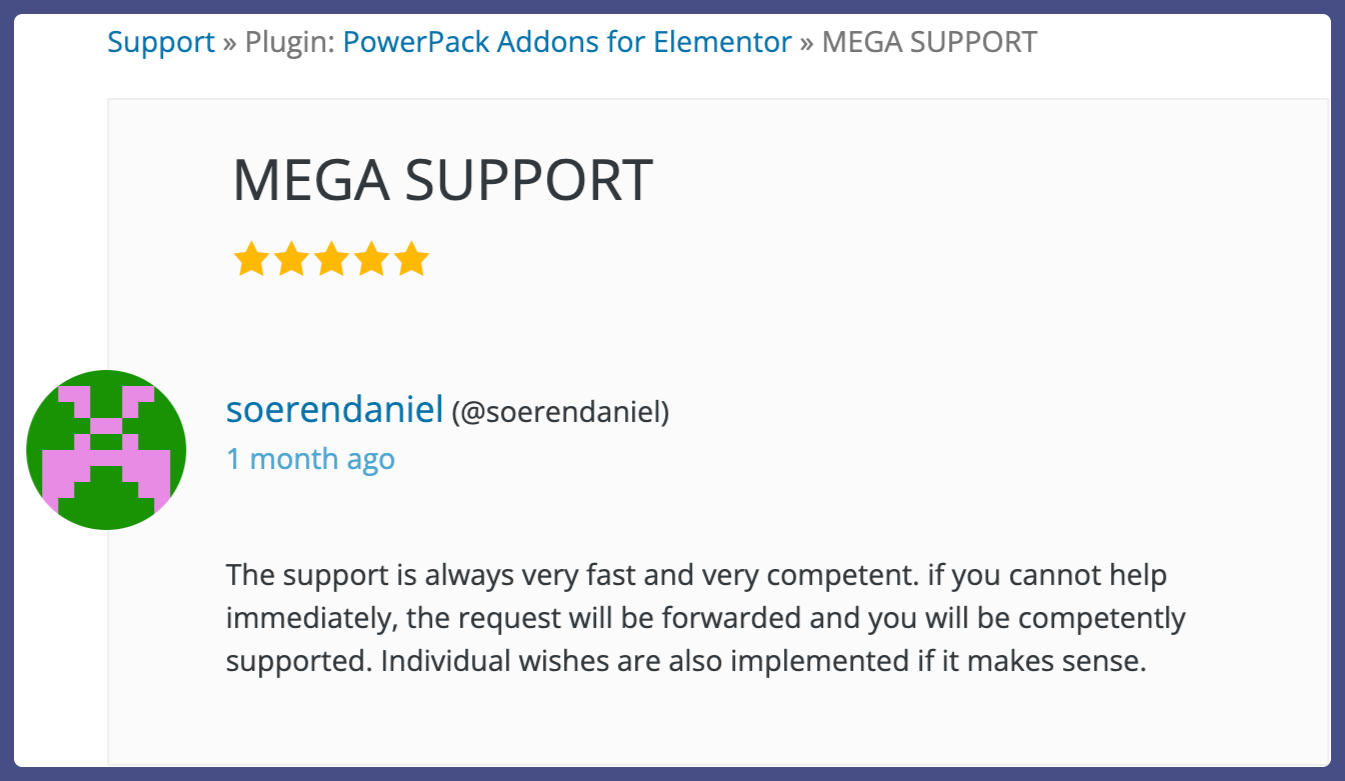 PowerPack Addons For Elementor Pro – Features
Though the PowerPack Lite includes advanced widgets to fulfill all the basic functionality, if you want to spice up your website look with creative elements such as modal popups, countdown timers, and off-canvas menus, do consider using the Pro version of PowerPack Addons.
Let's check out what you get with the Pro version of PowerPack Addons for Elementor.
Creative Widgets
Image Gallery Widget: The Image Gallery widget of PowerPack lets you create advanced filterable WordPress image galleries using Elementor.
Image Slider Widget: Create a stunning slideshow or carousel of images with numerous customization options
Off-Canvas Content Widget: You can create beautiful fly-out content panels on your sites using the Off-Canvas Content widget.
Advanced Menu Widget: Build advanced off canvas & full-screen overlay menus on your WordPress website.
Want to provide your site visitors with an easy navigation experience? Learn how to create a navigation menu with Elementor for more details!
Content Toggle Widget: Add content toggle to display two to create an easy comparison between two content types
Table Widget: Build data tables in WordPress with custom data or import CSV files.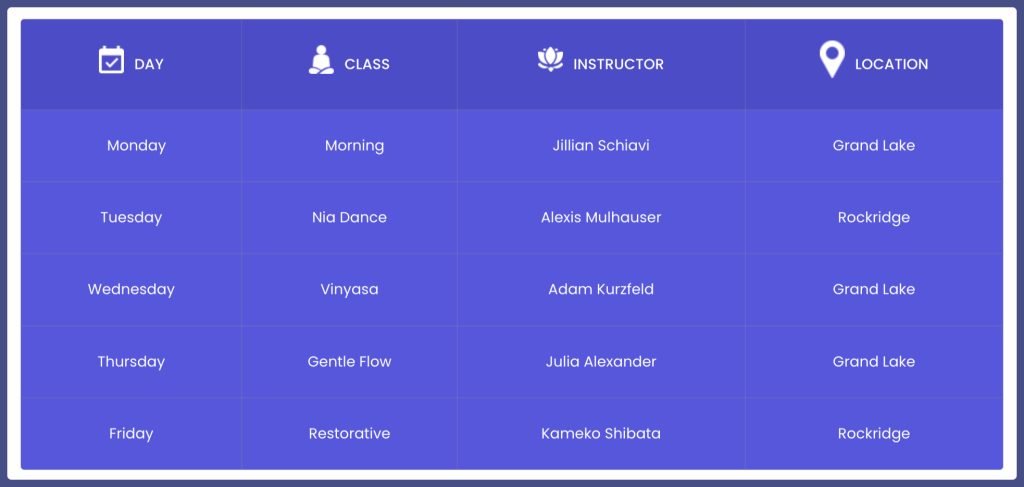 Google Maps Widget: Embed Google Maps on WordPress sites with multiple pin locations.
Advanced Tabs Widget: Create advanced tabs to showcase multiple content types. Either add custom content or fetch a saved template.
Timeline Widget: Showcase content in horizontal or vertical timelines.

Video Widget: Embed videos from multiple video sources and display them on WordPress sites without affecting page loading speed.
Video Gallery Widget: Add a video gallery with customized filter options.
Album Widget: Add beautiful photo albums with impressive styling effects.
Advanced Posts Widget: Create stylish blog archive page layouts with the Elementor Posts widget.
Unique Widgets
One Page Navigation Widget: Using the One Page Navigation widget, you can create fast-loading and impressive one-page websites using Elementor.
Showcase Widget: Add a beautiful showcase of images, videos, and posts on your Elementor websites.
Card Slider Widget: Showcase featured posts, announcements, latest posts, and custom content in a card slider format.
Tiled Post Widget: Create a beautiful magazine-style layout with a Tiled Post widget.
Magazine Slider Widget: Using the Magazine Slider widget, you can create a beautiful magazine layout for your blog post display.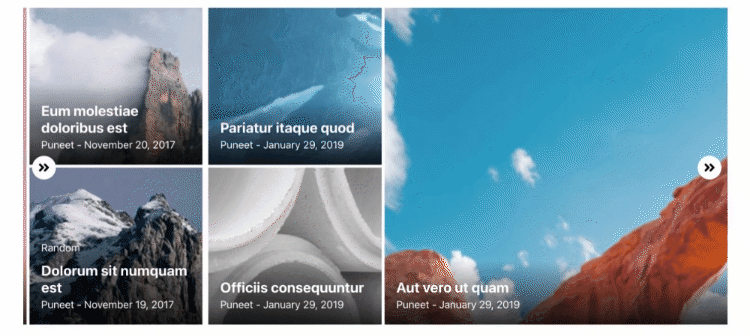 Categories Widget: With the Categories widget, you can create categories for posts, products, and any custom taxonomy.
Marketing Widgets
Countdown Timer Widget: Create urgency on your site by displaying fixed or evergreen countdown timers.
Popup Box Widget: Create modal popups of custom content, images, videos, forms, and any saved template with various trigger options – auto-load, on-click, or exit intent.
Coupons Widget: Add customized and eye-catching coupons to display special offers, discounts, and deals.

SEO Widgets
FAQ Schema Markup Widget: The PowerPack FAQ widget comes with a built-in schema markup functionality that allows you to add a search engine-optimized FAQ page easily.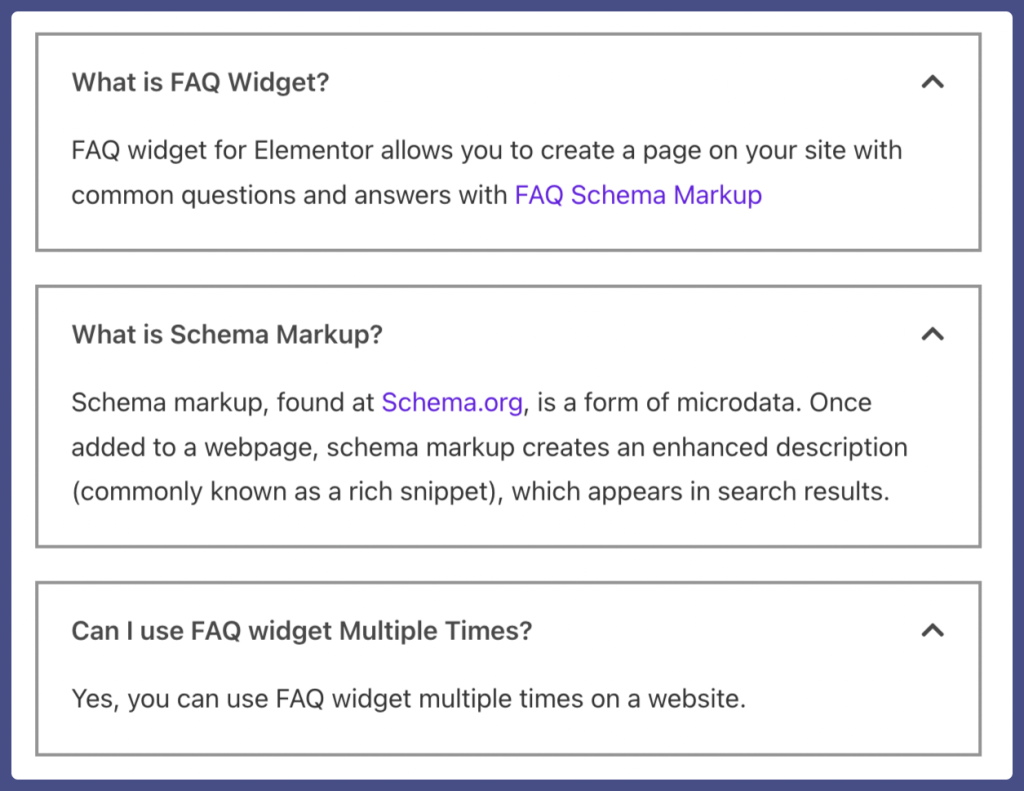 How-to Schema Markup Widget: With the How-To widget, you can easily create How-to Guides, Tutorials, and walk-throughs. Also, the built-in schema markup functionality tells SERPs the content on the page is How-To.
Breadcrumbs Widget: Add breadcrumbs to pages to provide your visitors with an easy site navigation experience.
Table of Contents Widget: The Table of Contents automatically scans your web page/post and creates a table of contents. You can make a sticky or fixed table of contents for your blog/page.
Sitemap Widget: Using the sitemap widget, you can present the complete hierarchy of your WordPress website.
Also Read 5 Best Free SEO Plugins for WordPress.
WooCommerce Widgets for Elementor – Pro
Including all the content widgets, PowerPack also provides a wide range of WooCoomerce widgets that help you enhance the built-in functionality of custom WooCoomerce widgets.
For instance, you can customize the WooCommerce checkout page, add a stylish cart button, create a grid or carousel of product categories, and more.
So, if you're looking for tools to customize your eCommerce store using Elementor, PowerPack has you covered!
WooCommerce Product Grid Widget: The Woo Product Grid widget helps you create a beautiful product display on your WordPress websites. You can display using a standard grid layout or create stylish carousel layouts to display your products.
WooCommerce Product Categories Widget: Showcase WooCommerce product categories in stylish grids, carousels, or tile layouts.
WooCommerce Add To Cart Button: The Woo Add To Cart Button widget has advanced features that allow you to customize the add-to-cart button and allow you to add a button anywhere in just one click.
WooCommerce Cart Widget: The PowerPack Cart widget allows you to customize the default WooCommerce cart page. With the widget, you get options to style almost every element of your cart page.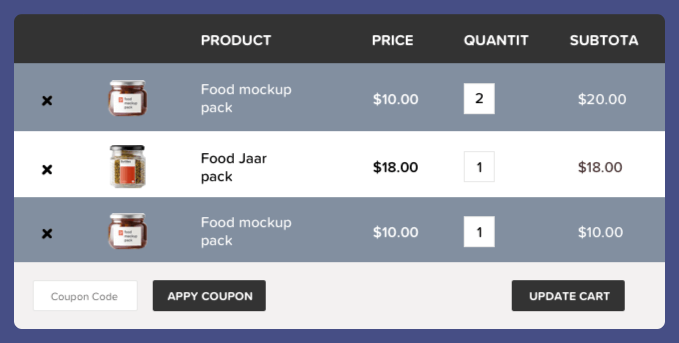 WooCommerce Checkout Widget: Using the Woo Checkout widget, you can customize and create beautiful checkout pages using Elementor Pro. The widget lets you add a single-column or two-column layout for the checkout page and includes plenty of styling options to customize every element of your page.
WooCommerce Mini Cart Widget: Mini Cart widget lest you add a sleek, collapsible mini cart icon on your WordPress website's header.
WooCommerce Off-Canvas Cart: Build interactive sliding panels to display cart contents on your eCommerce site using the WooCommerce Off-canvas cart widget.
WooCommerce My Account Widget: Customize the My Account page of your WooCommerce websites with multiple styling features.
WooCommerce Single Product Widget: As the name says, you display a single product page and add a cart or custom button using this widget. Check the video below to learn how to add a single WooCommerce product using Elementor!
Template Library for Elementor – Free & Pro
Another useful feature you get with PowerPack is a template library. This library consists of 200+ ready-made sections and page templates for Elementor.
Our designers precisely design all templates and can be used to create any website, making your site designing process much more manageable & faster.
You do not necessarily need PowerPack Pro to use the templates from the template library. As part of PowerPack Lite, you will also get your hands on many free WordPress templates that you can use on your websites.
Powerful Extensions for Elementor
Websites require creative approaches, and we understand that. We have added a number of unique and powerful extensions to PowerPack that give you more control over the content and design of your site.
PowerPack WooCommerce Display Conditions lets you define different display rules and control how Elementor content is displayed on your WordPress website based on WooCommerce parameters such as Product Category, Product Price, Product Stock, Current Product Category, and many more.
Header & Footer are the two most essential elementH of a web page. Now if you're looking for a budget-friendly option to create custom header footers with Elemnetor, PowerPack is the ideal option for you!
Using the PowerPack Header Footer extension you can easily create a fully customized header footer with Elementor free.
Speaking of the functionality, the PowerPack Header Footer builder allows you to create:
Custom header layouts.
Sticky header.
Shrink header on scroll.
Custom footer layouts.
Responsive and mobile-friendly Elementor header footer.
Creating the same website design is a bit of time consuming and boring task. Now streamline repetitive website design with PowerPack. You can copy and paste content from one website to another using PowerPack's cross-domain copy-paste feature in just four easy steps.
With PowerPack Addon for Elementor, you can design WooCommerce single product and archive page templates using WooCommerce Widgets. This lets you create stunning product pages quickly. No coding is needed!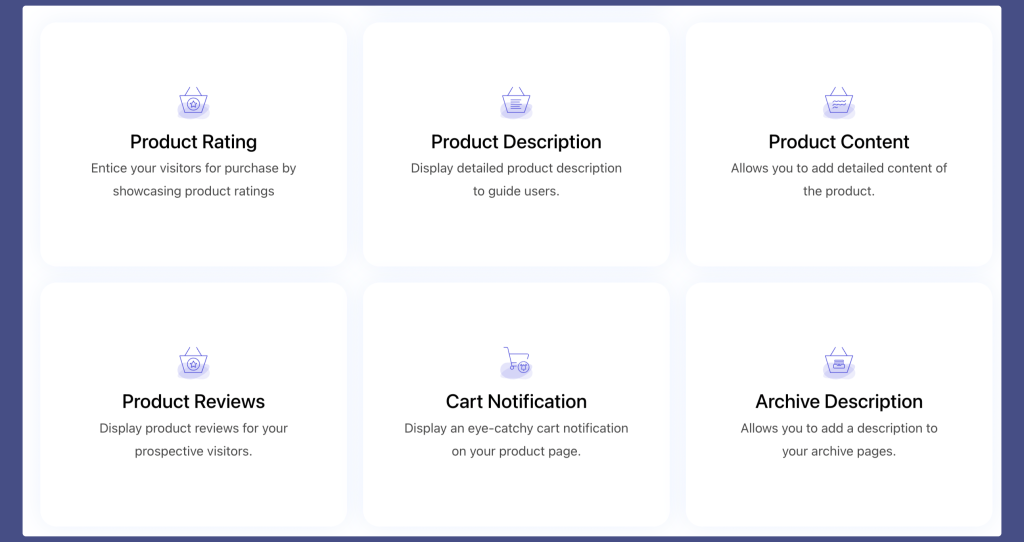 PowerPack's exciting background effect feature lets you add creative background to your website. You can change your site background with just a few clicks. No need to embed any HTML code.
Easily customize the mouse cursor and display icon, image, or text cursors on a section or a page of your website.
PowerPack offers 4 premium plans: Starter, Expert, Agency, and Lifetime.
The Starter package costs $49/year, supports 1 site, and includes all pro widgets, header/footer builder, premium support, and regular updates.
The Expert package costs $69/year, supports 25 sites, and includes all pro widgets, WooCommerce widgets, a cross-domain copy-paste feature, and more.
The Agency package costs $99/year, supports 1000 sites, and includes all pro widgets, page & section templates, a 30% renewal discount, premium support, and more.
The Lifetime package costs $239/year, supports unlimited sites, and includes all pro widgets, header/footer builder, cross-domain copy-paste, display conditions, template library, premium support, and more.
Also, PowerPack offers 14-day money-back guarantee which means if our team is unable to solve your issue via support within the 14 days of your purchase, you're more than welcome to a full refund.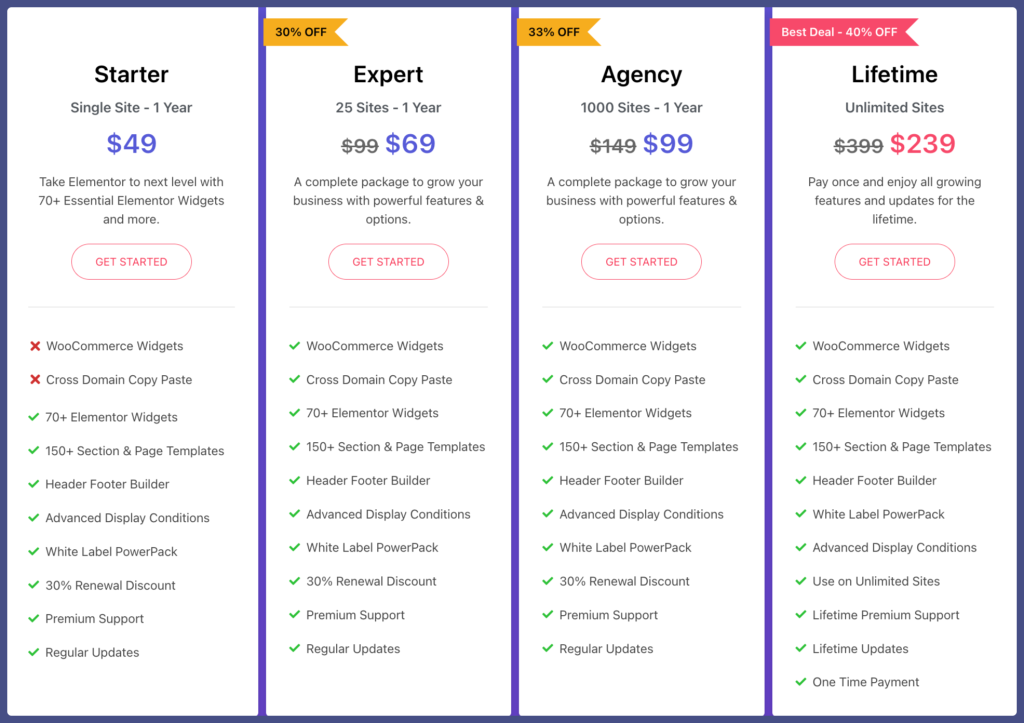 Also if you want to Elementor in deep, we have compiled the ultimate list of best free Elementor learning resources.
And there we have it! We hope this article you learn PowerPack features & functionality and why it is considered one of the best addons for Elementor.
Please comment below, if you have a query related to PowerPack. You can submit a feature request by commenting below.