Table Widget of PowerPack Addons for Elementor gives you the easiest and flexible way to create table layouts using Elementor plugin. Easily create beautiful and manageable data tables with advanced styling and functionalities.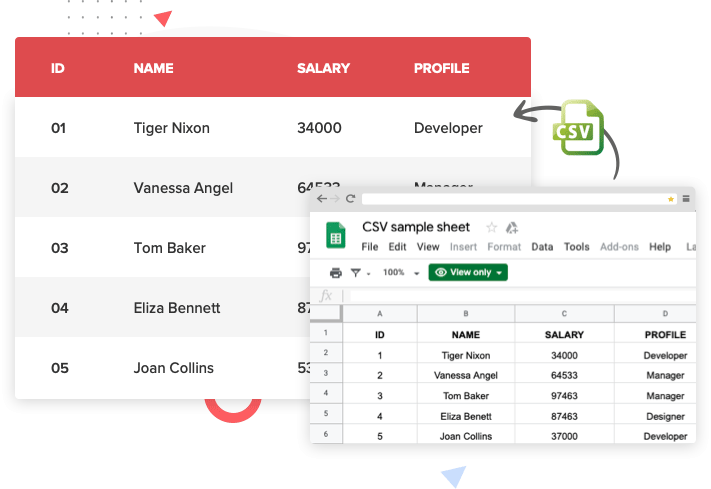 Data Tables With CSV File Import
Updating table data manually is a time-consuming process. PowerPack Table Widget provides you with an automated workflow where you can easily import CSV files for the contents of the table.
Simple & Easy To Use Sortable Tables
Sort data quickly, in just a few clicks! No additional coding skills required. 
Table Widget gives you the flexibility to sort data in a table alphabetically or by increasing or decreasing the values.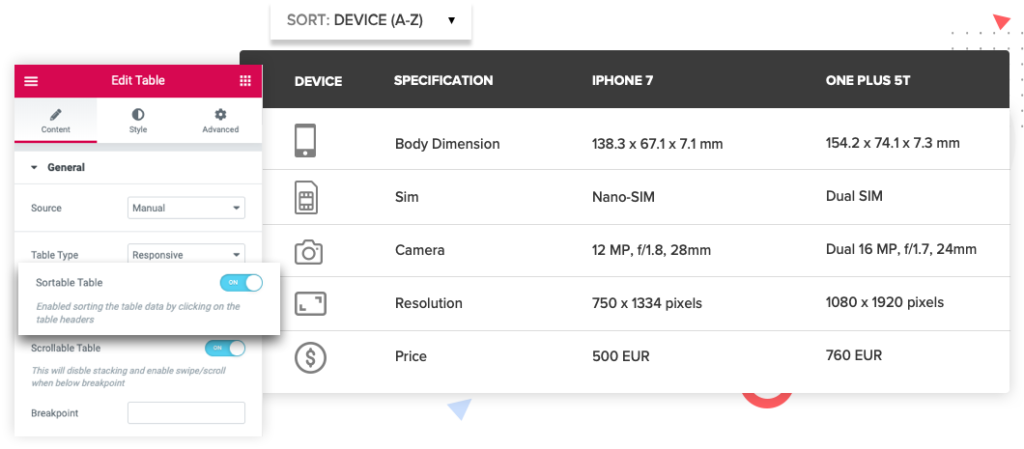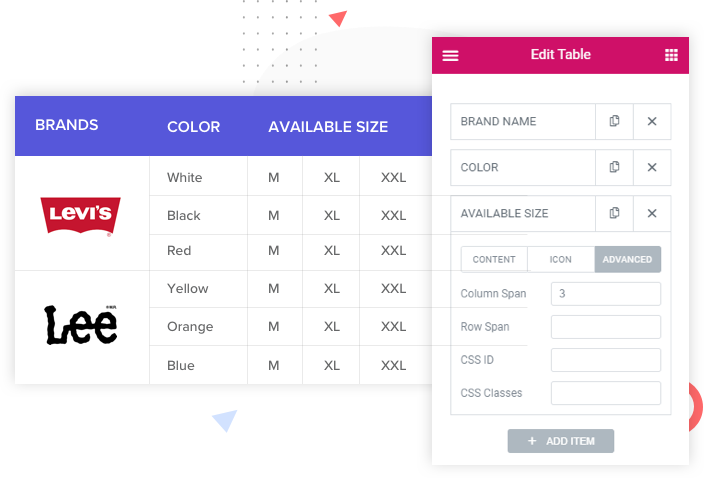 Custom Elementor Table Layouts with Row & Column Span Features
With the custom layout option in the Table widget of PowerPack Addons, you get complete control over all the elements. You can create custom Elementor data tables in just a few simple steps!
Merging rows and columns in a table can be challenging when writing code. But, it's easy with the PowerPack Table Widget.
Header & Footer Styling Options
Table layouts are used to display important information such as analytical data and resources. So, it's essential to highlight the Header & Footer elements for a clear distinction.
PowerPack Table Widget for Elementor is built with several such use cases in mind. So, you can style the table header & footer elements with special styling options.
No need to install any other Elementor table plugin to create stylish tables on your WordPress sites. 
| Breakfast | Lunch | Dinner |
| --- | --- | --- |
| $10 Per Person | $19 Per Person | $25 Per Person |
| | | |
| Tomato Toast | Chickpea Pulav | Fried Rice |
| Avocado Toast | Yogurt Rice | Schezwan Noodles |
| Berry Breakfast | Aloo Paratha | Indian Style Curry |
| Banana Smoothie | Vegetable Curry | Paneer Kathi Roll |
Custom Icons & Images With Table Widget
Fine-tune the design for every element with extensive styling options. The Table Widget also offers options for using icons and images with every single table element.
| Day | Class | Instructor | Location |
| --- | --- | --- | --- |
| Monday | Morning | Jillian Schiavi | Grand Lake |
| Tuesday | Nia Dance | Alexis Mulhauser | Rockridge |
| Wednesday | Vinyasa | Adam Kurzfeld | Grand Lake |
| Thursday | Gentle Flow | Julia Alexander | Grand Lake |
| Friday | Restorative | Kameko Shibata | Rockridge |
Limitless Possibilities With Elementor Table Widget
The impressive styling features of the Table Widget allows you to create attractive tables on your WordPress websites.
You can style and design every single element of the table as per your website looks using Elementor.
Control The Overall Look and Feel of the Table
Elementor Table Widget of PowerPack Addon is loaded with innumerable customization options that give you full control over the content, look, alignment, and style property of the table.