Table of Contents for Elementor
Table of Contents widget for Elementor is a good way to improve the navigation,
readability, and SEO score of your website. You can use the Table of Contents widget for blog
posts, landing pages, sales pages, etc.
Add Table of Content Magically
Add a Table of Contents easily to your blog post content or pages with a click. It's that easy.
Table of Contents widget by PowerPack Addons automatically checks for the heading tags in the content and creates a list of items. 
You can choose the heading tags to be included and also include/exclude certain headings/sections of the page with the help of CSS selectors functionality. This gives you complete control over which titles get listed in your table of contents and which are left out.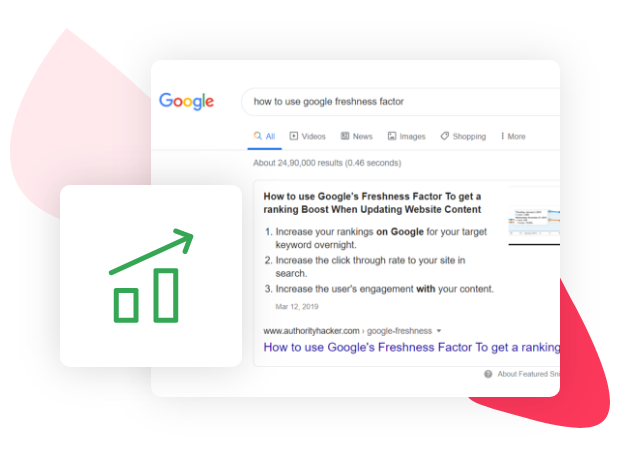 Improve your SEO with Table of Contents
With the table of contents at the top, you provide your audience an overview of the page content and hence, it improves the reader's time on the post. Table of Content has also been proven to provide better search engine rankings, results, and click through rates.
With this widget, you can instantly improve how your page structure is seen by Google. This can be an easy way to get a rich snippet for your long-form content. 
Extensive Styling Options
Table of Contents widget is built with focus on usability and design. You can customize all the sections of your contents table from word wrap to typography, list styling, and box design. You can customize this widget to fit any type of website, whether it is a knowledge base or wiki-style site, magazine, or an eCommerce site.
This is truly the most customizable and advanced Table of Content widget available for Elementor.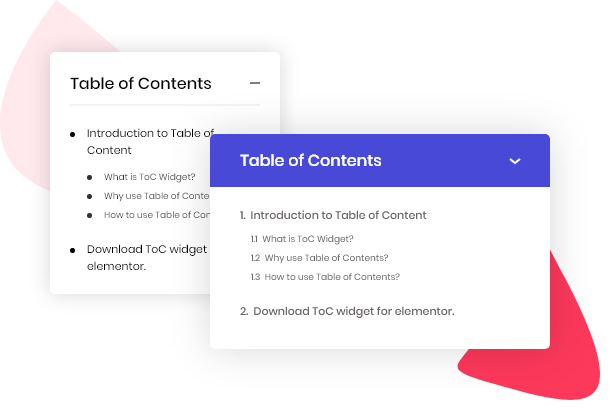 Sticky Table of Content Feature
If you publish long-form content, you will find the "Sticky" table of content features highly useful. With this feature, the content list will scroll along with the page as the user scrolls. You can easily adjust the position such that it works best for your website layout with built-in options. 
This feature will make it extremely easy for your readers to navigate through the various sections of the content. 
Unique List Style Customization​
ToC widget of PowerPack Addons offers three different styles for list content. It can be set to none, bullets, or numbers. We understand every website has different styling, and users need better options rather than writing code & installing multiple plugins for different use cases. 
With the ToC widget, you can even upload a custom icon for the list items or select from the existing FontAwesome and Elementor icons. You can change the color, size, and spacing as well.  Since you are not limited to default options, this makes the widget even more design and user-friendly.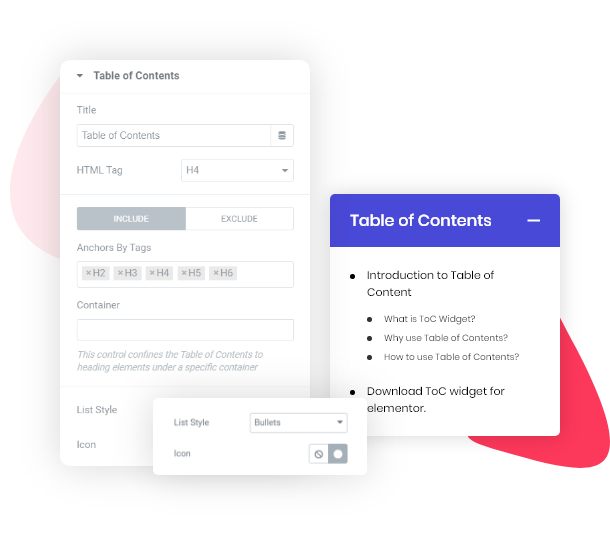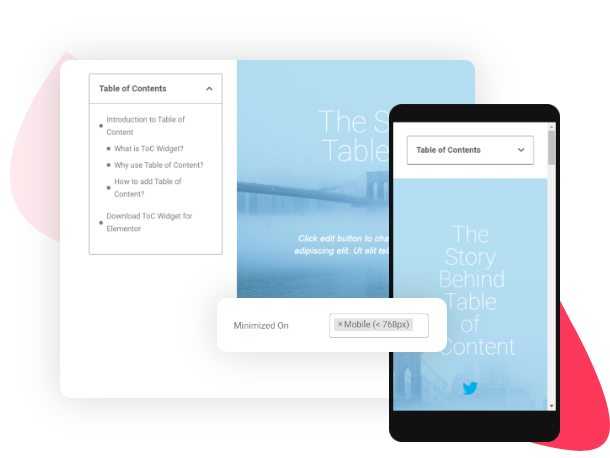 Minimize Table of Content Settings for Better Usability on Mobile Devices
Table of Content can consume some space if you add it to the top of the page or post. Especially if you have long-form content, then the list will be prominently visible. So, we have taken that into consideration. 
You can choose to minimize the ToC widget by default or just set it to be minimized for tablet and mobile devices. Furthermore, you can make the items in your table collapsable in the hierarchical format for easy navigation of your WordPress pages/posts.