Elementor is one of the most popular page builders for WordPress. And one of the reasons for its popularity is its simple drag-and-drop interface & exciting features.
The Elementor page builder comes with multiple styling options and provides a website-building framework so one can easily design creative & beautiful websites.
Right now, Elementor powers more than 8 million sites. Impressive, isn't it?
Also Read: Elementor Page Builder Review.
You can easily create a beautiful website just by arranging blocks of content. One of the most useful & impressive features is front-end editing, allowing you to make live edits without tangling between the editor and the page preview.
Although Elementor's basics are adaptable and easy to understand, you need knowledge beyond the basics to build excellent sites.
Top Resources for Learning Elementor
Elementor is easy to use, which is one of the reasons for its popularity. But what if you want to learn more? Do more? You will surely need some guidance with exploring all the features and functionalities. Elementor Free and Pro both offer a different set of features.
From building simple to complex websites, you will have a lot to do with Elementor. So, checking reliable and good resources for brushing up on your Elementor skills will be helpful if you are just starting.
Best Websites to Learn Elementor for Free
We've listed some of the best Elementor Resources that will help you get started with Elementor or broaden your knowledge if you already know the basics.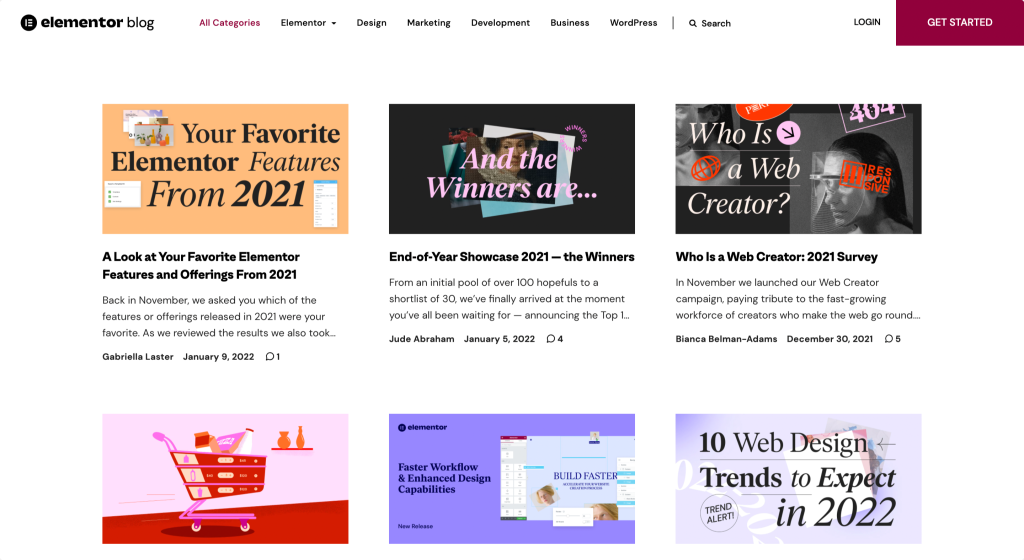 The best way of learning about Elementor is to take an in-depth look at the Elementor official blog page. It offers tutorials, news posts, videos, interviews, and articles. The blog page is very comprehensive & has everything you need to know.
The blog page is classified into six major categories:
Elementor: Includes everything related to Elementor and its widgets. In this section, you'll find how-to tutorials, case studies, details about Elementor's new updates, and many more.
Design: If you are looking for stylish and trendy web designs made with Elementor. This section is worth checking out.
Marketing: We all know the powerful marketing game of Elementor. This section has bundled posts related to the content, landing page designs, SEO tools, and more.
Development: If you have just started with web development, this section helps you learn some disciplines, tricks, and useful tips related to plugin development.
Business: In this section, you'll find more project management and business-oriented blogs that'll teach you some management skills and help you build a proper workflow for your business.
WordPress: Here, you'll find amazing blog posts on the WordPress ecosystem. You'll find a post related to every topic, from the best WordPress themes to the best Google Chrome extensions for WordPress to the WordPress site migration process.
The best thing about the Elementor blog is that each section has an extensive list of blog posts and helpful videos for its users.
Also, the Tutorials Section is beneficial for those who want a step-by-step guide to using Elementor and its widgets.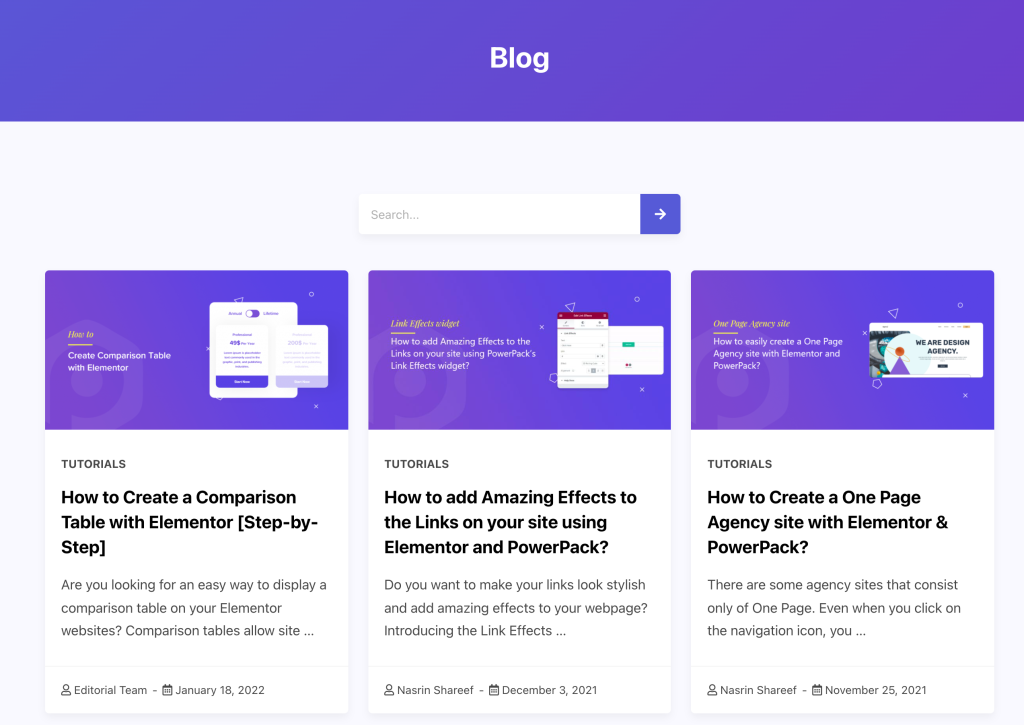 PowerPack is one of the best Elementor addons. It comes with more than 80 custom Elementor widgets and pre-built templates that help you design your dream website without writing a single line of code.
Apart from useful widgets and templates, PowerPack also offers detailed & well-written blog posts that help you create better websites using PowerPack and Elementor.
Currently, the PowerPack blog page has more than 40 blog posts covering some essential Elementor topics like Common Elementor Errors, Elementor not loading issues, and fixes.
PowerPack also published 3 detailed eBooks on the Elementor page builder. These eBooks help you learn:
How to use Elementor? [A Complete Guide to Elementor Free] – Best Elementor free guide for beginners.
A Complete Guide to Elementor Pro – Best for intermediate and experienced Elementor users.
How to Build a WooCommerce Store using Elementor Pro – Best for those looking for a simple way to build eCom websites using Elementor and WooCommerce.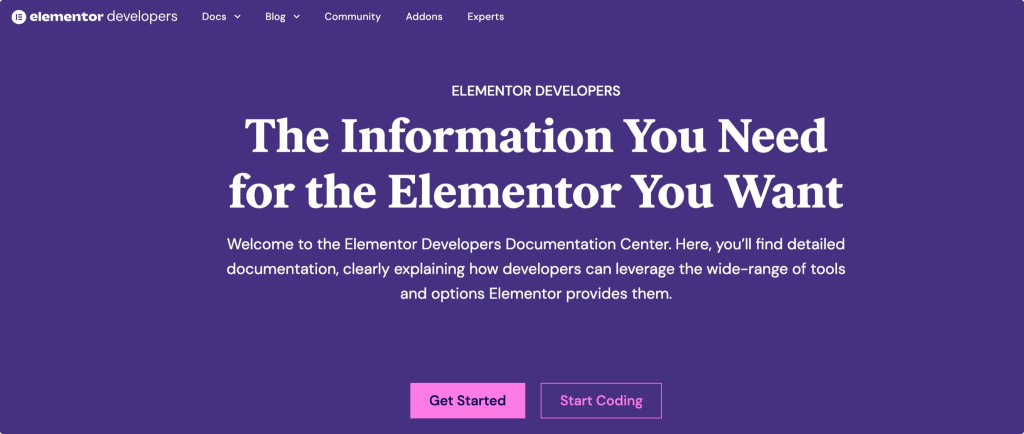 Elementor Developer Resources is a subsite of the Elementor website, and this site is the ultimate resource guide for both intermediate and expert developers.
They offer comprehensive & detailed documentation for coders that will help them dive deep into Elementor & take them to expert-level tasks.
This developer site is the BEST resource guide for developers working with the Elementor page builder. And if you love to play with code and want to add or extend the functionality of the existing Elementor widgets, then this subsite works wonders for you.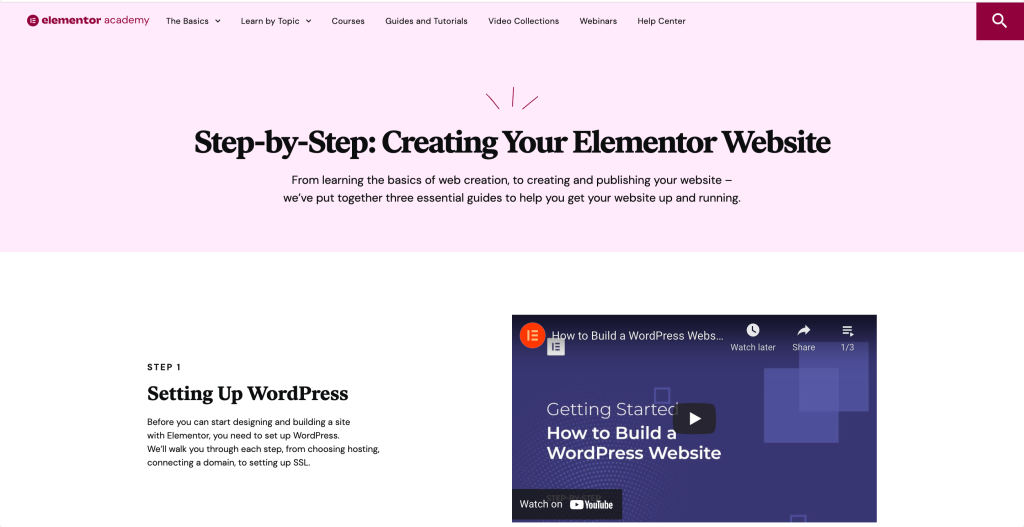 We all know that Elementor gives us the power to create designs from scratch. However, designing Elementor templates is not everyone's cup of tea, and we need skills & tools to create some impressive work.
Elementor Academy is the website where you can learn & acquire skills to become a better Elementor designer.
They have categorized topics into four sections:
Getting Started: Follow these steps to start your website development process.
Video Tutorials: Go through this if you want to know everything about building a website.
Docs: If you are looking for something specific, you can go through this section. They have an extensive list of documentation that will help you out.
FAQ: This is the section where you find answers to your questions.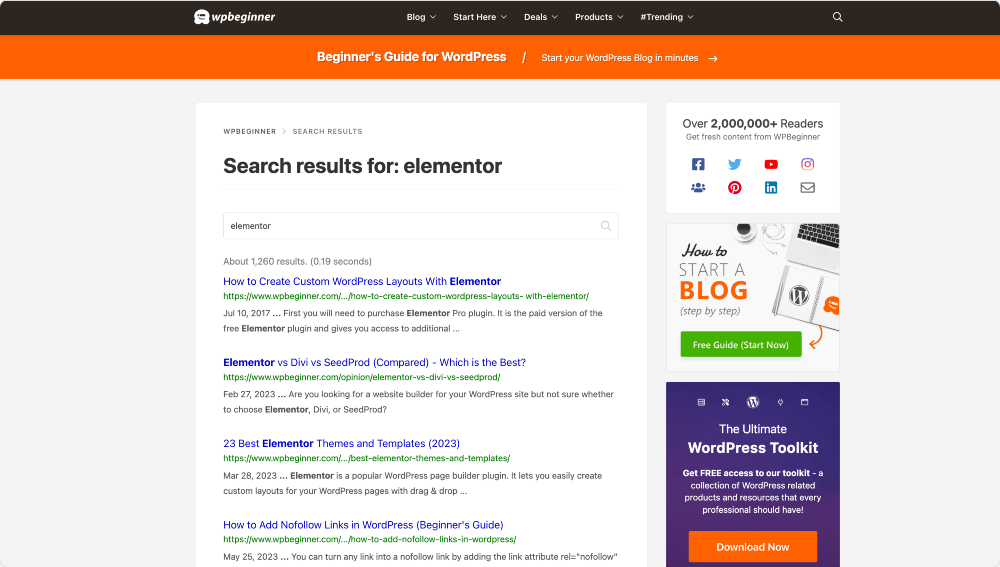 While not solely focused on Elementor, WPBeginner is a comprehensive resource for WordPress beginners and has a dedicated section for Elementor tutorials.
The Elementor section of WPBeginner provides step-by-step guides, video tutorials, and articles that help users understand how to use the Elementor page builder effectively. WPBeginner's tutorials are designed to be beginner-friendly and walk you through various aspects of using Elementor to create and customize your WordPress website.
Website.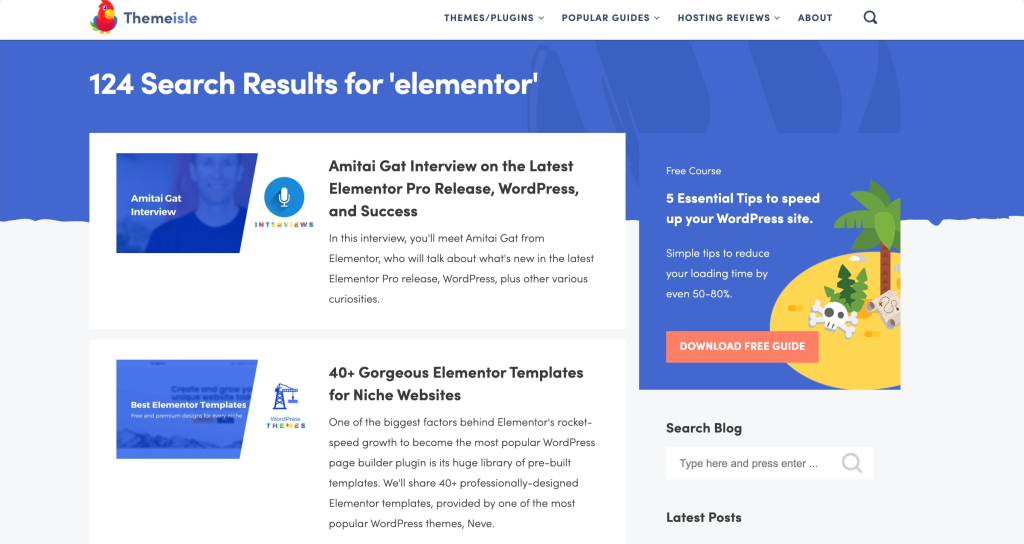 Themeisle is a popular name in the WordPress ecosystem, and they are the creators of popular WordPress themes Neve & Hestia.
Themeisle's website is the treasure of WordPress-related blogs. Here, you can find everything related to WordPress, from themes & plugins to tutorials & guides.
Like Sniffle Valve, ThemIsle also has some blog posts dedicated to Elementor.
Although the site hasn't published any content related to Elementor in the last few months, it still has some reliable content for beginners. You can find several tutorials here.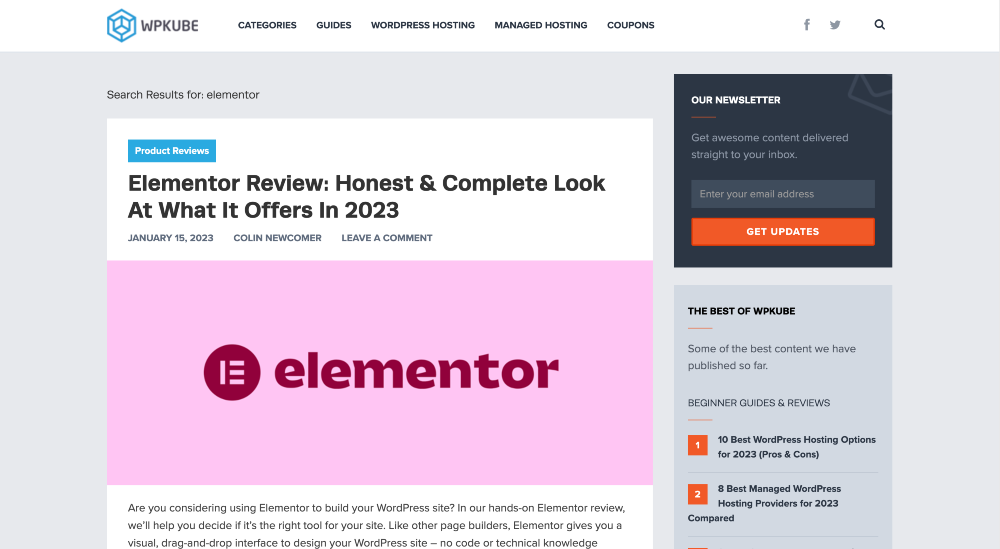 WPKube is another well-known WordPress resource that offers guides, tutorials, and reviews related to WordPress and its ecosystem. You can find in-depth articles and tutorials on various WordPress topics, including themes, plugins, security, and more.
WPKube also has a dedicated section for Elementor tutorials, which covers a range of topics from basic introductions to more advanced techniques. The Elementor tutorials on WPKube aim to help users harness the full potential of the Elementor page builder to create visually appealing and functional websites.
Best YouTube Channels to Learn Elementor
These are some popular resources that help you learn Elementor better. Now, let's see some popular YouTube channels for Elementor.

Adam Preiser runs WPCrafter.com, and it's an ultimate resource guide for Elementor and WordPress. This channel has a series of tutorials on Elementor that works phenomenally for newbies & experts.
It has an exclusive playlist of Elementor tutorials with videos covering Elementor features, How-tos, and many more.

Darrel Wilson's channel is about WordPress, Web Design, and SEO. Here, you'll also find a playlist on the Elementor page builder.
You will find everything from building a WordPress website from scratch to the best Elementor addon plugins here.

Ferdy's YouTube channel has everything related to WordPress. You find videos about Page Builder, WordPress Themes, MailChimp, WooCommerce, and SEO here.
Ferdy has an exclusive playlist called Elementor Pro Tutorials on his channel. This playlist works best for those people who want to learn about building a website using Elementor Pro.
If you would like to keep yourself updated about every latest feature of Elementor, Ferdy Korpershoek is the right person to follow.

WPTuts is the channel where you find everything about WordPress, including tutorials on the Elementor page builder.
Paul Carlton runs WPTuts. This channel includes two playlists dedicated to Elementor named Elementor Hello Theme for WordPress and Elementor Visual Page Editor Tutorials.

With these tutorials, you can easily learn to build websites with the Free and pro versions of Elementor.

Dave Foy, a professional graphic designer, teaches people how to create excellent & responsive WordPress websites with no coding knowledge. This channel is an excellent resource for all, from beginner to experienced.
Here, you'll find an exclusive playlist dedicated to Elementor that contains multiple videos covering some essential topics related to Elementor.
Wrapping up!
And there you have it! These are some free resources that help you learn Elementor better.
All these are the best sources available out there. Whether you are a beginner or an Elementor expert, these sources provide all techniques, tutorials, and tips.
If you have suggestions or resources to add to the blog post, let us know in the comment section below.