With so many features and functionalities, choosing between Elementor Free and Elementor Pro can be trivial.
Elementor's free version comes with great design options and features, and in addition, Elementor Pro takes those design options to the next level. As a result, it can be of great use in making professional websites. Both versions have excellent customization possibilities, but which one to go for can still make you scratch your head in confusion.
In this article, we will learn about the features and functionalities of Elementor Free and Elementor Pro. But first, let's look at both of them and dig into their functionalities and what they offer.
Elementor Free Vs Elementor Pro: Basic Differences
One of the primary reasons for the popularity of Elementor page builder is that it offers features & capabilities that WordPress users can use to build professional-looking websites without writing a single line of code.
Here, we'll briefly cover the most basic differences between the Elementor free & Elementor pro:
Elementor Free
Elementor Pro
Offers essential tools available at zero cost. Easily downloadable from WordPress.org.
Includes advanced tools to create more professional-looking WordPress sites.
Features
✔️ Live Editing
✔️ Drag and drop Builder
✔️ Basic Templates
✔️ 30 Elementor widgets
✔️ Useful Widgets
✔️ Canvas Layout
✔️ Import/ Export Elementor Templates
✔️ Flexibility to add HTML & CSS code.
✔️ Mobile Editing
✔️ All Free Features
✔️ Pro Widgets
✔️ Global Settings
✔️ Professional Templates
✔️ Ecommerce Tools
✔️ Dynamic Content
✔️ Form Builder
✔️ Integration Tools
✔️ 24*7 Customer Support
✔️ Automatic Pro Updates
Advantages
✔️ Ease of Use
✔️ Device Responsiveness
✔️ Smooth Performance
✔️ Highly Integrated for SEO
✔️ Well-Synchronized with other WordPress widgets.
✔️ Availability of Pro Tools, Widgets, and Templates for upto 1000 websites.
✔️ Loads smoothly even with 60+ widgets, 300+ professional templates, and other awesome extensions.
Pricing
Free
$49 – $999 per year
🍺 Elementor Free/ Lite Features
Elementor lite version is free and can be downloaded directly from WordPress.org. However, please don't go by the notion that it is free, so it might not be able to do much.
With Elementor, you can single-handedly create a fully functioning WordPress website, and that too, without touching a single line of code.
Let's jump in and see what the free version has to offer.
Template Library
The free version of Elementor comes with a pretty good template library which you can use to build web pages easily. This library comprises 100+ free Elementor templates and content blocks, which you can add to the page by selecting from the group.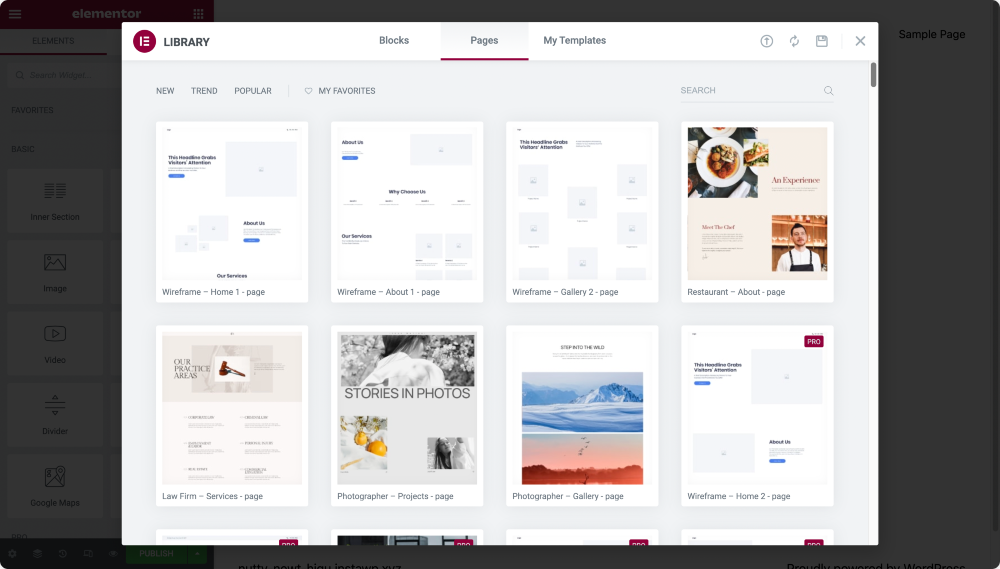 ---
Widgets
The free version of the Elementor comes with loads of widgets you can drag and drop to design the page you want.
More than 30 Elementor widgets come with the free version of the plugin, and more are expected to arrive.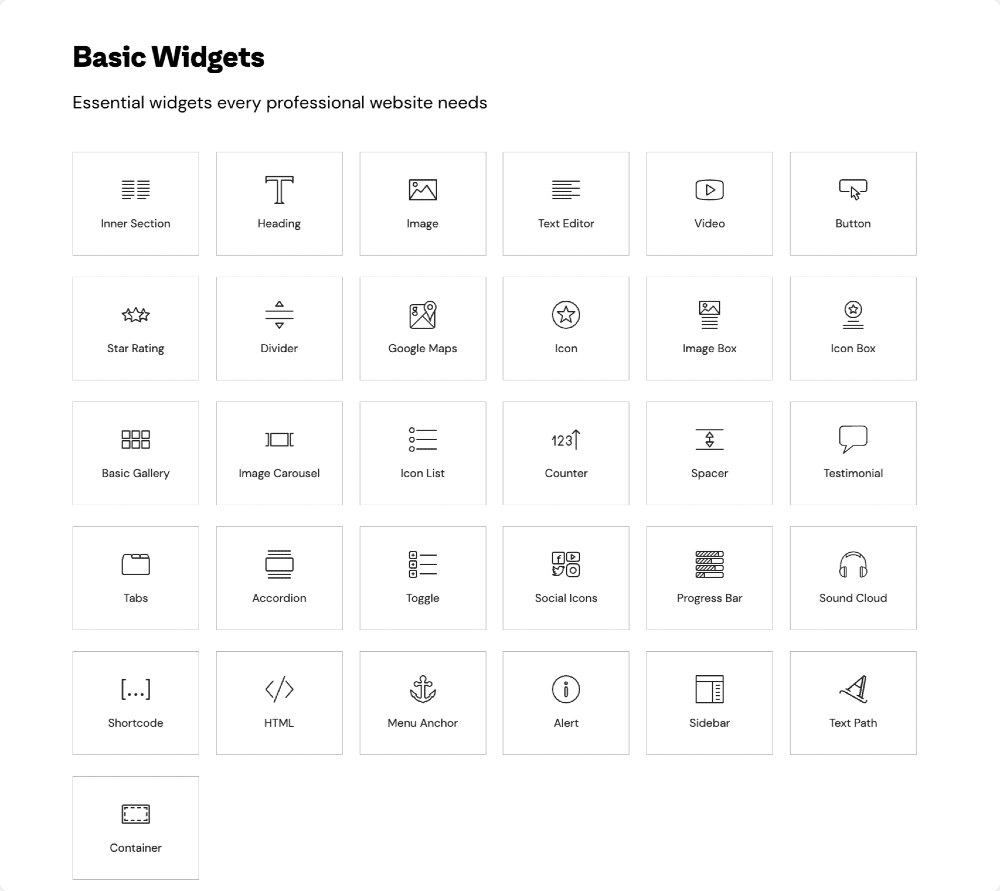 ---
Elementor Canvas
Elementor Canvas layout removes all the elements on the page, including the header, footer, and sidebars giving you the whole page to start designing. You can create landing pages or any other page using the canvas layout.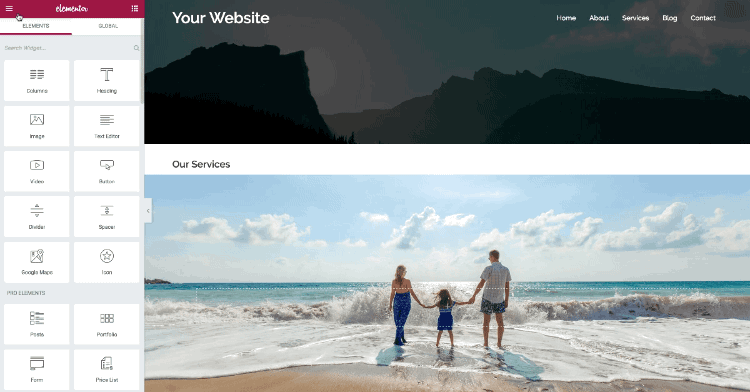 There is another Full-Width layout option, which removes the sidebar and gives you a page to work on with the default header and footer.
---
Responsive Editing
Responsive Editing allows you to switch to the mobile or tablet view mode and edit the page accordingly. With this feature, you can make fully functional websites and pages so that users can access your site from any device they want.
Merely switching the layout in the editor will give you the option to make changes live to the page.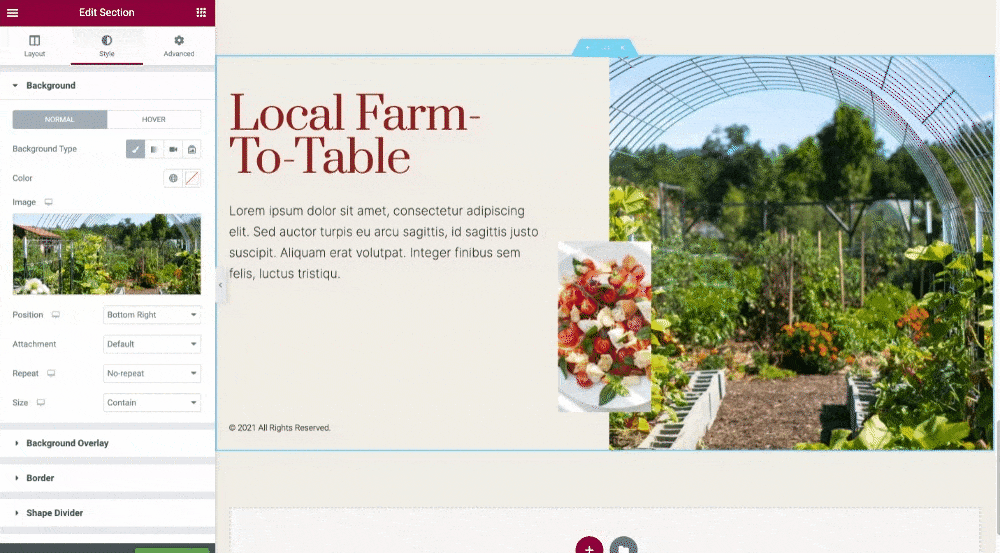 ---
Maintenance Mode
Before updating or adding new features to a website, there might be chances your site can get buggy or broken. This results in hampering your site visitors' experience.
So, it's recommended to enable the "maintenance mode" before making big changes to your website.
Elementor Lite has a built-in maintenance mode and a coming-soon feature for new websites.

---
RTL and Translation Ready
Elementor is fully functional when it comes to RTL support. Furthermore, elementor is multilingual and offers full support for RTL and LTR languages. Apart from RTL compatibility, the plugin's translation is done into more than 23 different languages, and the list of translated languages is growing.
---
Background Options
The free plugin offers you to customize the background of the page extensively. For example, you can change the location of the page or post to an impressive gradient style. You can also add a video on the background of the sections and make them come alive.
---
That's all with the lite features. Now it's time to look at the pro features.
🚀 Elementor Pro Features
Elementor Pro version works as an add-on to the lite version and adds more functionality to the builder. Many feature sets make the Elementor Pro useful; let's look at them.
Theme Builder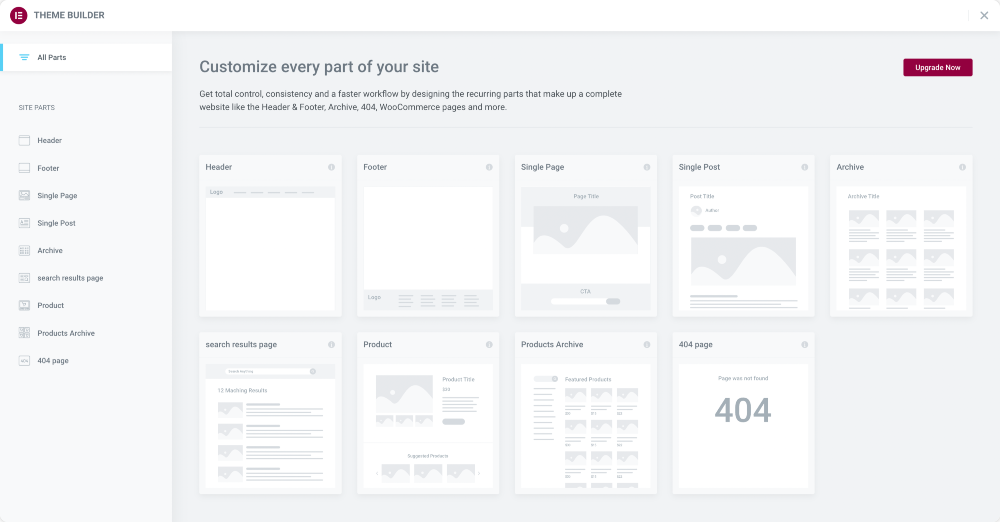 Elementor Theme Builder is the most prominent tool, as it allows you to take control of almost every section of the website. The Elementor standard version only allows you to make changes to the content part, but with the Pro version, you can practically edit the whole site.
You can create a custom header, edit sidebars, redesign your footer, and even create custom layout pages.
Theme builders can be a massive advantage if you are a website design agency or want to design more than just the content. With this tool, you will be able to do more, and that too in lesser time.
---
Professional Page Templates & Blocks
Elementor has loads of Pre-designed templates and blocks, which you can use to design pages faster. In addition to those templates, Elementor Pro offers more professionally designed templates and blocks. Elementor Pro is the best choice for you if you rely mostly on pre-designed templates.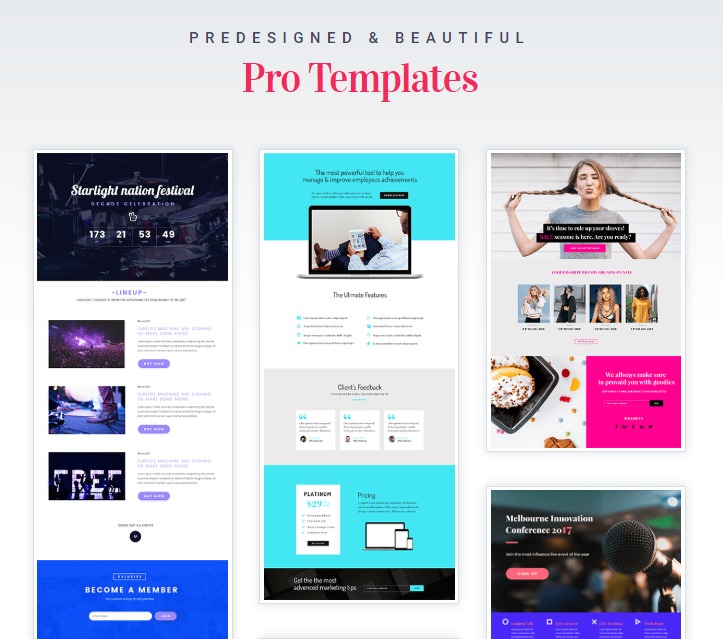 ---
Form Builder
Every website needs a contact form and many other forms, for that matter. The Pro pack of the builder comes with a very impressive form builder that you can use to create Forms on your website quickly.
This single widget holds so much importance because it is entirely visual! You can easily design your form from the front end and connect it with any automation marketing platform or CRM.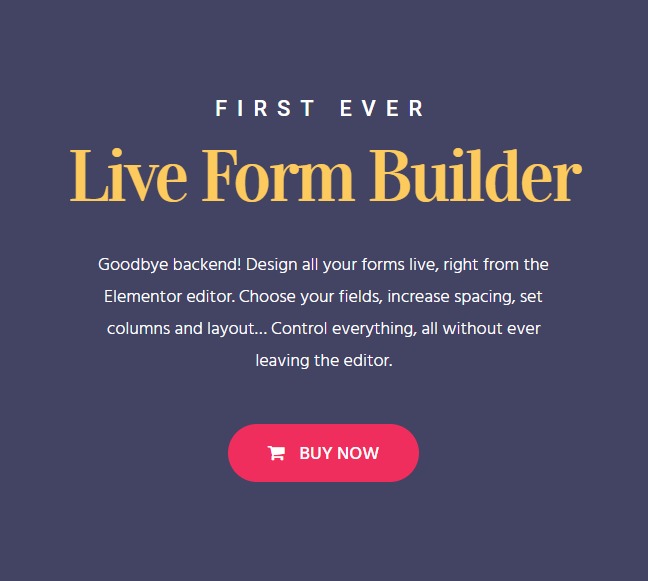 ---
Global Settings
Global widgets come in handy when you plan to show the same widget in multiple places on the website.
Elementor Pro version gives you the power to customize a widget from a single location, and it will take effect on all the global widgets on the website. This feature makes the design faster and reduces redundant tasks of making changes all over the site.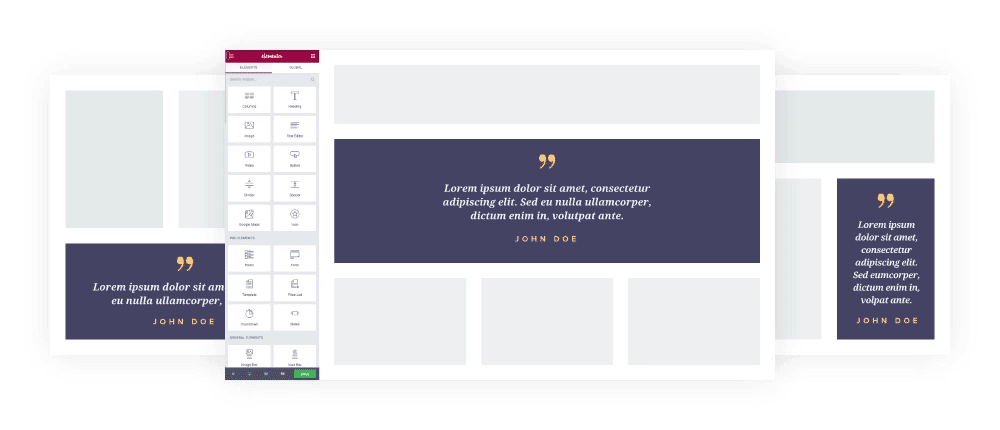 ---
Elementor Pro Elements
This is an obvious one, yet it cannot be overlooked. The Elementor plugin comes with a pretty good set of widgets, but if you are an agency developing websites for your clients, you will need more, and that is where the Pro version comes in.
Elementor Pro version adds more than 30 other impressive widgets, including the theme elements, which will offer you much more customization and design options.
More elements give you the freedom to design the website the way you want, and if you wish to take this customization one step further, you can check out PowerPack Elementor addons. It comes with 50+ impressive widgets, and more are on the way!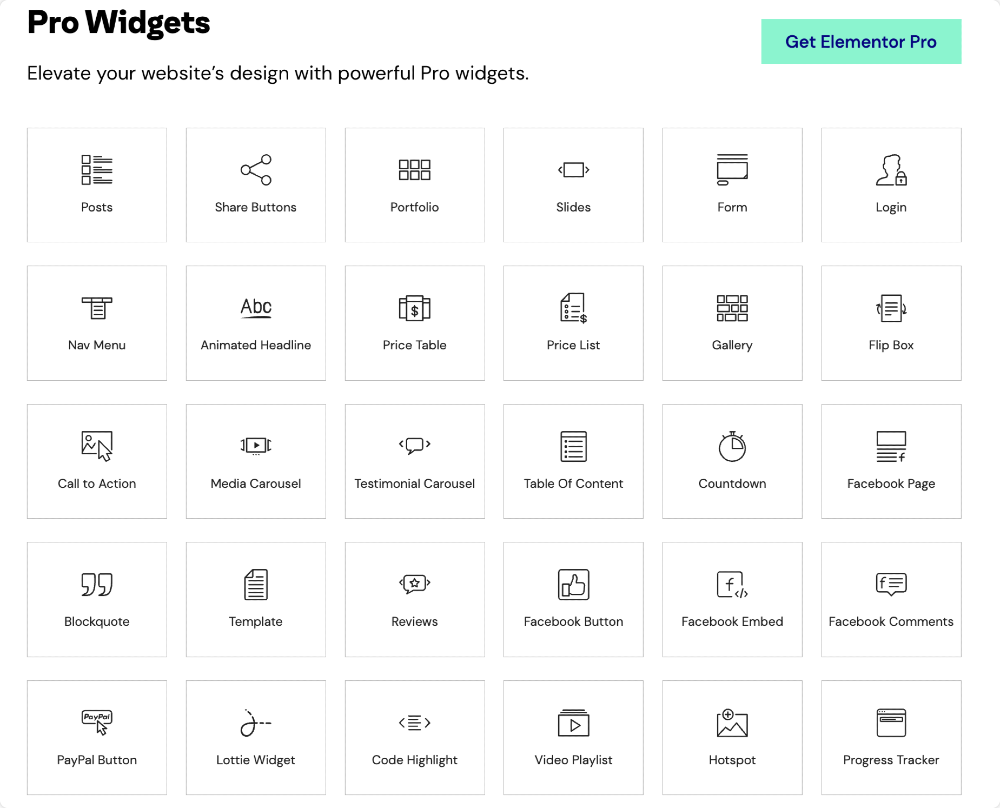 ---
Live Custom CSS
Well, this one is not a biggie as you might not be using it given deep customization from the Elementor builder, but as a developer or designer, this can come in handy at times.
This feature of the Elementor Pro allows you to add custom CSS to any widget or a block and see the changes you made there live on the editor.
If you are familiar with coding and often find yourself engaging in scenarios where you need to make changes that are not in the reach of drag-and-drop builders, then I recommend you to get the Pro pack.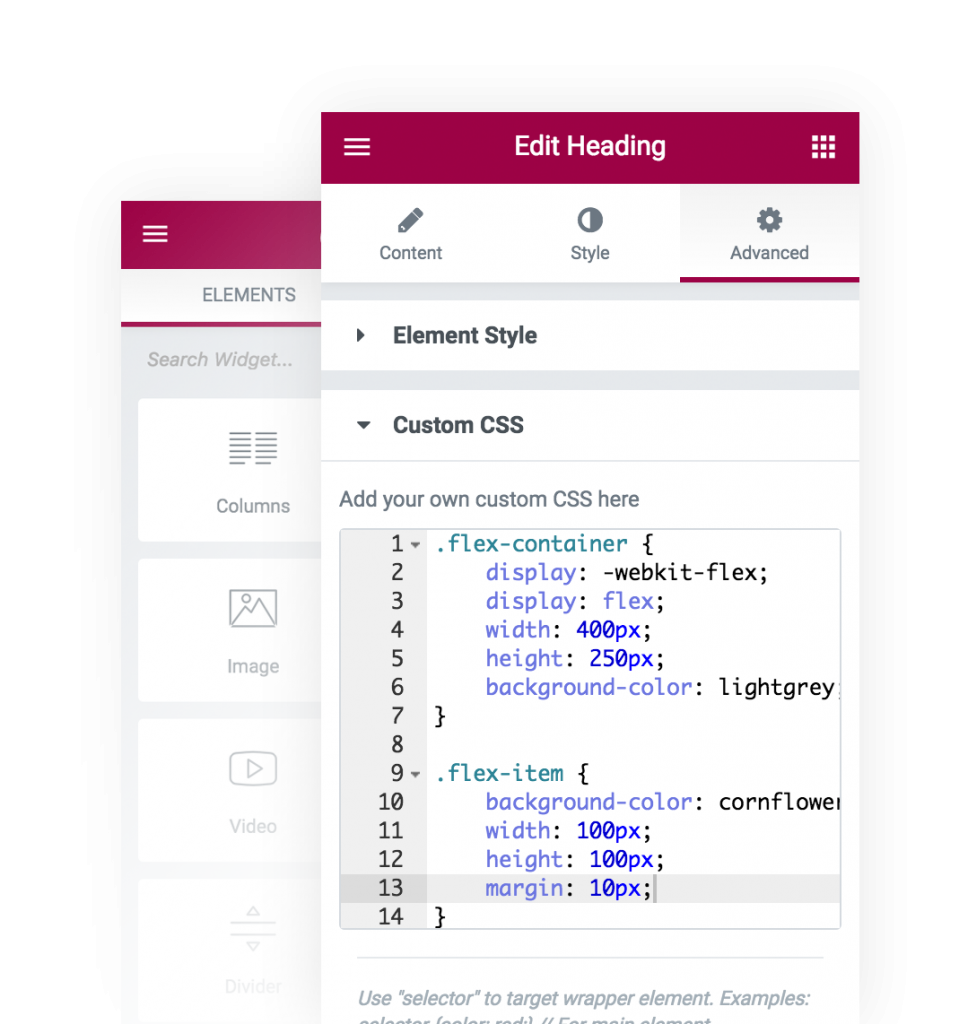 ---
Embed Anywhere
Elementor Pro features an option that allows you to embed the widgets or the rows anywhere you want with the help of shortcodes. Using shortcodes to display widgets in the footer, sidebars, and even blog posts can be beneficial.
This feature can be helpful for anyone depending on the requirements. It can also be used to add subscription boxes, banners, or any other widget using the shortcode on the blog posts. That way, you can write the blog you usually do and embed the shortcode where needed.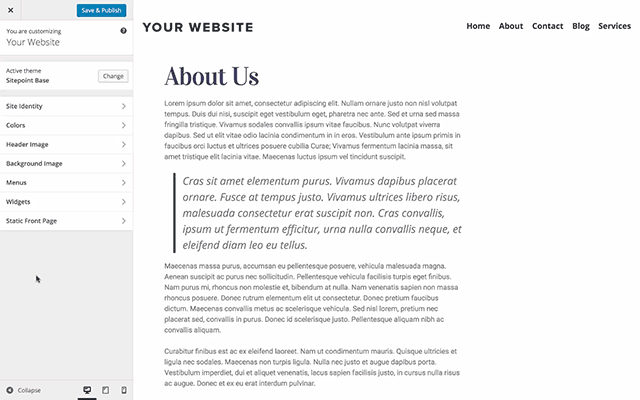 ---
WooCommerce Integration
With the Pro version, you can easily customize your e-commerce store as it comes with multiple WooCommerce widgets. In addition, you can drag and drop the widgets to customize the WooCommerce store parts.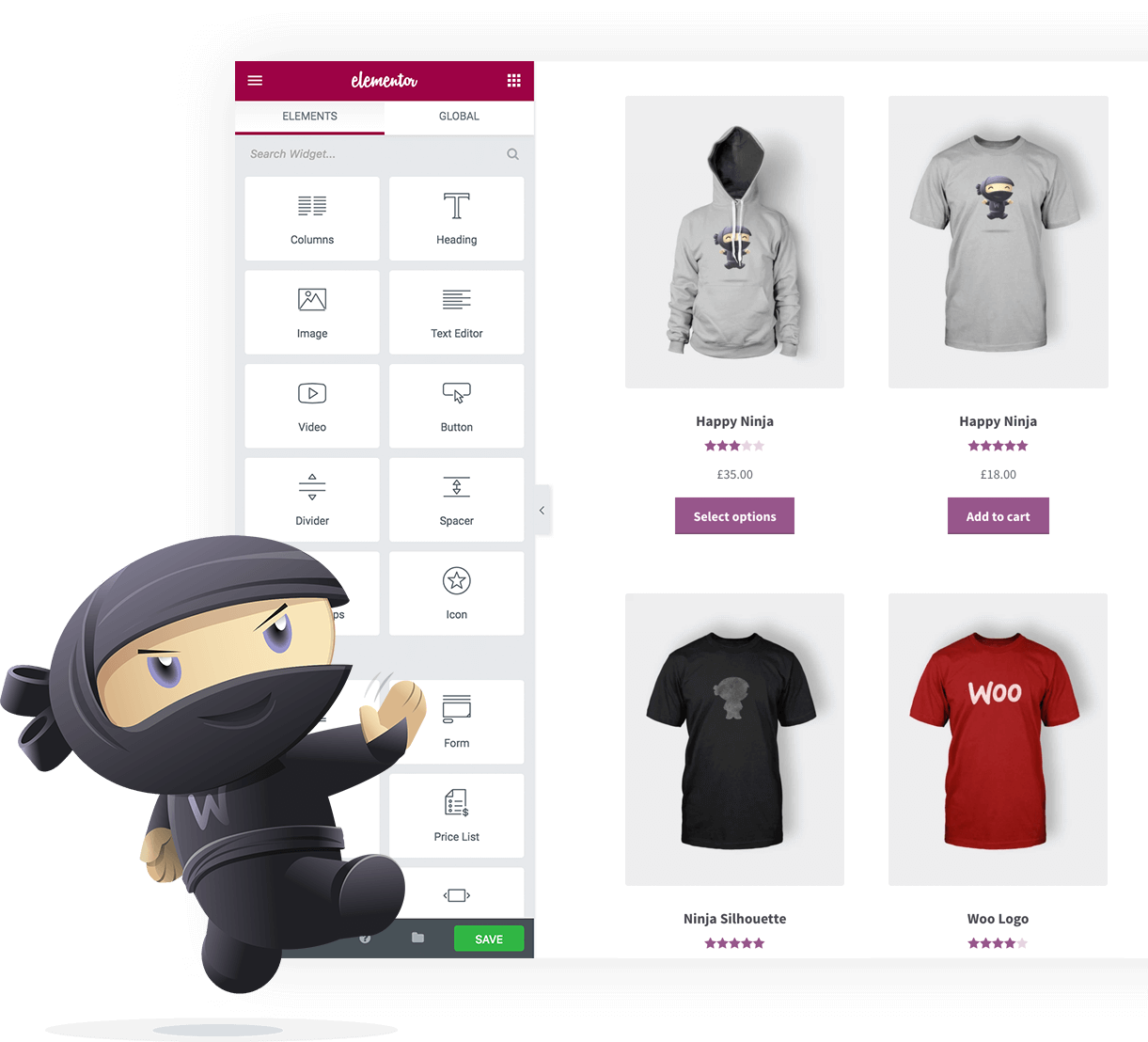 ---
Saving Option
With the Standard Elementor plugin, you can easily store row templates with the save button, but you do not get the option to save widgets. The option to save widgets is only available with the Elementor Pro. Although it might not seem to be that much of a requirement, in the case of more complex widgets such as tables and post grids, it can be very time-consuming to customize the same thing again and again when you can load it via a saved template.
Saving option is more of a useful feature for developers compared to end users as this can be used to create default templates and designs of widgets and later be altered according to needs.

---
Elementor Pro Pricing
The Pro version offers a lot but comes with a price tag. In this factor, the Elementor lite takes it all, as no price tag is attributed to it.
If you are not familiar with page builders and want to try your hands on with the product, then this is a good option for you as you can try what it is like to work with page builders and later when you want to take more control of the builder get the pro version.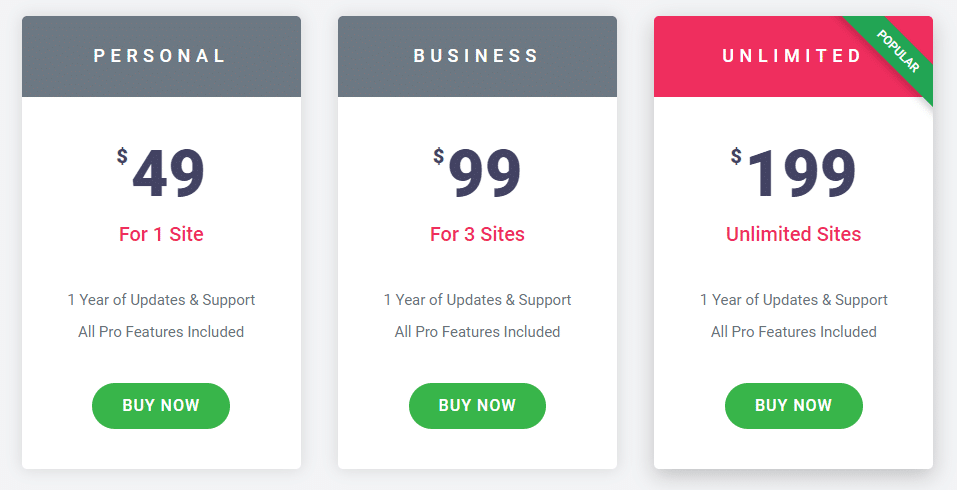 ---
Elementor Free vs. Elementor Pro: Final Word
So, which Elementor version you should go for is your choice, as it mostly depends on how you will use it and what you will use it for.
Elementor free version can be the perfect fit for those who have just started their journey with WordPress or Elementor page builder.
Create a basic yet beautiful WordPress website.
Elementor's free version has all the basic widgets, templates, and blocks that can help you design a catchy website.
You can experience a smooth web designing experience with Elementor's live & responsive editing, along with advanced settings for each block and widgets you'll use.
Elementor lite allows you to add 3rd party Elementor addons for your further needs.
Reusable template library that you can create on your own and use later multiple times.
On the other hand, the Elementor pro version can be the perfect fit for those who have shared a good experience with the lite version of Elementor page builder.
If you're a professional designer or want to be the one by reflecting the best of your creation on your website, then Elementor pro is the best tool you need for your WordPress website.
Also, the pro version is the best fit for those who want to establish a professional eCommerce site to generate sales and revenue.
Elementor Pro adds all the professional features and advantages that its free version has, and apart from all that, you'll also get premium support from the Elementor expert team.
We hope this tutorial helped you decide which version of Elemntor page builder you want for your WordPress website.
If you're new to Elementor and need assistance with using the Elementor page builder, you can refer to the How to Use Elementor: Detailed Guide for Beginners.
If you liked this post, do share it!