Looking for the best free SEO plugins for WordPress?
Search Engine Optimization (SEO) is a long-running strategy that helps drive a higher ranking on a search result page and subsequently brings more increased organic traffic to a website.
SEO will benefit user search experience and page ranking in the search results. The higher the website page is listed, the more people will see it, improving your website's' visibility while surfing the internet.
There are a lot of excellent SEO Plugins for WordPress websites, both paid and free. But if you're looking for the top free SEO plugins to boost your WordPress website, you've landed in the right place.
This article will list some best free versions of SEO plugins that you should use for your WordPress website. Keep reading.
Why Do You Need SEO Plugins for your WordPress Website?
Search engine optimization (SEO) plays a vital role in ranking websites. It's the most valuable and essential strategy to make your website more discoverable in the search results.
To increase your website's visibility online, you just need an SEO Plugin.
SEO plugins offer useful functionalities to add to your blog to rank your post in SERPs. However, if you don't want to manually add these functionalities to your blog every time you submit a post, you should surely go for an SEO plugin.
SEO plugins provide you with warnings to ensure your post optimization for search engines. SEO helps identify 'relevant keywords with good search traffic potential. It also helps create high-quality, helpful content and optimize it for search engines and users.
It allows you to improve your website's position by including relevant links from high-quality external sites- i.e., 'backlinks.' Not only external links but internal links play a significant role in SEO. Adding backlinks and internal links is considered a core ranking factor in Google and other search engines.
Best Free SEO Plugins for WordPress
Here we've listed some free SEO Plugins that help you optimize the content on your WordPress website.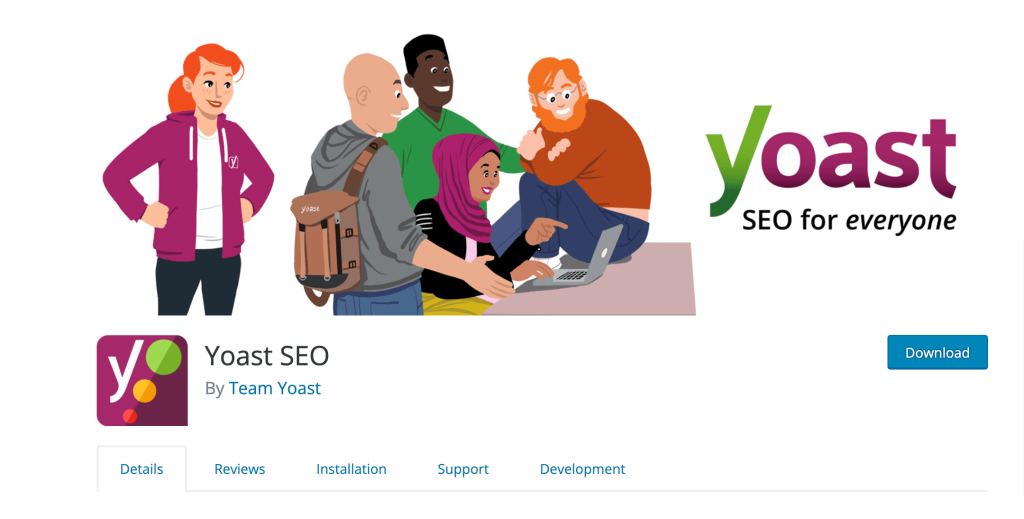 Yoast SEO is the most popular, friendly, and free SEO plugin for WordPress. The lite version of Yoast has 5+ million active installations, which shows its popularity among users.
It allows users to see how their pages look in Google Search Engines by giving them many features. Like; SEO analysis, readability analysis, full language support, a Google preview, innovative schema blocks, and other additional features.
Key Features of Yoast SEO Plugin
It helps generate XML Sitemaps whose settings can be changed later very easily in XML Sitemap > SEO > WordPress admin dashboard.
Yoast SEO automatically submits the updated XML Sitemaps to Google or other search engines.
It always maintains keyword density by checking focus keywords.
Perfect contents are eye-catchers for searchers. Thus, Yoast SEO allows adding a structured custom meta header or description to target the right keywords.
It lets you add breadcrumbs where you'll have complete freedom to make the edits.
It allows you to remove/clean permalinks.
Yoast SEO gives you bulk edit options for titles and descriptions.
Also, it helps you hide specific posts or any kind of page you don't want to show in the search engines.
Yoast SEO has a feature that allows you to add page redirects easily.
Yoast SEO offers free as well as paid versions. It also has SEO courses for beginner, intermediate and advanced users. Those having a tight budget can use a free WordPress SEO Plugin. And the users who want to go for the premium version can get access to advanced features for SEO Optimization.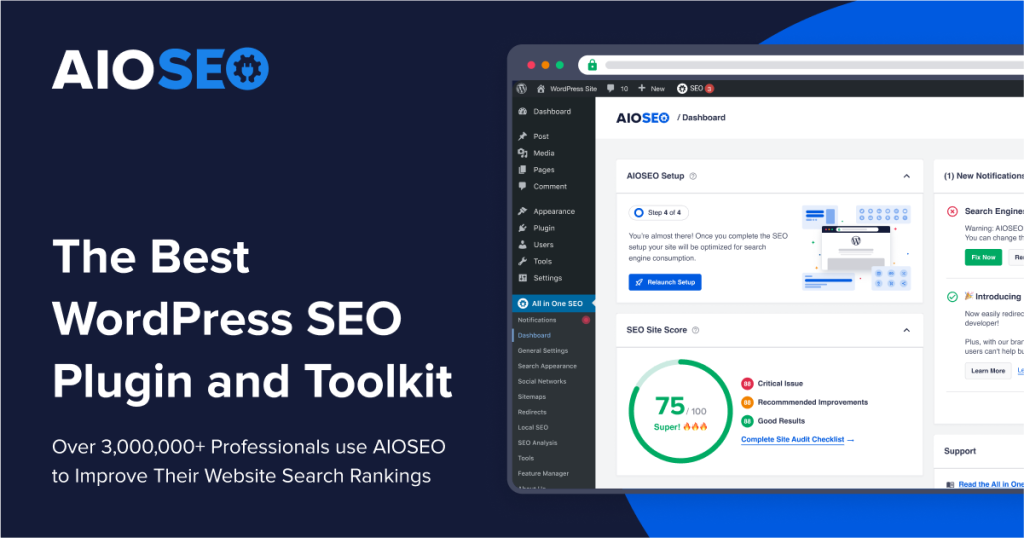 All in One SEO has over 3+ million users and is one of the best WordPress SEO Plugins on the market. It helped millions of businesses to choose the best SEO settings by offering a handy & easy setup wizard.
For beginners, All in One SEO (AISEO) comes with a wide range of preconfigured settings for Search engine optimization. However, for well-versed users, it offers every possible customization option they require.
It covers all the essential basics without complicating matters; it's considered one of the favorite SEO Plugins for many users. The bulk of features that AISEO offers makes it the most comprehensive WordPress SEO plugin and marketing toolkit.
Key features of the AIOSEO Plugin
All in One SEO offers powerful On-Page SEO optimization tools.
It automatically popup search engine notifications whenever you add or update new content to your site.
It instantly creates an XML sitemap for your website when you install it.
This plugin offers advanced WooCommerce SEO optimization for your product pages, categories, and many more in this field.
With AIOSEO, you can easily connect your website to tools like Google Search Console, Pinterest Site Verification, Bing Webmaster Tools, etc.
The lite version of AIOSEO provides all the basic essential features that help you optimize your WordPress website. However, if you want to analyze your site deeply, you can also opt for the paid version of the plugin.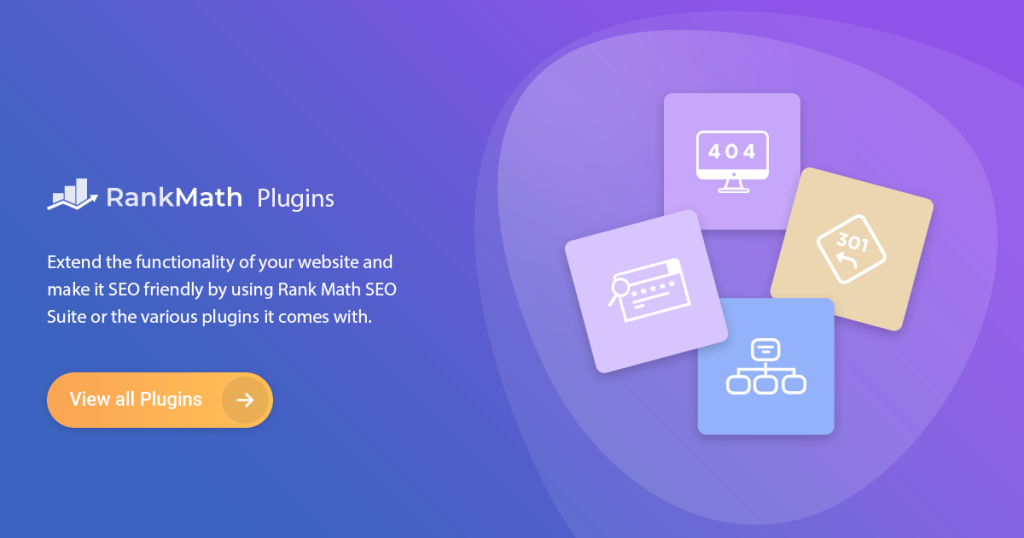 Rank Math is another free SEO plugin for WordPress. It's lightweight, easy to set up, and a user-friendly plugin.
You can use Rank Math to set up different pages, head titles, and meta descriptions. t
Its clean and straightforward user interface and several intelligent features bring top SEO capabilities to optimize your WordPress website in all possible aspects.
Rank Math magnifies the existing SEO solutions and combines many SEO capabilities to solve your SEO woes.
Key Features of Rank Math SEO Plugin
Rank Math offers a simple setup wizard interface.
It also includes some advanced SEO analysis tools.
It uses artificial intelligence to provide SEO-optimized content.
This plugin allows you to choose a better rich snippet type.
An accurate read of content gives the flexibility to add appropriate metadata for Google schema markup.
Rank Math allows virtual WordPress robots.txt file editing.
Rank Math integrates Google keyword suggestions where you can add focus keywords.
It makes your site easily navigable by adding WordPress Breadcrumbs.
You can set up custom redirections. Also, this plugin allows you to choose a redirection type.
Rank Math's free SEO version comes packed with a lot of features. In addition, it has three premium plans: Pro, Business, and Agency.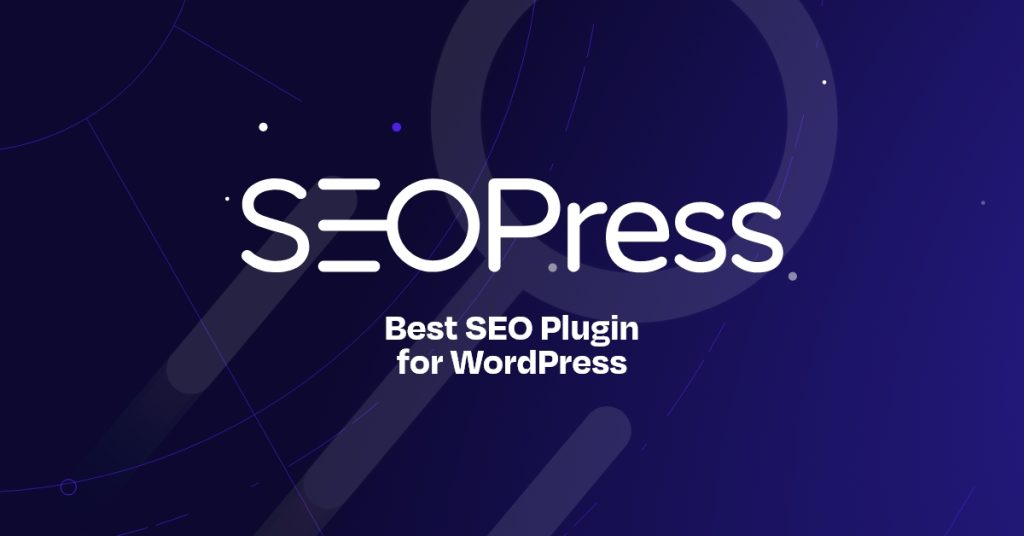 SEOPress is another popular plugin for WordPress which comes with a default setup so beginners can start without complications.
This excellent SEO WordPress Plugin offers a wide range of options for users. SEOPress is a lightweight SEO plugin that makes WordPress SEO-friendly.
Key Features of SEOPress Plugin
SEOPress offers an easy installation wizard to set up your site instantly.
It allows you to add Titles and Metas with dynamic variables. And also, manage your meta robots settings.
This plugin includes search engine indexing to index your content in search engines like Google, Bing, etc.
With this plugin, you can easily have a mobile or desktop preview of your post in search engines.
It gives you the flexibility to link your social media accounts to your sites.
SEOPress allows importing of posts and terms metadata.
You can also import and export settings from site to site.
With SEOPress, you can build your custom XML and HTML Sitemap.
For each post, it allows you to edit your default canonical URL.
There are also several neat URL rewriting and redirection tricks available in the free version that you can access easily. And for users who want to get premium features, benefits include a much more detailed schema for structured data to be used manually or automated using advanced conditions.
Like most other plugins, SEOPress comes in free and paid versions.

WP Meta SEO is yet another free SEO plugin for WordPress. This plugin comes with multiple features, making it a powerful tool for SEO optimization.
This plugin is the most beginner-friendly and excellent for experienced users as it also includes advanced controls.
For SEO optimization WP Meta SEO plugin gives complete control over bulk edit website meta, image file name, SEO link title, and many more on a single view.
With some automatic tools, the WP Meta SEO plugin analyzes the content thoroughly to provide better content for search engines. In addition, some advanced tools accurately function to save time and help you get the best SEO rankings.
Key Features of WP Meta SEO Plugin
WP Meta SEO uses the Google Search Console Data for your SEO.
It makes meta content editing faster from a dedicated pre-build interface.
This plugin includes a unique tool that dynamically resizes all your website images as per your requirement.
It includes an image optimization on each page to add the image's alt, title, and description for image searchers.
It provides redirects and a 404 errors manager tool to handle all 404 internal and external content errors.
Like all other SEO Plugins, the WP Meta SEO plugin also generates XML and HTML Sitemaps in no time.
It provides Google Analytics analysis in just two clicks.
This plugin is the best fit for WooCommerce sites and users who use 3rd party plugins, as it fills all SEO content directly from your custom post.
Using Local Business SEO Optimization, you can also attractively display your local business in Google search results.
The free version of the WP Meta SEO plugin gives the flexibility to use tools for better SEO optimization. And the paid version has its advantages for advanced users, and it's cheaper than that of some other WordPress premium plugins.
Wrapping Up: Best Free SEO Plugins for WordPress
This blog has gathered information about the best free SEO plugins for WordPress. We hope these plugins help you optimize your site content effortlessly.
If you're using any other free WordPress SEO plugin, let us share it in the comments section below.
We hope you like this article, and if you find it useful, please comment & share it!
If you're looking for a simple way to leverage the power of structured data, check out our tutorial on how to create a structured data-powered FAQ page with Elementor.
Moreover, you might also be interested in learning how to create a portfolio in Elementor with filterable gallery.