Elementor Page Builder is good… but so are others. In our Elementor review, we help you understand Elementor in a better way. This in-depth Elementor review will walk you through the top Elementor features, functionality, support, pricing, etc.
If you are here for the answer to the question "Why Elementor?", You have landed on the right page. This Elementor review will also answer all such questions.
Here we have discussed all the prominent factors that make Elementor one of the best in the industry. Since there are so many features, we have decided to list the ones that add up the most.
Elementor Review: Top Elementor Features
Massive Widgets Library
Smooth and Fast Interface
Fully Live Editing
Global Colors and Typography
Pricing and Plans model
Canvas and Other Layouts
Undo/ Redo Capabilities
Access to the Full Revision History
Responsive Editing Power
Professionally Designed Templates
Impressive Popup Builder
Elementor Cloud Website
In-depth Documentation
Huge Community
Powerful Effects
Translation and RTL ready
Before we get into all the top features we have listed in our Elementor Review, let's discuss the basics.
What is Elementor?
Elementor is a popular page builder plugin for WordPress with over 5 million active installs. Elementor has a free version and a Pro version with variable pricing options. The free version is feature-loaded, and the Pro version extends it further.
Elementor lets you create simple and complex page layouts with its design and functionality options. So you don't need to worry about writing custom code. With its drag-and-drop capabilities, you can create pages fast and easily.
If you run a web design business or a WordPress development agency, Elementor can be a great value addition to your web design business as it helps you save time and effort.
Elementor Pro also includes a unique Theme Builder functionality to create a custom header, footer, posts, archive layouts, and more. It's like building an entire WordPress theme visually with a Page Builder.
Also Read: How to display WordPress Posts Chronologically Using the Timeline Widget for Elementor.
Is Elementor Good for Beginners?
Yes, Elementor is good for beginners.
It offers an excellent, user-friendly, & no-code interface that helps beginners to get started with Elementor quickly.
Since Elementor Free provides a lot of functionality, you might not be sure if you need the Pro version. But when you compare Elementor Free & Pro versions, you will be tempted to shell out some money and upgrade to the Pro version.
Elementor Review: Elementor Features & Pricing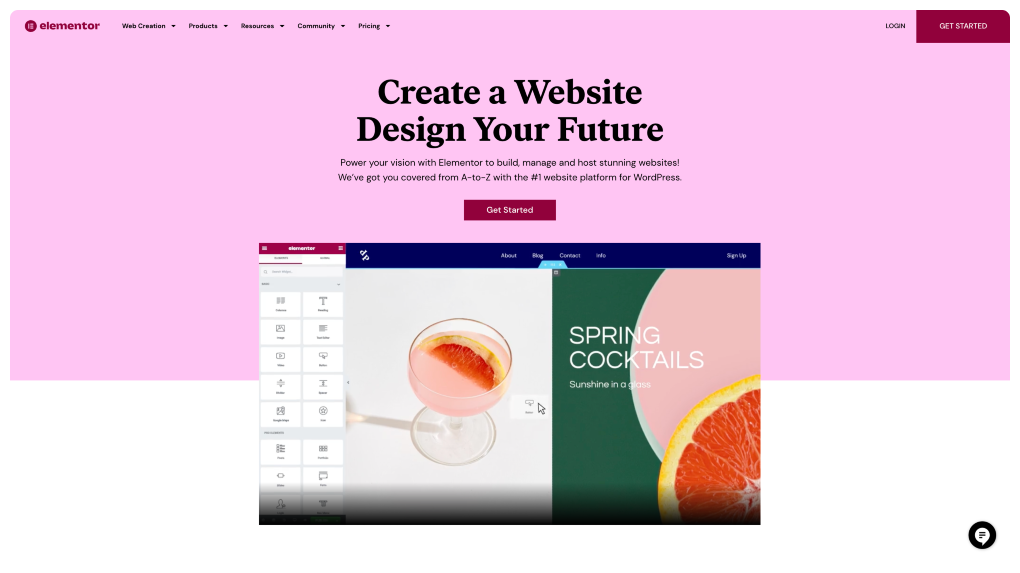 Now that we have discussed the basic functionality offered by Elementor, we will move on to the other essential details like Pricing, Performance, Support, and Documentation.
A product's features shouldn't only be the deciding factor in making a choice. So, in our Elementor review, we will consider all the aspects you should consider to pick the right tool for your business. With these details, we can make a wise decision in selecting the right tool for the job, which is easy to use and maintain in the long run.
Massive Elementor Widgets Library
One of the most prominent features of the Elementor is its widgets library. Elementor has as many as 30 widgets with the free version, and you can get access to more widgets with its Pro version. Even if you do not upgrade to the pro plan, you get enough widgets to create an entire landing page quickly.
The Elementor team keeps adding to the library for both versions. From heading to the progress bar, you get it all with the Elementor lite.
Here is the list of all the widgets available in the free version; there are more in the Pro version. You can also extend Elementor with Elementor addons and get access to even more widgets and templates.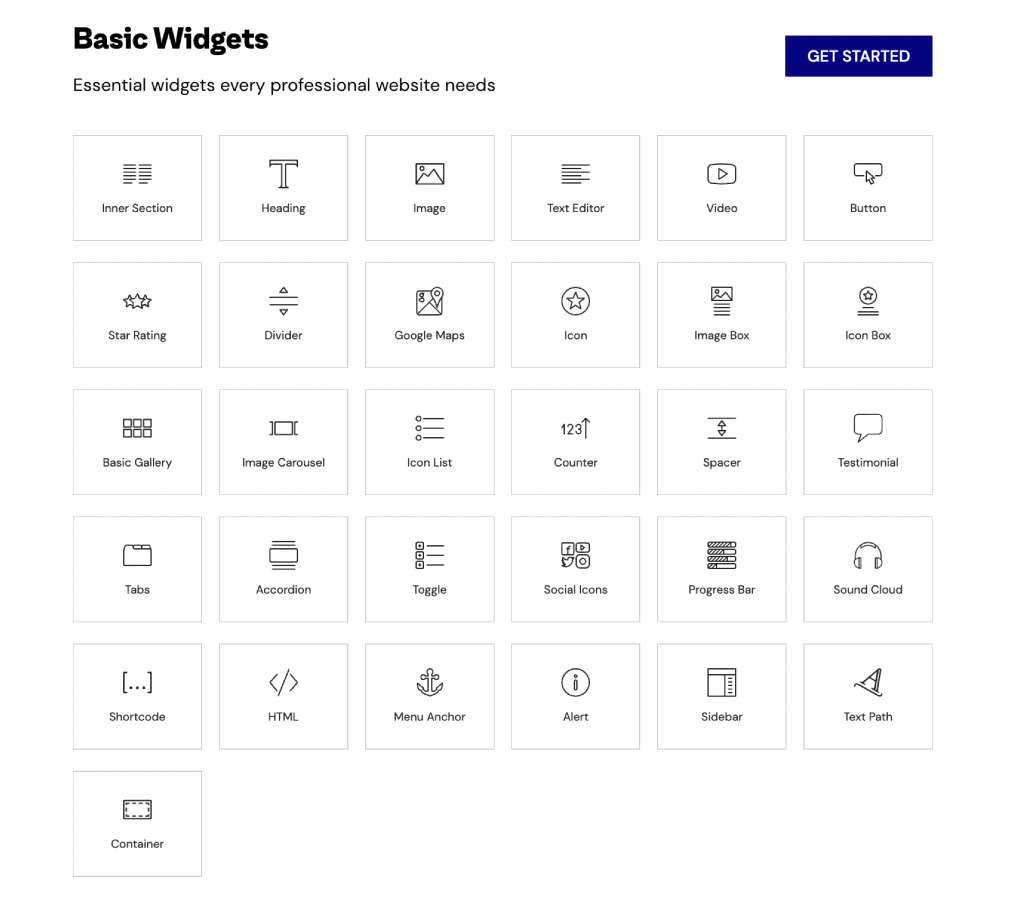 Elementor Review: Performance
Performance is a critical factor when it comes to choosing Page Builder plugins. So, in this Elementor review, we will share details about how Elementor works. Elementor's front-end panel is relatively fast and comes with Live Preview functionality to see the live preview of every change you make to the page.
For any operation, you do not feel any lag or see any loading screen while using Elementor. Whether dragging and dropping a widget, publishing the page, customizing the styling options or importing a fully loaded template, you will be able to do it effortlessly.
This feature makes creating websites more fun and less frustrating, and with this feature, you can get a lot more done, and that too in lesser time. With Elementor, you can speed up your workflow.
Talking about the performance and loading times of pages built with Elementor, you won't face any issues. Elementor compiles the required CSS files into a single file and optimizes the delivery.
Fully Live Editing
Although this feature can be seen on other page builders as well, sometimes other page builders fail to give us the live display of the website. They make you refresh the page to see what changes you have made there, and doing a refresh after making each minor change can consume a lot of your time.
For this, Elementor has come to the rescue with a fast, interactive design that can make your editing process much more manageable.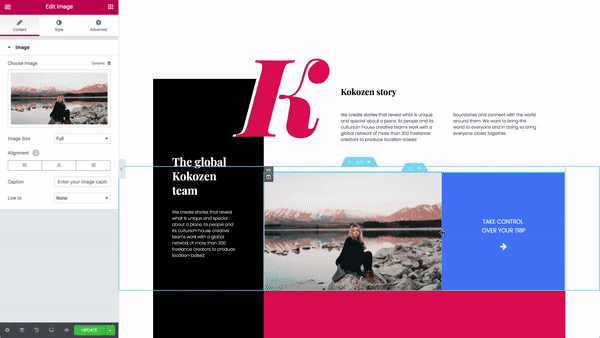 Global Colors and Typography
Global colors & typography are other helpful features of Elementor. This lets you define your site's "default" colors and typography.
Any changes you make to your global site settings will automatically apply to all designs that use the default, so you won't have to update them manually.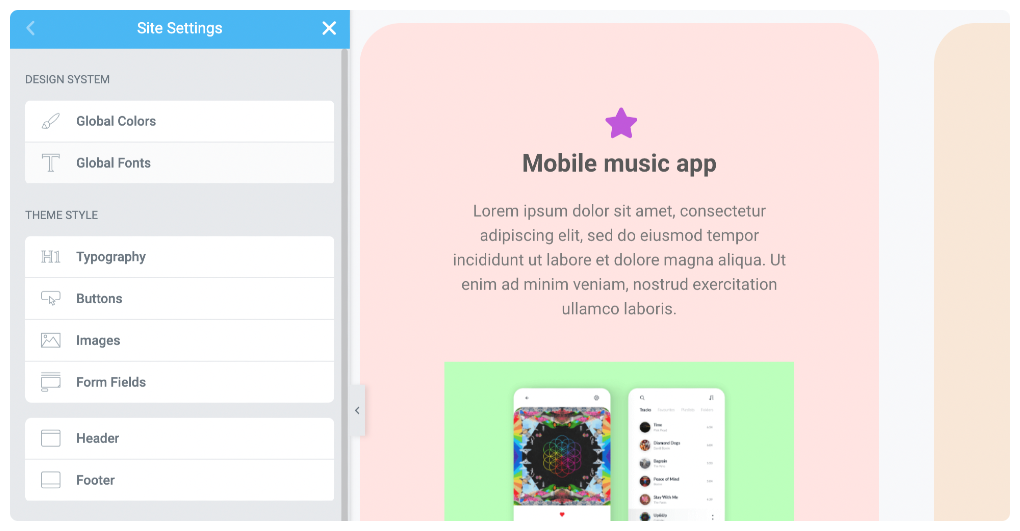 Elementor Review: Freemium Model
Another vital factor to consider in our Elementor review is Pricing. Well, it is not free and more of a freemium model. There is a pro version of Elementor, but you can still enjoy 80% of the epicness without the Pro version.
You can download Elementor from the WordPress repository, and here is a link. No hidden charges or subscriptions are needed for the same; it just works!
Now, for the Pro version. We can't deny that it adds some excellent features to the existing plugin, but it is not something everyone will need.
Check out the detailed comparison of both versions.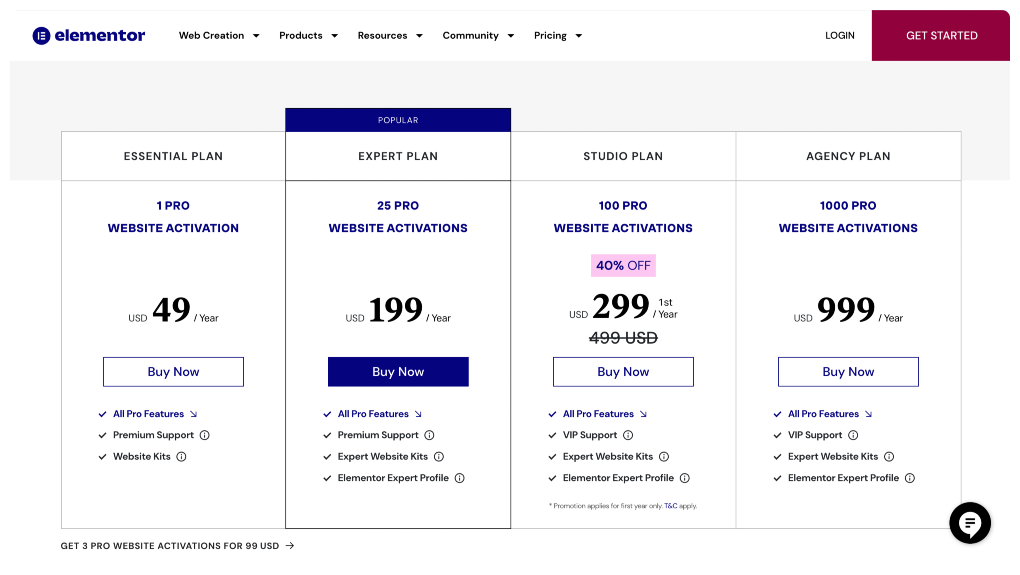 Canvas and Other Layouts
Some pages do not require the header, footer, or sidebars like landing pages or sales pages. Elementor has page layout templates that you can use to design your webpage.
You can go with the Elementor Canvas template, which gives you a page without any sidebar, header, or footer. With this feature, you can design a web page without any problem.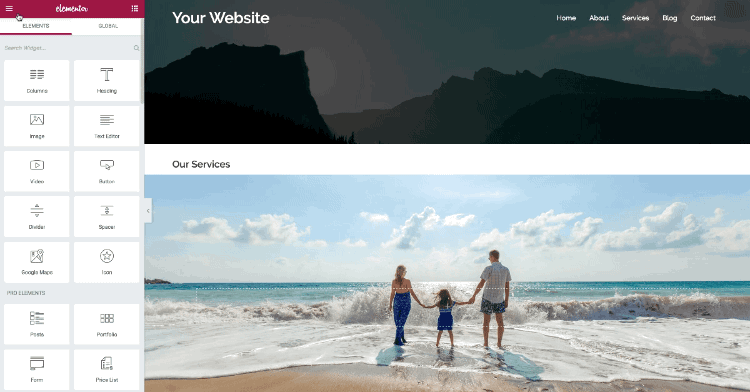 Undo/Redo Capabilities
What if you accidentally deleted the whole row? What do you do now?
With other page builders, there are always revisions of your work saved, but these revisions are not the best option in the above case, and the best way to fix something like this is by undoing it. Elementor allows the users to undo a step just by clicking Ctrl + Z or the undo button.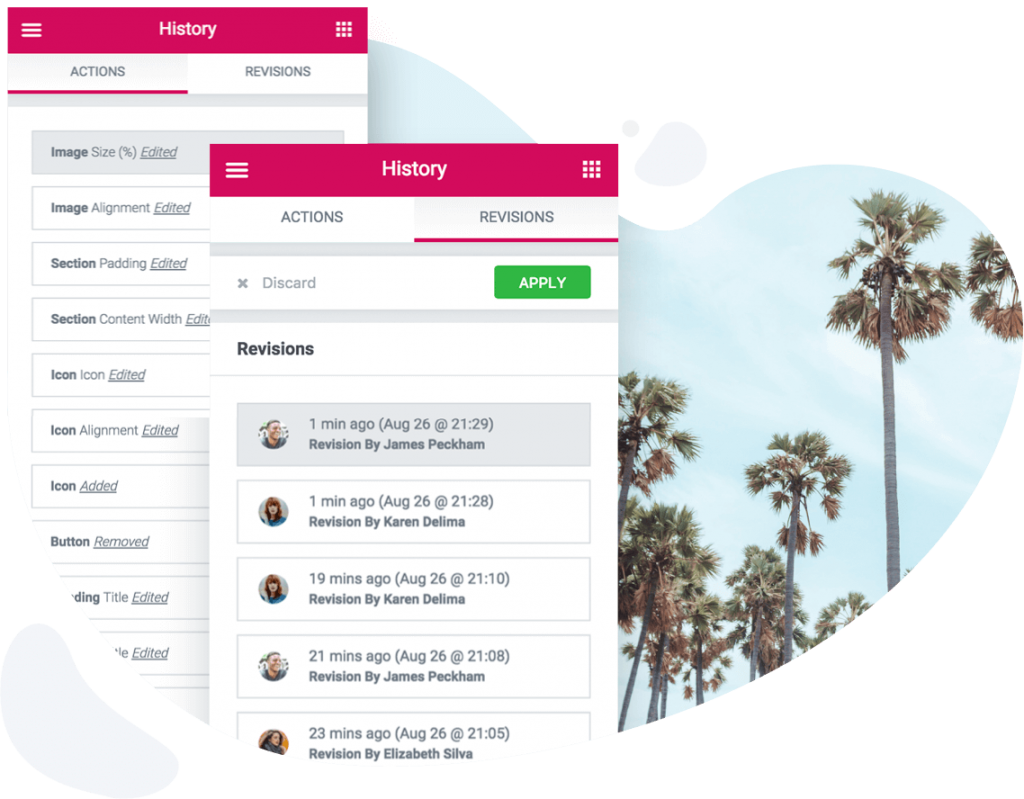 Access to the Full Revision History
Another helpful feature of Elementor is its history data which includes all actions and revisions of data created and accessed on your editor's page.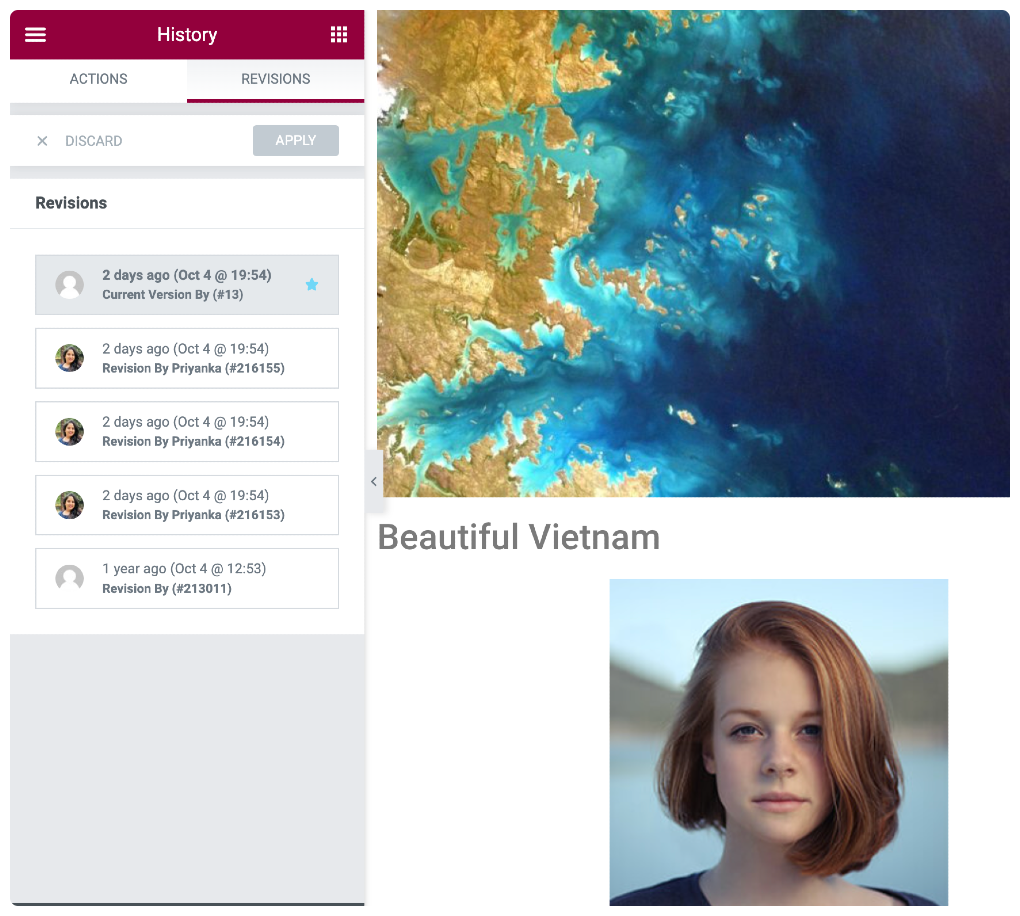 Using this feature, you can see the entire process you followed while creating your design. Additionally, the revision history can help monitor the progress of a project when several team members are working on it.
Responsive Editing Power
Elementor page builder does not restrict your designing power to only the desktop version of the website; instead, it allows you to customize your site in all the responsive modes without touching a single line of code. You can click on the responsive icon and change it accordingly without hassle.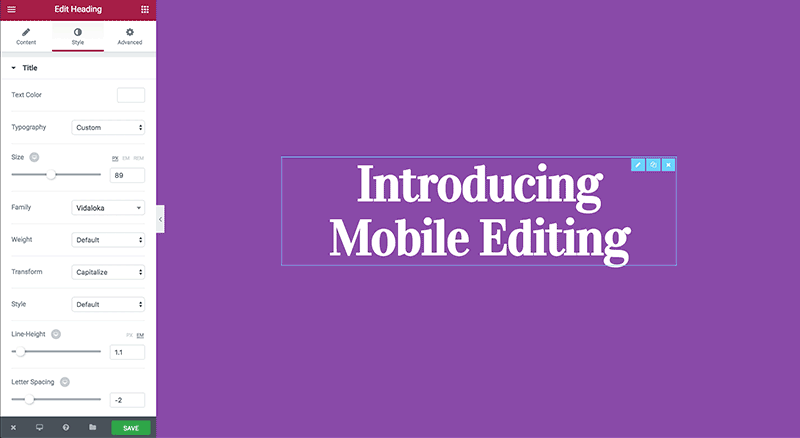 Professionally Designed Templates
This is a big plus for you if you rely primarily on premade templates and not on designing the whole page from scratch. You will get a massive library of predesigned pages and even blocks, and you can use these blocks to create your entire webpage.
Elementor template library is ever-growing; you will find a template for almost every page you want. You can import a page and make changes with a single click, just like any other Elementor widget.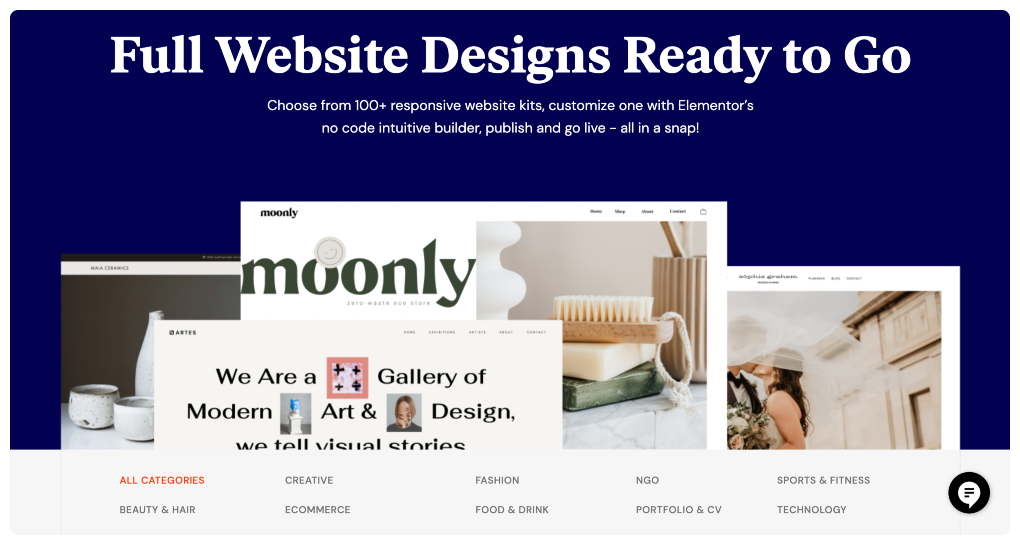 Impressive Popup Builder
Elementor's Popup Builder helps users to set up a popup on their websites without touching a single line of code. The builder gives you complete control over how your popup builder works and looks.
You can set different triggers for your popups and create multiple popups for other use cases. The builder also gives advanced rules options that help you define how, where, and how often your popups appear.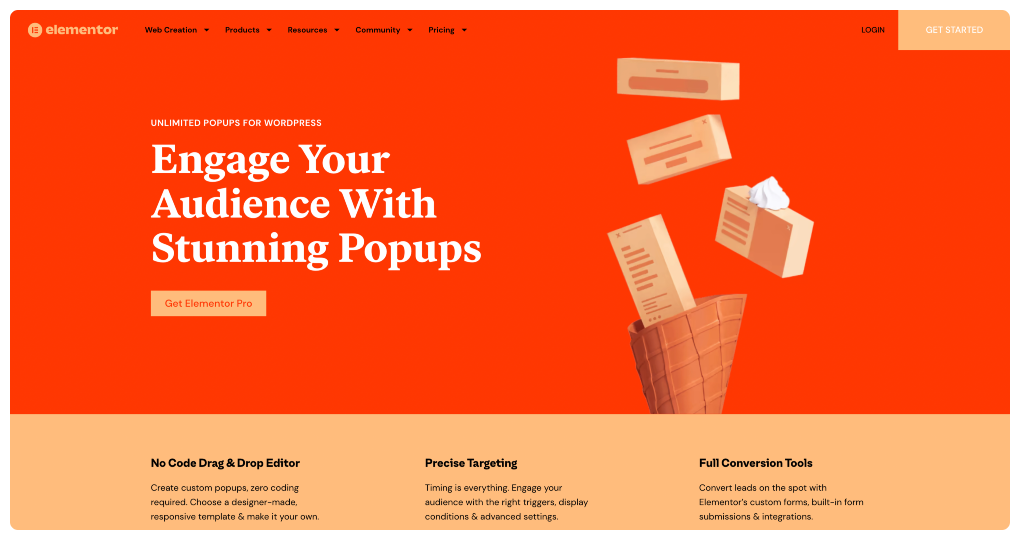 The popups can be managed from a single place, and the best part is that you do not require a separate plugin, as this builder is part of the Elementor Pro plan.
With this feature, you can create cookie notices, a hello bar, a bottom bar, sale popups, login popups, and whatnot. Learn more about the Popup Builder.
Elementor Cloud Website
Elementor recently launched its Cloud Hosting Service that lets you host, manage, and create WordPress websites everything using Elementor.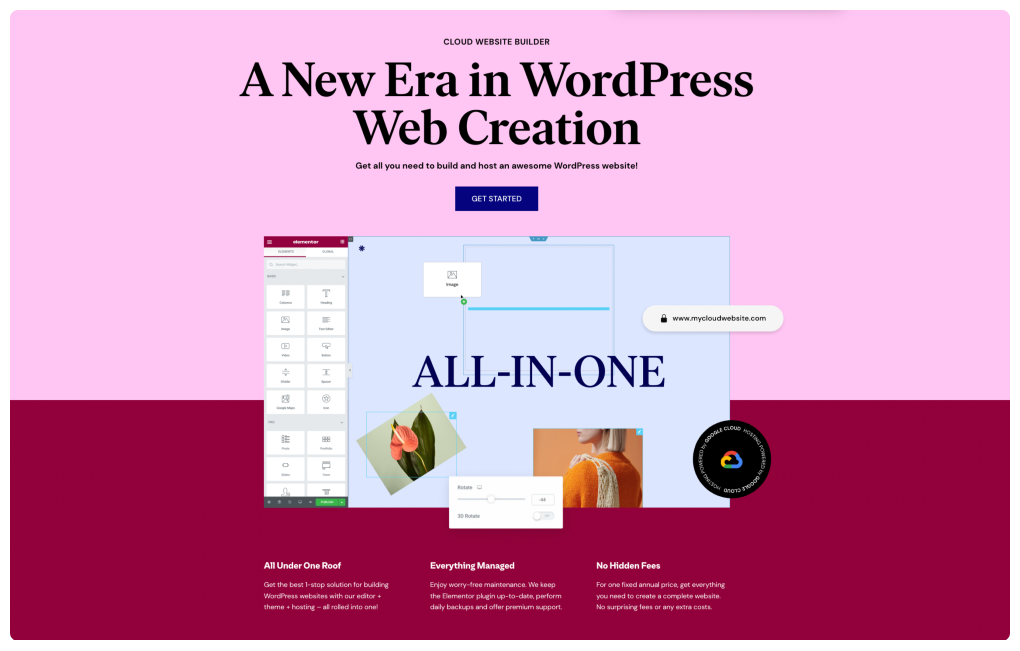 With the Elementor Cloud Website, you get an end-to-end solution, including premium hosting, a custom domain connection, WordPress CMS, the Hello theme, and all of the features of Elementor Pro.
A website is generally created by registering a domain name, finding a hosting provider, and setting it up using a CMS.
Elementor Review: Extensive Documentation & Support
How could we miss out on the importance of Documentation and Support in our Elementor review?
Sometimes while using a plugin like a page builder, you might get stuck somewhere in the process. In this case, proper documentation to help users becomes a real timesaver. Elementor has an excellent plugin resource literature that has the answers to most of the questions you might have while using the plugin.
The Elementor team keeps the documentation updated, and if you cannot find the answer to your question, you can always write to their support team and resolve your query.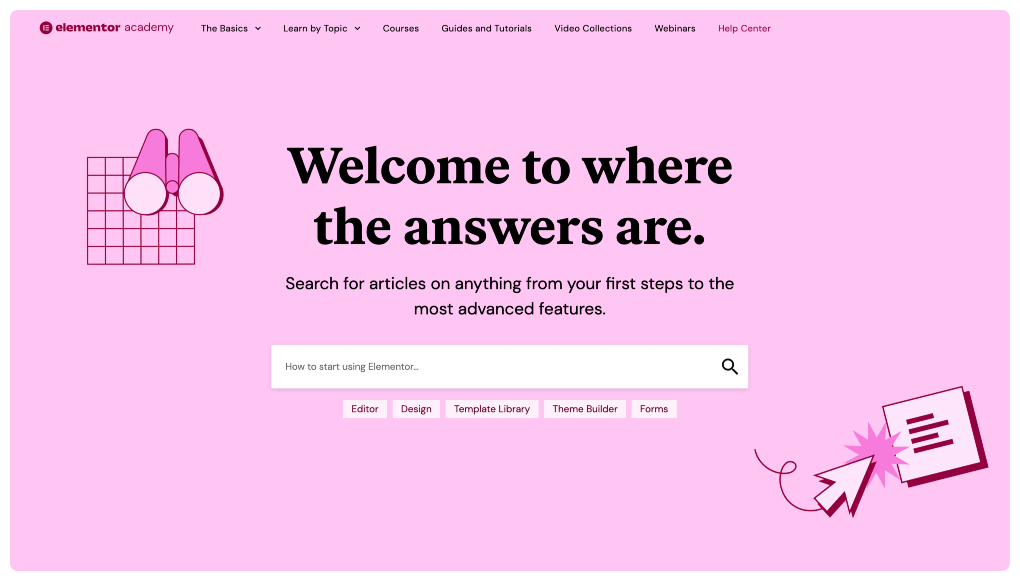 Huge Community
Elementor lite has more than 5 million installs to date, and with a big community, you will get more customization. If you wish to take the editing and customization to another level, you can try out Elementor addons.
With Elementor addons, you can add more amazing widgets to Elementor and take your elementor customization to a more professional standpoint.
Unique Animation & Motion Effects
Apart from the templates and widgets, Elementor hosts special effects and animations, which gives any website the "designer touch" it needs. Some of those effects are Box Shadows, Background Overlays, Hover Effects, Animations, Shape Dividers, Headline Effects, Gradient Backgrounds, and much more. These effects are enough to make a website look professional and modern.
Elementor Motion Effects is an unusual feature we can't afford to miss in our Elementor review. It offers a custom library of animation effects to help you build creative layouts with Elementor.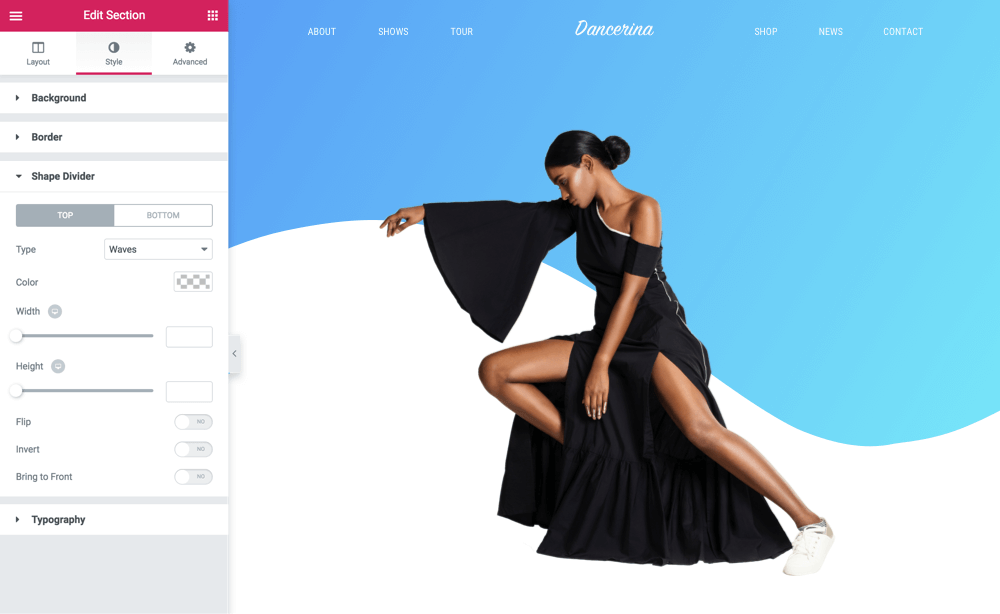 Translation and Localisation
Last but not least to be considered in the Elementor review is the multi-lingual capabilities of Elementor. The plugin has been translated into more than 50 languages as of now, and this list keeps growing day by day. The plugin is also RTL-ready, so it supports RTL languages. This makes the localization for any website super easy.
Elementor is also compatible with WPML, a popular multi-lingual plugin to help you build multi-lingual WordPress websites.
Elementor Review: Final Words
Elementor has a vast user base, features, and good documentation, as discussed in our Elementor review. All these factors are something that no user can neglect when it comes to choosing a page builder.
Elementor has all the features and functionality you need to build WordPress websites. Go ahead and try Elementor and learn what the fuzz is all about. 🙂
And if you need any assistance with using the Elementor page builder, you can refer to the How to Use Elementor: Detailed Guide for Beginners article for complete guidance.
What do you think of Elementor? Did we miss out on anything in our Elementor review? Which features do you think are the most prominent of all? Comment it down and let us know!