PowerPack Addons' Instagram Feed allows you to fetch the photos from your Instagram account and show it on your website/blog. You can set it up in a few simple steps, but before we start, let us learn a few things.
1. The following tutorial will work only for the updated Instagram Module added in PowerPack Pro v2.2.6 and PowerPack Lite/Free v2.2.4 and above.
2. The Instagram profile should be a public profile.
Now that we have everything sorted, let us start with the setup of the feed.
Step 1: Go to the existing feed or drag a new Instagram Widget to the page.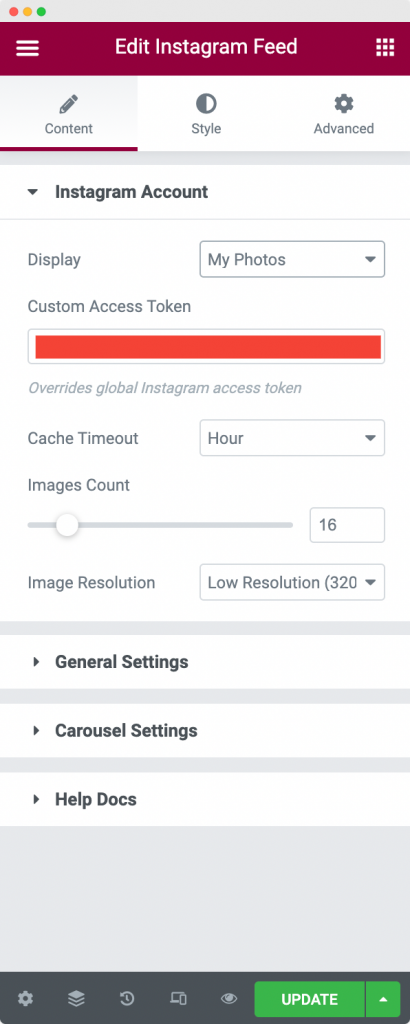 Step 2: Enter the Instagram Access Token that you have generated for your account in the Custom Access Token option.
Have a look at this doc if you need help in generating the Instagram Access Token - How to Create Instagram Access Token for Instagram Feed Widget?
Step 3: You can either enter the Instagram Access Token here or head over to the WordPress Dashboard >> Elementor >> PowerPack >> Integrations and enter the Instagram Access Token there. After entering the Instagram Access Token, images from the Instagram profile will be shown.
Note: Please note that if you enter Instagram Access Token on the page, then it will be active for 60 days and then it expires. So you will need to regenerate the Access Token and add it again. However, if you enter the token in PowerPack's Integrations tab, then you will not need to renew the Token manually every 60 days and the PowerPack plugin will do that for you automatically. So, we would recommend you enter the token in the Integrations tab.
Step 4: Complete the remaining setup of the feed as needed.