Price Menu widget is a straightforward yet efficient way to display the different prices you are offering to the users. You can show a single price or multiple prices to the user using the Price Menu widget.
Content Tab#
In this tab, you can add multiple menu items with titles and descriptions. You can add as many details as you want there. There are five different styles to choose from, and you can use the toggle button to add a Title Separator.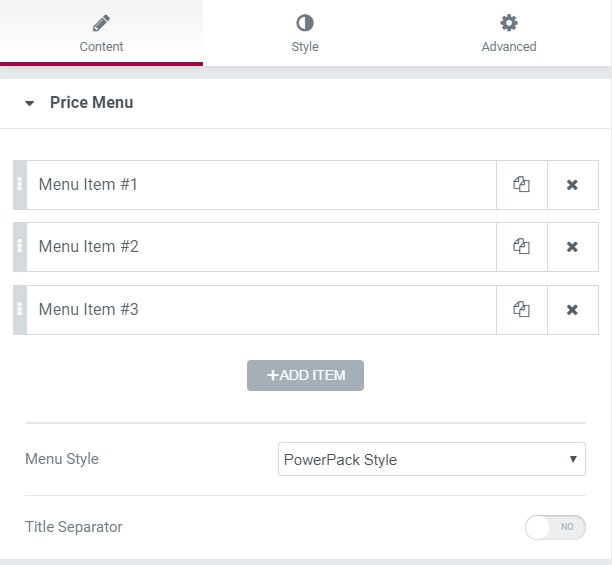 Style Tab#
Here you can style your pricing menu in any way you want. You can change the background color, padding, spacing, border, and box-shadow. You can even add your custom typography settings such as font family, font style, line height, letter spacing, transform, etc.
Advanced Tab#
This Tab has five subsections-
Element Style - Here, you can change the margin, padding, z-index, and entrance animation and add CSS ID and classes.
Background - Here, you can set the background as classic or gradient and can even add the hover effects.
Border - Here, the properties related to the border are defined as border type, radius, box-shadow, and hover effects.
Responsive - Here, you set the responsiveness of the different devices to be active or not.
Custom CSS - This lets you add CSS code to the widget, and you can see it render live right in the editor.