Searching for the best WooCommerce addon for Elementor?
Elementor is a popular page builder option for building WordPress websites. Likewise, WooCommerce is a handy plugin for creating eCommerce stores in WordPress.
In this article, we will list the best Elementor WooCommerce Addons that you can customize on your WordPress website.
Best Elementor Addons for WooCommerce
Here we've shortlisted the best Elementor Addons for WooCommerce, their core features, and pricing.
So let's begin.
PowerPack Addons is one of the best Elementor add-ons and a complete toolkit that lets you design creative websites without touching a single line of code.
PowerPack offers 300+ pre-designed templates along with some useful extensions. In addition, it includes 80+ premium widgets and a dedicated package of customizable WooCommerce widgets that help create beautiful eCommerce websites.
Including the single widgets for WooCommecre, PowerPack also comes with a WooCommerce builder containing a wide range of Woo Widgets that lets you design WooCommerce single products and archive page templates
Some of the dedicated WooCommece widgets offered by PowerPack Elementor addons are:
Product Grid Widget: This widget allows you to create visually appealing product grids with various customization options. You can display products in a grid layout with multiple columns and customize the design to match your website's style.
Product Slider Widget: Similar to the grid, this widget also allows you to create product sliders with advanced customization options to showcase your products attractively.
Product Categories Widget: Display product categories in various layouts and styles to help users easily navigate your online store.
Add to Cart Widget: Customize the design of the "Add to Cart" button for your products to make it more appealing and fitting with your website's aesthetics.
Checkout Page Styler Widget: Enhance the checkout process and design with this widget to provide a better user experience during the final purchase.
The next WooCommerce Addon for Elementor in our list is ShopEngine.
ShopEngine is a very well-known WooCommerce plugin that offers ready-to-use templates that can be utilized to build a WooCommerce store within minutes. If you're searching for an Elementor WooCommerce plugin that can do the job without messing up dozens of customizing options, this one will surely make you happy.
It has an extensive range of fully customizable widgets, such as Cart Page Builder, Checkout Page Builder, My Account Page Builder, Success Page Builder, Quick Checkout Builder, and Quick View Builder.
Crocoblocks is one of the most popular toolkits for building a WordPress website, especially for Elementor & Gutenberg. It offers a dynamic range of Elementor widgets, templates, and 20+ widgets for Elementor, including a professional range of WooCommerce plugins, also known as JetWooBuilder for Elementor.
Regarding Crocoblocks for E-Commerce, you'll get 60+ professional Elementor widgets in one place. Additionally, it provides some incredible ready-to-use product page templates you can pick from and update.
Yet another WooCommerce Addon for Elementor is WooLentor.
This addon is an all-in-one solution for creating a premium-looking E-Commerce website that professionals can surely go for. Additionally, for better understanding, it provides free documentation and video tutorials to resolve all your queries.
Another good option for Elementor WooCommerce add-ons is ElementsKit.
ElementsKit includes four unique WooCommerce widgets, each to fulfill your fundamental needs regarding creating an e-Commerce website. This can be an excellent solution for those wanting to establish their brand-new online store from scratch and upgrade it daily with minimal effort without coding.
ElementsKit also works well with the free version of Elementor. So, you don't have to worry if you're not an Elementor Pro member.
Another feature-packed Elementor addon available in the market that includes WooCommerce widgets is Happy Addons.
Most WordPress users adore it because of its handy & adaptable features. Also, it'll be ideal for beginners. So with Happy Addons installed on your WordPress website, you can create outstanding e-commerce websites and attract customers.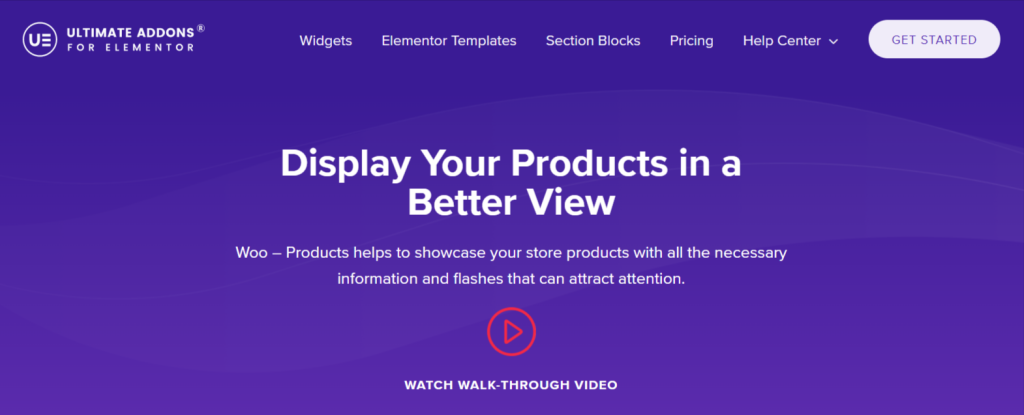 Next on our list is Ultimate Addons. This Elementor addon has many content widgets, including dedicated WooCommerce widgets. If you want to utilize this product for creating an Elementor WooCommerce website, you will need to purchase the complete plan that includes 40+ widgets, 100+ website templates, and 200+ section blocks.
Conclusion
So, that was all about some WooCommerce Elementor add-ons.
We hope this tutorial helps you choose the best Elementor add-on for your WooCommerce website. If you've any queries related to this topic, feel free to share them in the comments section.
Also, you can connect with us on these platforms: YouTube, Facebook, and Twitter.