Looking for the best WordPress Slideshow plugins? If yes, then this article is for you.
Adding a slideshow plugin on your website lets you flaunt images and video content on your web pages and helps you improve the user experience.
This article will look at some of the best WordPress slider plugins you can use on your sites.
Why Use WordPress Slideshow Plugins?
If images and videos are appropriately used in a slideshow, it can bring a lot of user attention to your website.
A slideshow plugin can display a slider with many more features.
You can use a WordPress slider/carousel plugin to your website's showcase images, videos, and other websites to get the best possible results.
A slideshow plugin will help you in various ways if used on your website. You can look at some of these points:
It's an attractive way to engage your audience.
Uses less space on your website to flaunt content in the form of images or videos.
It displays more information while occupying a compact space on your website page.
These eye-catchy slideshows can help to boost the overall user experience.
It's a creative way that enhances the overall look of your webpage.
After looking at these features, you might be thinking of giving it a try, but the question arises, which widget is best for your website?
Well! You don't have to worry; we had deep research to find the best five slideshow plugins you can use without considering your WordPress website.
WordPress Slider Plugins: Overview
We've listed the five best slider plugins that we think are best for your WordPress website.
Which Slider Plugin Is Best for WordPress?
Still asking yourself, "what is the best free slider plugin for WordPress?" Let's check our top picks of WordPress slideshow plugins for more details.
So let's start!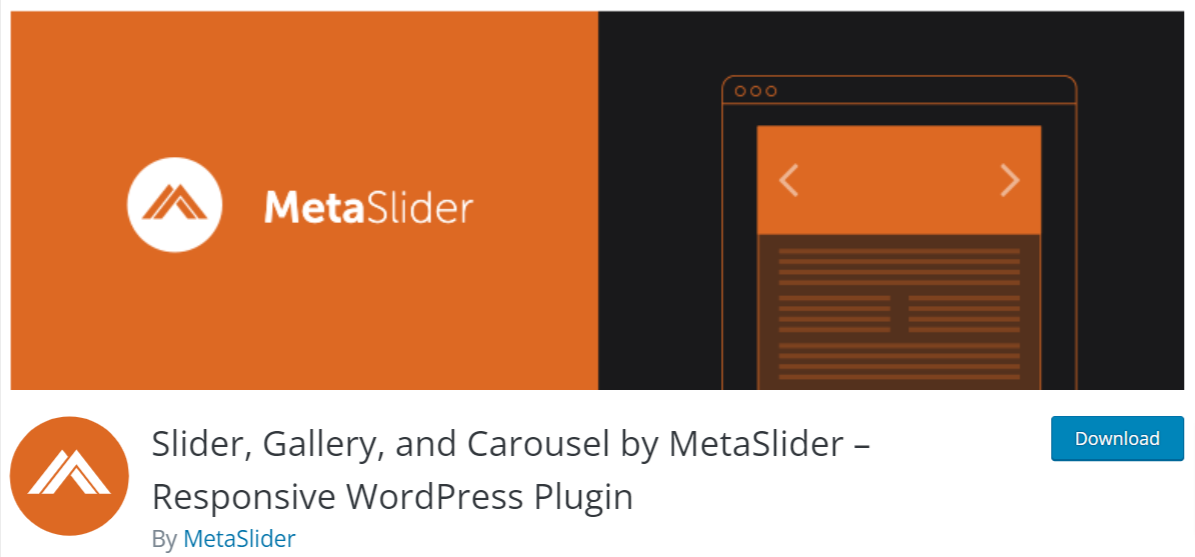 Meta Slider is another WordPress slider plugin you can consider using on your website to create amazing image sliders and carousels.
Since it follows an easy drag-and-drop functionality to create slideshows with dozens of features, most users use this plugin to create images and videos of what they want to display on their websites.
Key Features of Meta Slider
Allows creating beautiful & responsive sliders on WordPress websites.
Provides intelligent image cropping and live theme editor.
Optimized for SEO, improving website engagement by increasing time spent on your website.
Super flexible and compatible.
Allows you to display all content types, such as images, videos, layers, products, post feeds, and HTML.
Meta Slider Pricing
The premium plans for Meta Slider Pro range from $39 to $289.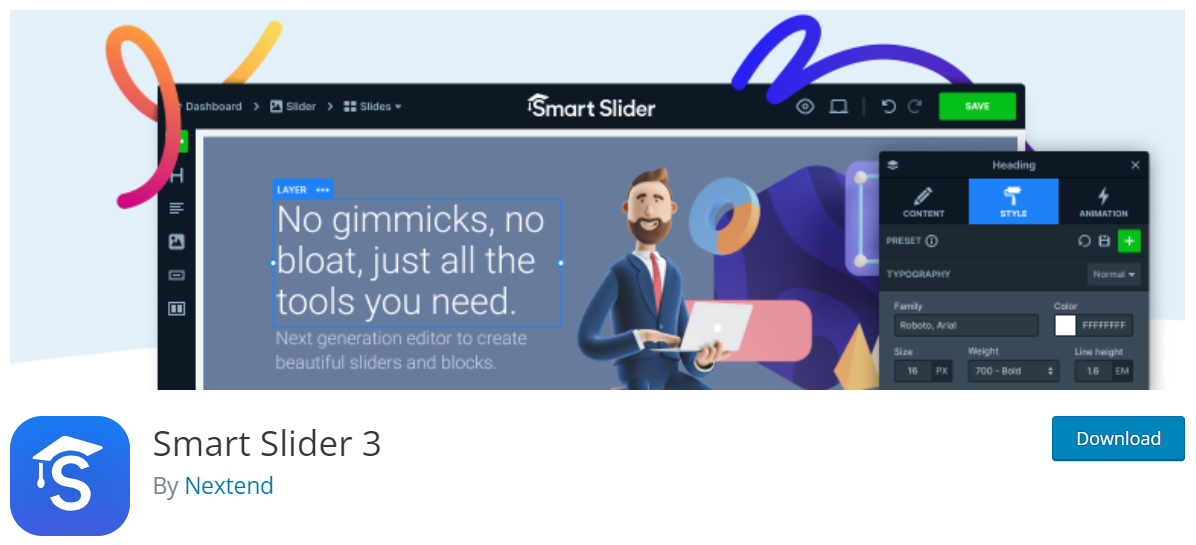 Yet another WordPress slider plugin available in 2023 is Smart Slider 3. This slider plugin is the most popular plugin among WordPress users. It includes animated layer sliders and blocks that can be created from simple images to complex full-page slideshows and videos.
The Smart Slider plugin uses a drag-and-drop feature, making it easy to access at the very first point.
Key Features of Smart slider 3
Attractive and advanced features to create stunning sliders or carousels.
Includes intuitive visual styling options to customize the sliders.
Lots of animation and slider effect options.
It provides 180+ ready-to-use customizable templates for your website.
Versatile slider options to flaunt your content in a single place.
Generate sliders from WordPress posts, WooCommerce products, etc.
Smart Slider 3 Pricing
Smart Slider premium versions range from $60.79 to $308.86. The advanced features we've just discussed are included in this premium version only. However, we suggest you use the free version if you can compromise with these advanced features.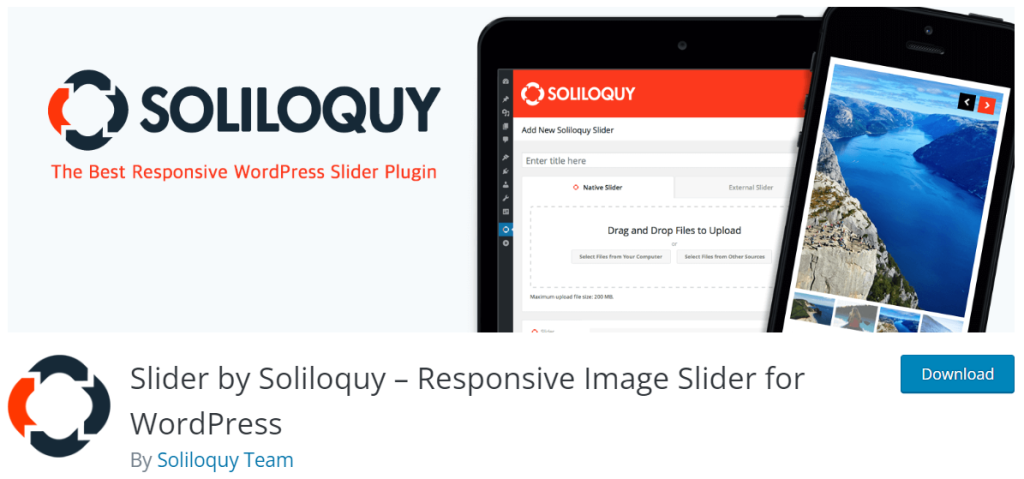 Next, one of the leading WordPress slider plugins is Soliloquy. It is the most suitable slider plugin for beginners as it's very smooth and easy to use. In addition, this plugin is super optimized and uses a drag-and-drop method to add images to the slider.
Slider by Soliloquy is one of the best responsive slider plugins that utilize a simple yet creative interface for users to create fantastic sliders. It's an intelligent slider plugin that automatically resizes images, chooses a navigation style and a suitable theme, etc.
Key Features of Soliloquy
It has some pre-built templates to customize the WordPress sliders.
Allows you to add product sliders to boost your sales and products.
Gives you the flexibility to enable slideshow display in a fullscreen lightbox mode.
Allows you to create slides by importing images from various sources such as Instagram, Pinterest, and many more.
Also, it makes sliders from PDFs and speeds up the slider creation process.
Enables protection by allowing you to prevent users from downloading your content.
Includes multiple additional features, a schedule timer option, and adding custom CSS.
Last but not least, the Slide Anything plugin for WordPress users is on our recommendation list. It allows you to create sliders from any form of content, such as images, videos, HTML, shortcodes, etc.
This WordPress slider utilizes the drag-and-drop method to create sliders and is super easy & smooth to configure. In addition, it offers multiple styling options along with fantastic slider transition effects.
Key Features of Slide Anything
Fully responsive and offers infinite slider loops.
Gives you the flexibility to customize the visual and text part for each slide separately.
Offers multiple additional features to add transition effects.
It works smoothly with each and every interaction it gets.
Includes free and premium plans.
However, it has a premium plan, but a free version is more recommended.
Next: Slider Widget for Elementor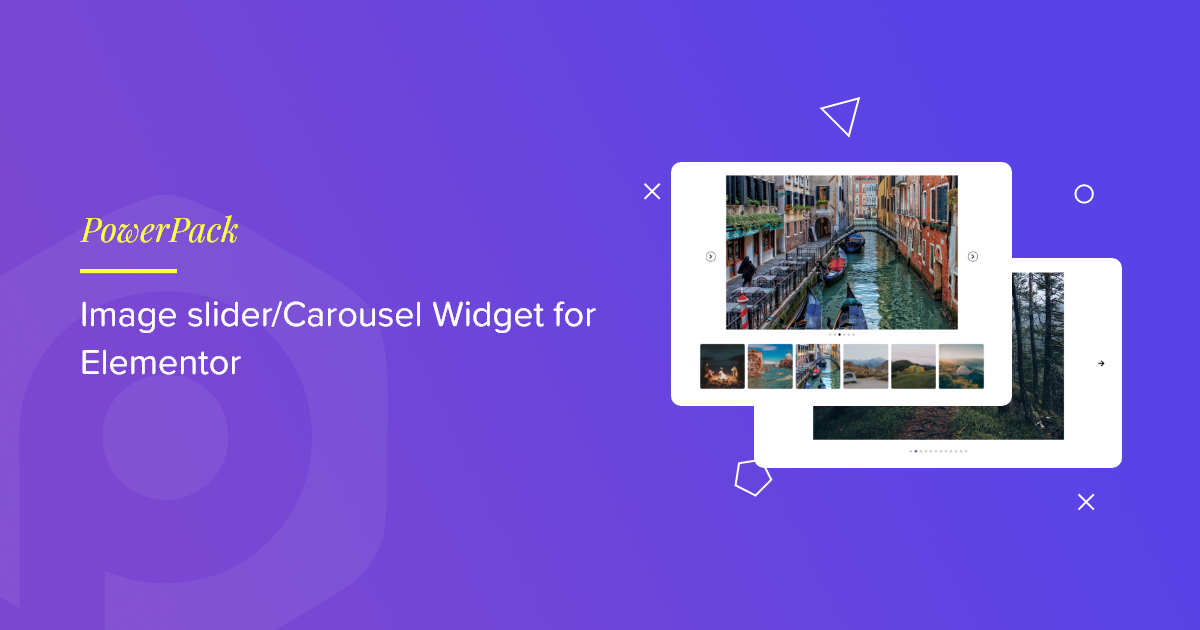 The very first on our list is the Image Slider widget by PowerPack Elementor Addons.
PowerPack Addons are one of the best addons for Elementor page builder. It has more than 80 impressive widgets and 300+ customizable pages and saved templates that will give your website a fresh, engaging experience every time you create something new using them.
PowerPack Image Slider/Carousel widget is the best WordPress carousel tool if you're using Elementor page builder. It's loaded with a bunch of advanced features that can help you fulfill all your needs in a matter of a few clicks without hassling with codes.
We highly recommend this widget because it's lightweight and loaded with a lot of advanced features to create flawlessly working sliders on your WordPress sites.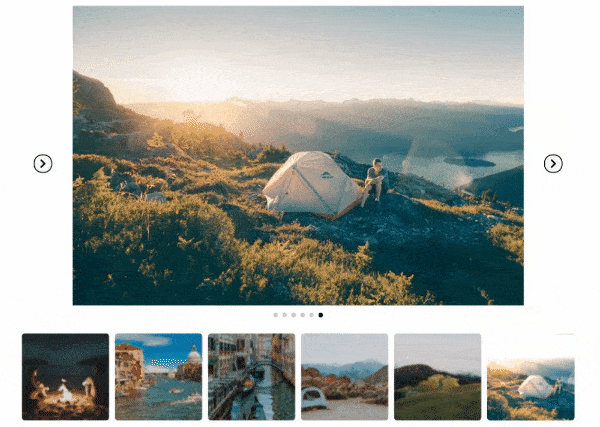 Utilize this handy widget to flaunt an image slideshow or a video slideshow of your product or business-related content at an extraordinary level.
Key Features of the PowerPack Image Slider/Carousel
Easy to use, simple & handy widget.
Drag and drop functionality.
Includes multiple styling options such as color customization, typography options, padding & margin, background color, and more.
Loads fastly without slowing down your webpage.
Fully responsive for all devices and seamless enough to provide a good user experience.
Includes dozens of image effects and flexibility to display & customize the thumbnail navigation.
Regular updates and customer support.
This widget can help you display product slideshows creatively so that the user will be convinced to try whatever you want to sell through it.
PowerPack Addons Pricing
The Image Slider widget comes in a premium pack of PowerPack Elementor Addons. You can get it at $49, which includes 70+ Elementor widgets, 150+ section/page templates, and many more.
However, you can upgrade your plans up to $279 to enjoy a lifetime service.
Wrapping Up: Best WordPress Slideshow Plugins
This was all about WordPress slider plugins that we recommend you try to add to your website.
We hope this article helps you choose the best Slideshow plugin for your WordPress website. If you're using any other free WordPress Slider plugin, let us share it in the comments section below.
Click here to get the PowerPack Image Slider/Carousel widget for the Elementor page builder.
Also, read our article on how to add an image slider in WordPress using Elementor.