Searching for the best table plugin for WordPress?
WordPress table plugin is the best solution to create large data sets like comparing features, listing items, pricing tables, etc., in a neat format.
This article contains the seven best WordPress table plugins (+bonus pick)you can use on your website.
Let's dive in!
Best WordPress Table Plugins
Before starting the blog, we suggest you decide what to display on your website via the Table Plugin. This will later help you decide what plugin to choose in the first place.
This complete list for each WordPress table plugin includes some basic information, key features, and pricing.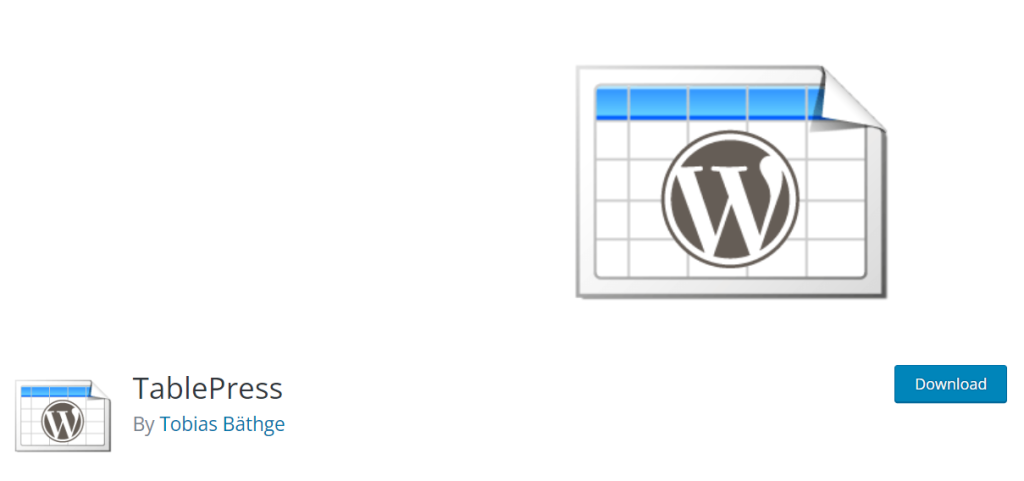 The first Elementor table plugin in our list is TablePress, one of the most popular solutions for creating tables.
If you're searching for a free table plugin that follows a few clicks procedure to create innovative tables for your WordPress website, then this one will be the best choice.
With over 800,000 active installations, TablePress's popularity is rapidly increasing due to its free service.
The amazing part of using this plugin is that this allows importing files from tables for Excel, CSV, HTML, and JSON files without touching a single line of code.
Key Features of TablePress
Follows an easy and simple interface.
Easily manage and edit tables in your WordPress website's admin dashboard.
Includes additional features like sorting, filtering, and pagination.
Supports adding links and media.
Allows creating header/footer in the table.
Supports shortcodes with which you can embed tables into posts, pages, or texts.
You can use this plugin for free; however, you can donate some money for the plugin maintenance if you wish.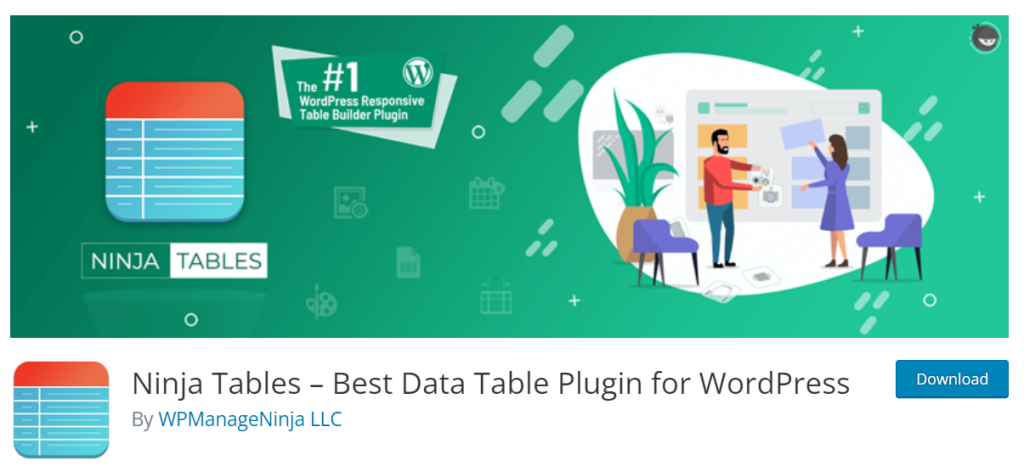 Ninja Table is an awesome option for creating beautiful and user-friendly tables in just a few clicks.
If you're looking for a beginner-friendly solution that can help you create a variety of tables, this one is for you. It uses a drag-and-drop feature and offers functionalities that enhance the overall look and feel of the table.
Key Features of Ninja Tables
100% beginner friendly.
Add media to table cells.
You'll get limitless color options for tables.
Integration with Google Sheets.
Offers drag and drop functionality for data sorting.
Allows import/export CSV files.
Advanced customization options include custom filter UI, typography customization, text alignment, highlight cells, etc.
Features include conditional column formatting, advanced data filtering, cell merging, etc.
Although it offers no free plan, its premium plans are also quite affordable. Annual pricing plans range from $49 to $149, and lifetime unlimited plans range from $199 to $599.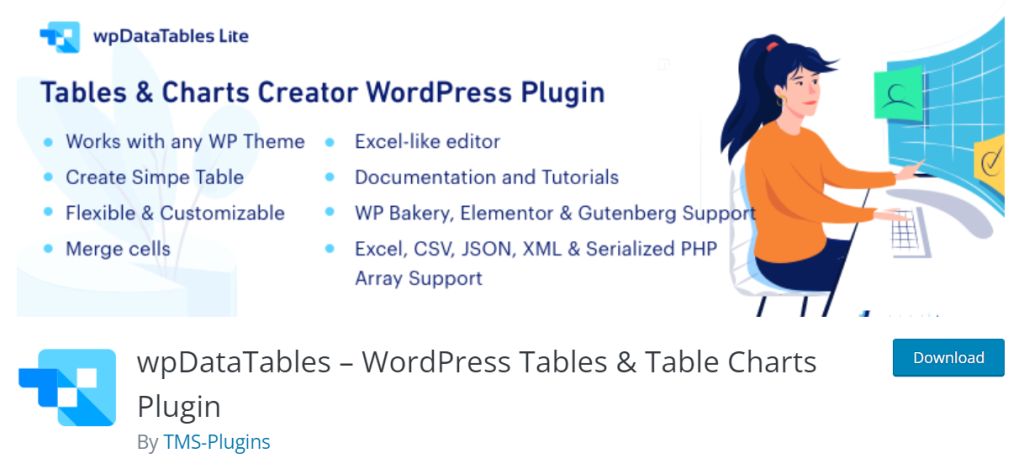 Yet another WordPress table plugin on our list is wpData Tables. With more than 60,000+ active installations, it has become one of the most popular WordPress plugins used to create tables and charts quickly.
It's one of the most premium table plugins available in the market and is trusted by 66,000+ companies.
Key Features of wpData Tables
Create various tables like statistics, premium league, products, items catalog, etc.
Allows you to extend the functionality with features such as powerful filtering, integration, master-detail tables, etc.
You can import/export files easily with just a few clicks.
Supports large tables with millions of rows.
Offers advanced filters with search options along with high responsiveness.
A user-friendly plugin allows customizable features like editing, highlighting, and many more.
Allows access to MySQL DB remotely.
This plugin has a premium range of pricing plans from $66.43 to $209.75 yearly and a lifetime plan from $191.59 to $496.99.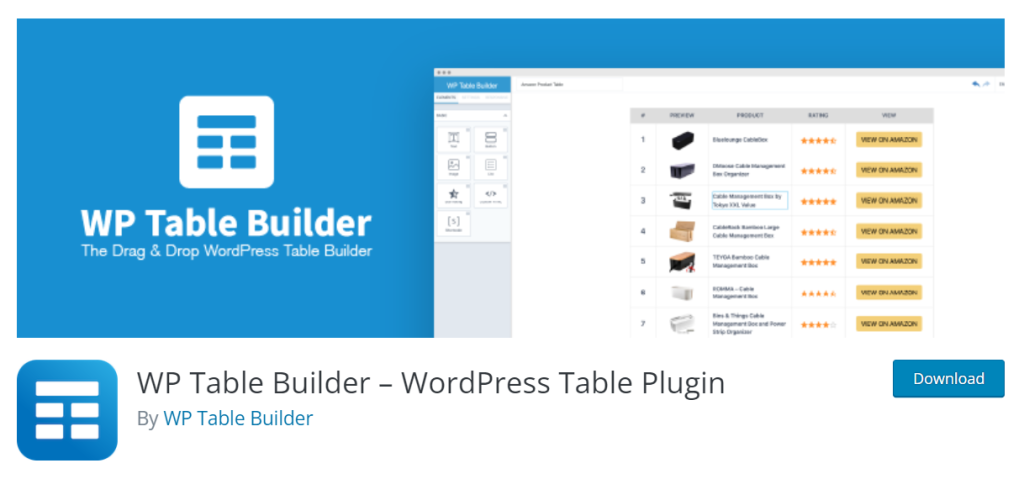 WP Table Builder is one of the handiest WordPress plugins to create simple yet beautiful tables in minutes.
It has over 50,000 active installations, and users love using it because of its simple interface.
WP Table Builder is a beginner-friendly table widget with many functionalities to style the table as per your preferences.
Key Features of WP Table Builder
Uses an easy drag & drop feature.
You can add images, texts, icons, star ratings, and custom HTML.
Offers pre-built customizable table templates.
Includes an advanced customization option to style the table, like dragging cells & rows smoothly.
Allows embedding tables easily with seamless Gutenberg integration.
Regarding pricing, WP Table Builder charges a starter package of $39 for one site yearly, which ranges around $249 for lifetime usage.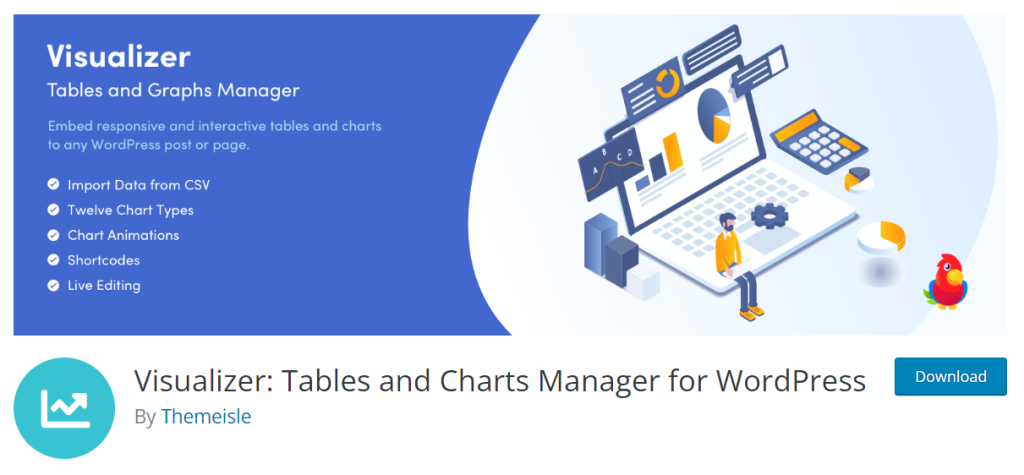 Visualizer is a versatile table plugin with over 40,000 active installations that lets you create various tables and charts.
This plugin has many customization options that allow you to customize each table element creatively. In addition, the Visualizer table plugin enables the creation of responsive tables and integration with Google sheets.
Key Features of Visualizer
Allows importing data from CSV files.
Includes functionalities to customize charts and tables.
You'll get 15 charts type.
External APIs support.
Private charts are also available.
Responsive charts with periodic data synchronization.
Awesome chart animation.
A free version of Visualizer is available but doesn't include certain chart types, editing, and private chat. So, if you want to take advantage of the excellent features of Visualizer, you should consider buying a suitable plan.
Annual pricing for this plugin starts from $99 to $399; choose any one of the plans as per your requirement.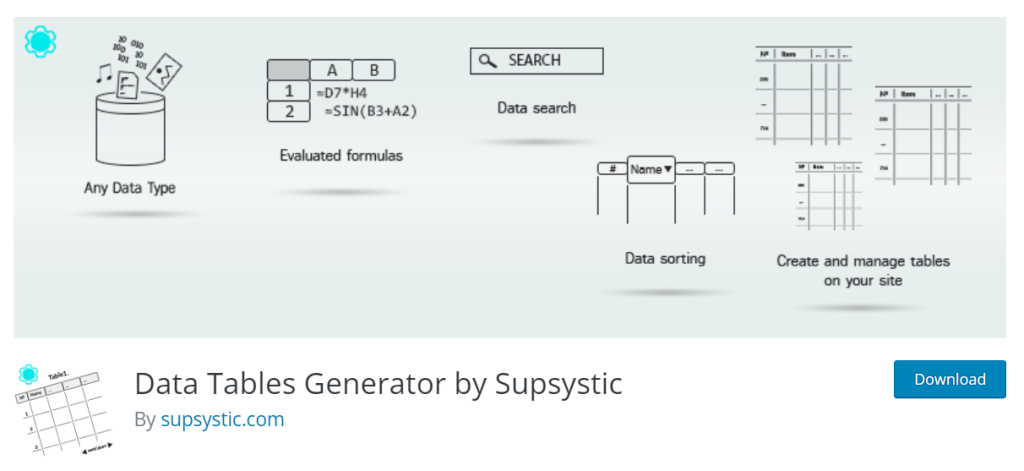 The last Elementor table addon on our list includes Data Table Generator by Supsystic.
Data Table Generator is a simple and easy-to-use Elementor table plugin with 30,000+ active installations. It's an easy-to-use plugin that easily allows you to customize each table element.
Tables made with this plugin are mobile responsive and support various media and large data sets.
Key Features of Data Table Generator by Supsystic
Supports unlimited rows and columns.

Live preview available before publishing.
Simple and easy-to-use plugin.
Supports visual charts for creating pie and bar charts.
It allows the creation of large tables and supports responsive modes for small devices.
It lets you add images, links, and videos.
Pricing plans start from $46 to $149 annually. Kindly visit their official website for more information.
Till now, we've discussed a few best Table plugins for WordPress.
However, we have included another excellent option in this list: the PowerPack Table widget. This will be your finest choice if you use Elementor as your WordPress website's page builder.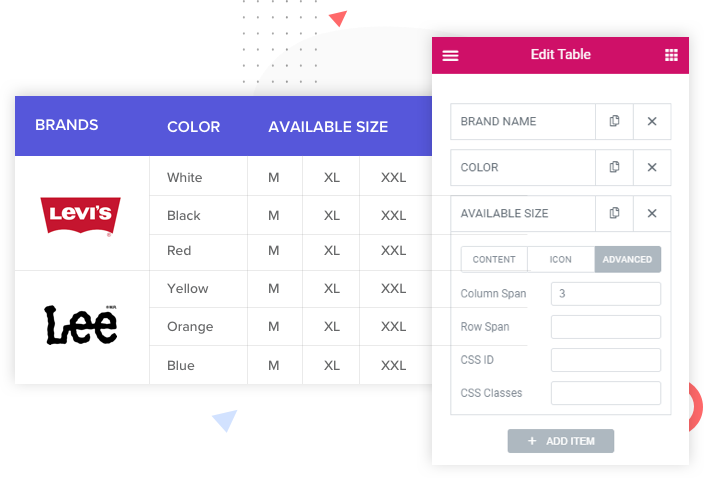 PowerPack Addons is one of the best Elementor Addons available in the market. It offers 80+ creative widgets, including the Table widget.
Table Widget by PowerPack Addons allows you to create a table in WordPress using Elementor according to your needs and preferences, be it styling features or other functionalities; PowerPack allows every single section to be customized creatively.
Key Features of PowerPack Table Widget for Elementor
Easy-to-use.
Allows you to import CSV files to the table easily.
Sort table headers in alphabetical order.
Create an awesome scrollable table in just a few clicks.
Allows creating Elementor data tables in beautiful layouts.
Allows you to customize the entire typography, such as font type, color, size, etc.
Includes awesome header & footer styling options.
Offers to add icons and images to every single table element.
Allows creating responsive tables for WordPress using Elementor.
You can individually style cells and columns of the table in just a few clicks.
Wrapping Up!
So that was all about some WordPress table plugins.
If you're planning to place a basic table, you can choose a free plan, as it has limited options. But if you want to build a professional table with dozens of customizable options, you should have to go for a premium plan depending on your budget.
We hope this tutorial helped you choose the best table plugin option for your WordPress website. If you've any queries related to this topic, feel free to share them in the comments section.
Also, you can connect with us on these platforms: YouTube, Facebook, and Twitter.