Elementor team has recently rolled out a feature-rich Popup Builder update. This popup builder is a part of the Elementor Pro and offers great functionality and customization to create popups using Elementor.
If you are working with a popup or a lead generation plugin and thinking about expanding or switching to a different service, this article will give a good insight on the Popup Builder of Elementor and what all can you do with it. Let's see what this update is all about.
Introducing Elementor Popup Builder
Popup Builder is a massive new feature for the already existing Elementor Pro Pack. With this feature, you can create and launch impressive and interactive popups on your website with Elementor. You can create different types of popups such as sale popups, cookie consent forms, login forms, hello bar, etc. and you will be able to create all these without touching a single line of code.
Also, check our Popups Intro post: Elementor Popups: The Ultimate WordPress Popup Builder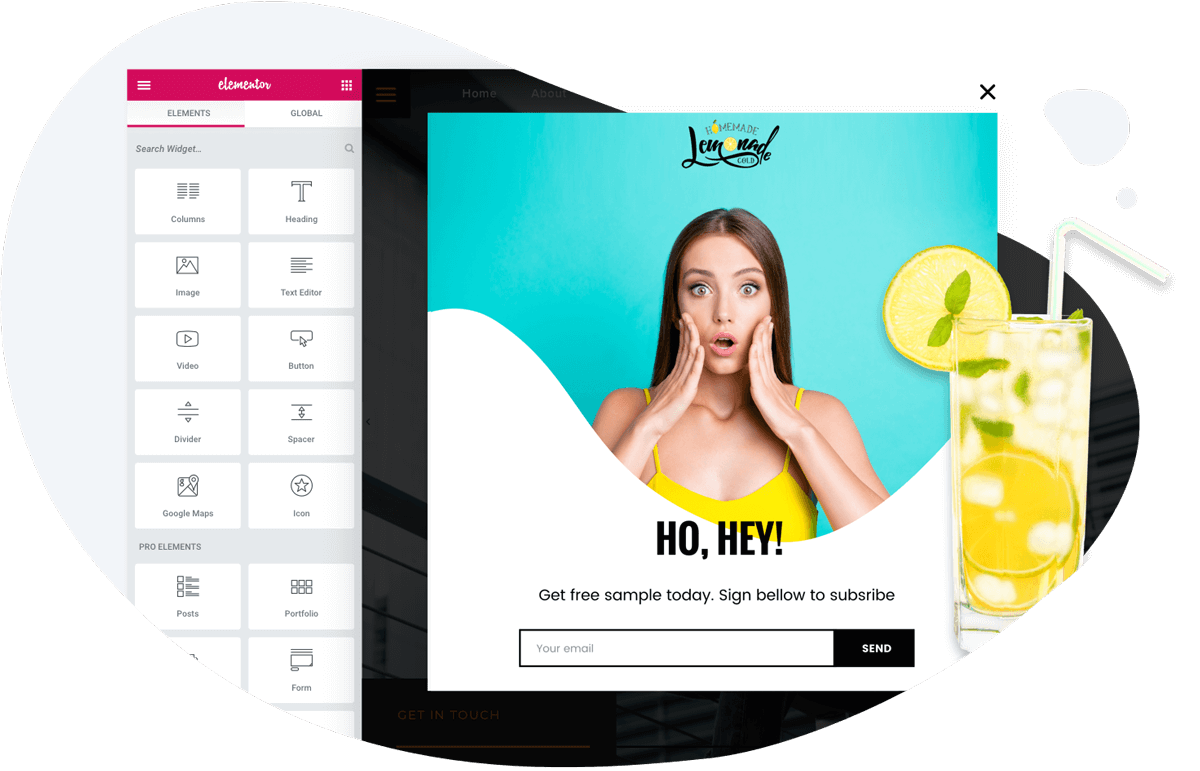 How to get Elementor Popup Builder
Since Popup Builder is a part of the Elementor Pro pack, you just need to update the Elementor Pro plugin, and that will be it. If you do not have the Elementor Pro plan, you can get it here.
Elementor Popups In-depth Review
Since the Popups by Elementor has so many things that need to be discussed, we will have a look at this update in terms of pros and cons. Let's have a look at the pros first.
Top Features of Elementor Popup Builder
1. Impressive Design Features
The popup builder is loaded with features with which you can design the popup builder as per your imagination. These features allow you to control every aspect of the popups and change how they behave on the website. Here are the features that make Popup Builder so good when it comes to designing.
Full Design Freedom: Since Popup Builder is built on the Elementor editor, you get full freedom to design your Popups the way you want. There is no restriction to what functionality you want and how you want your popup to look like. With the available options regarding content styling and the popup box styling, you can achieve a lot as compared to any other popups service available out there.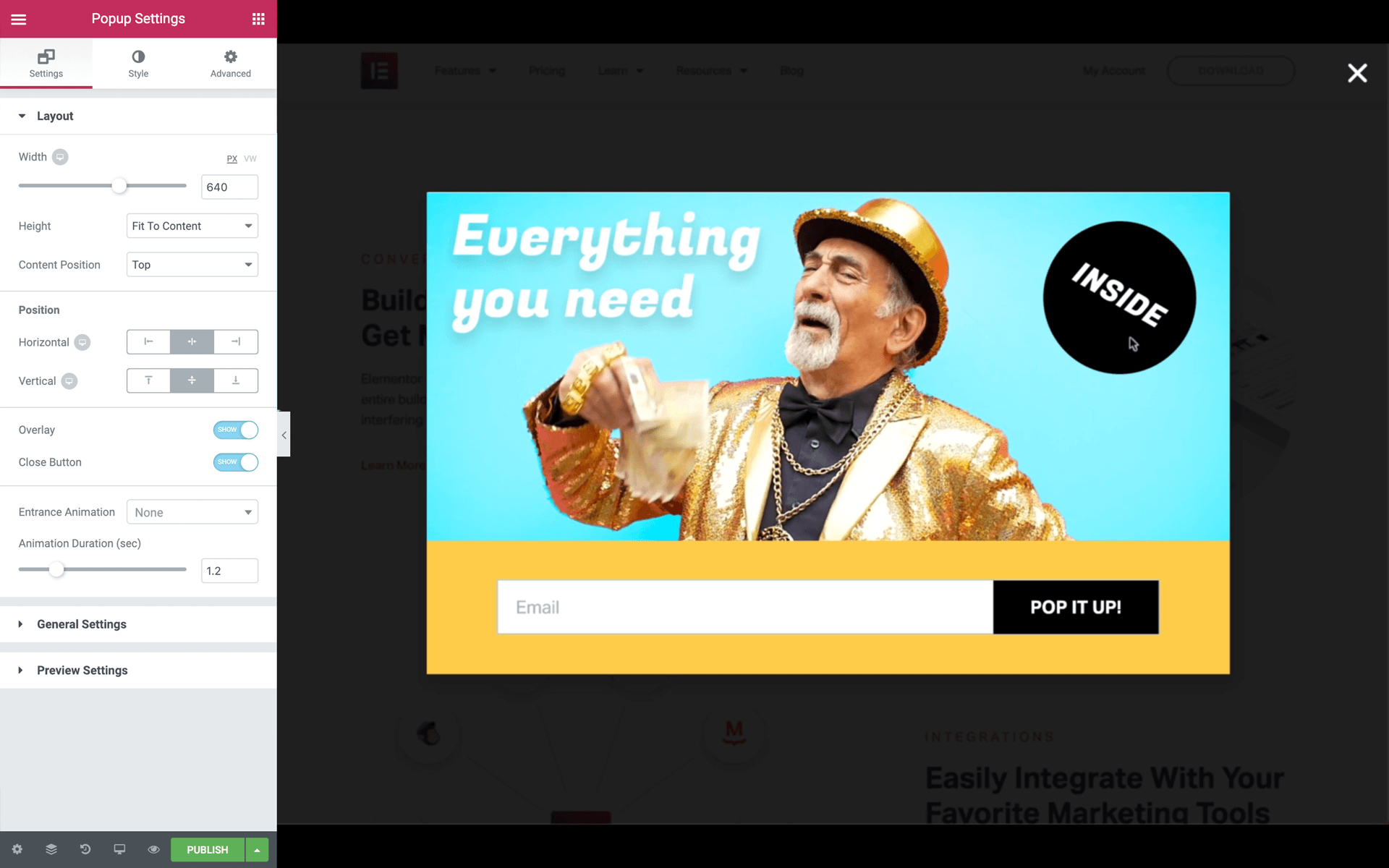 Power of Widgets: The super cool part of the Popup Builder is that you can use the power of widgets to make your popup builder more powerful. If you have an addon installed, say PowerPack, you can use its widgets as well. This will allow you to make your popup much more functional and interactive.
Dynamic Data: If you wish to make your popups effective, you can make use of the dynamic widgets and can displaying custom data for different popups on your website. For example, if you want to display the WooCommerce Product details in your flash sale popup for the product the viewer is currently watching, you can do that too with the help of dynamic data and the WooCommerce widgets. You can also display blog related data with the dynamic settings of the widgets.
---
2. Different Types of Popups
The popup builder is not limited to just creating flash sale popups. You can create various others as well such as cookie consent notices, login forms, hello bars and what not. You can also make use of the massive templates library of Popup Builder which has more than 100 professionally designed templates and can be easily imported with a single click.
And these 100 + templates you get are on top of the already existing templates library. So, if you do not wish to create the whole popup from scratch, you can use the popup templates from the template library.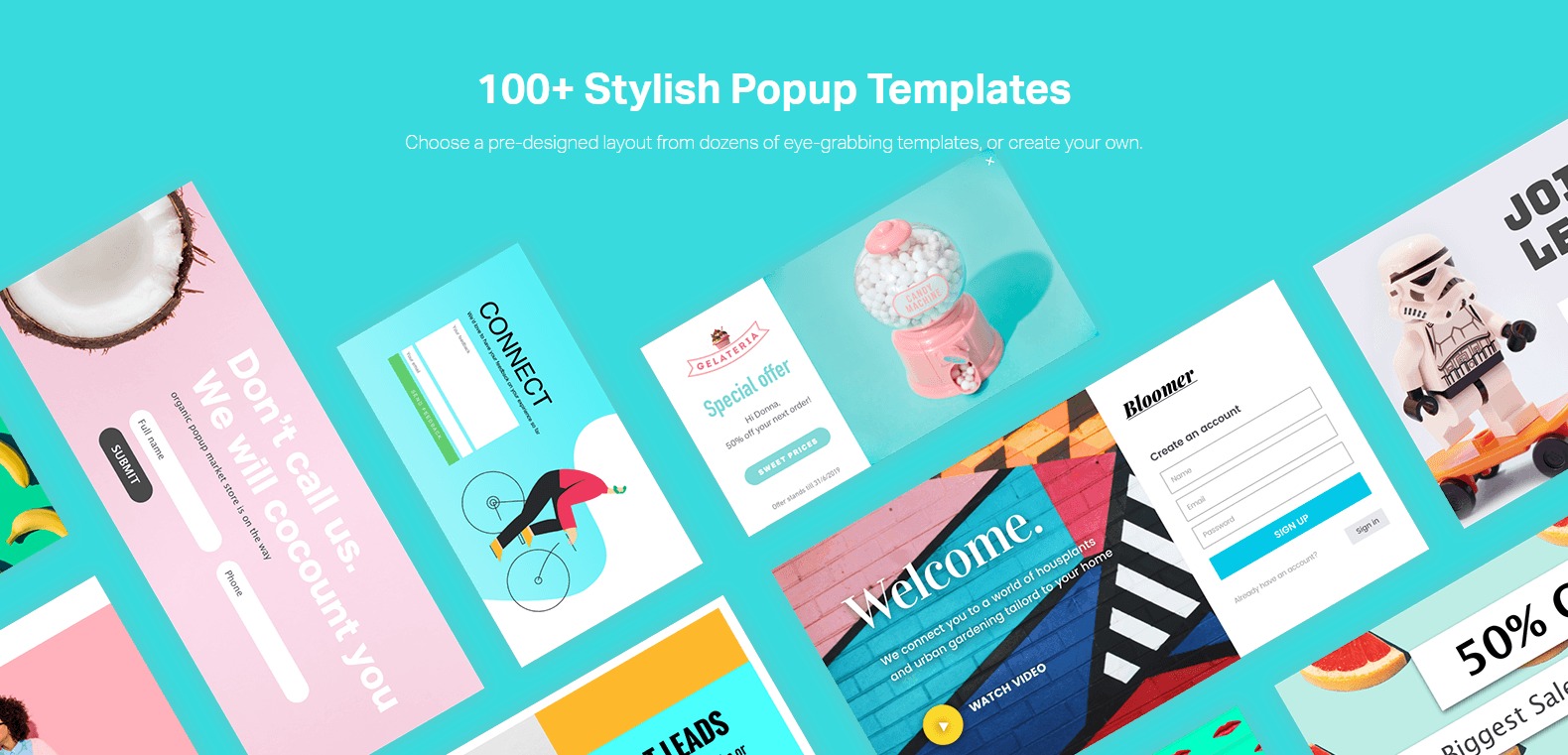 ---
3. Advanced Targeting Options
This is one of the best features of the Popup Builder. With these advanced options of the builder, you take full control on when your popup appears, how often it appears and who sees it. You can find all these settings in the Publish section of the popup editor.
Broadly there are 3 sections – Conditions, Triggers, and Advanced Rules.
In Conditions section, you can choose where your popups appear and on what pages they do not appear. These settings are same as of theme parts publish settings. By default, the popups are displayed on the entire website, but you can change them by simply adding the targeted pages or excluding a group of pages.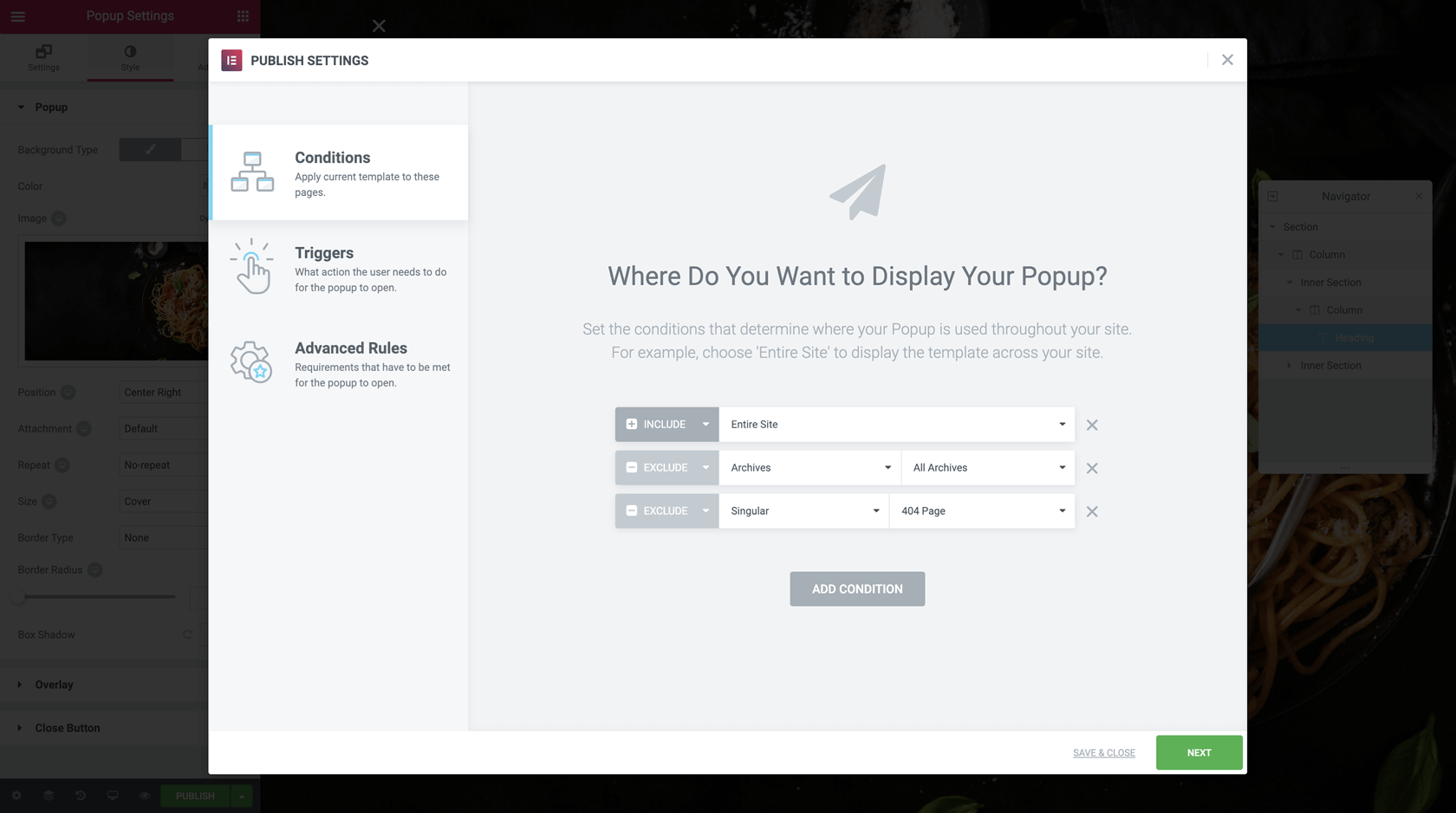 In Triggers options, you get to choose what option makes the popup show up or trigger. The popup builder offers loads of options which you can use to tell your popup when to show up. You can make your popup to show on when the page loads, when the user scrolls to a specific section, on a click, after inactivity or when the user moves the cursor out of the screen.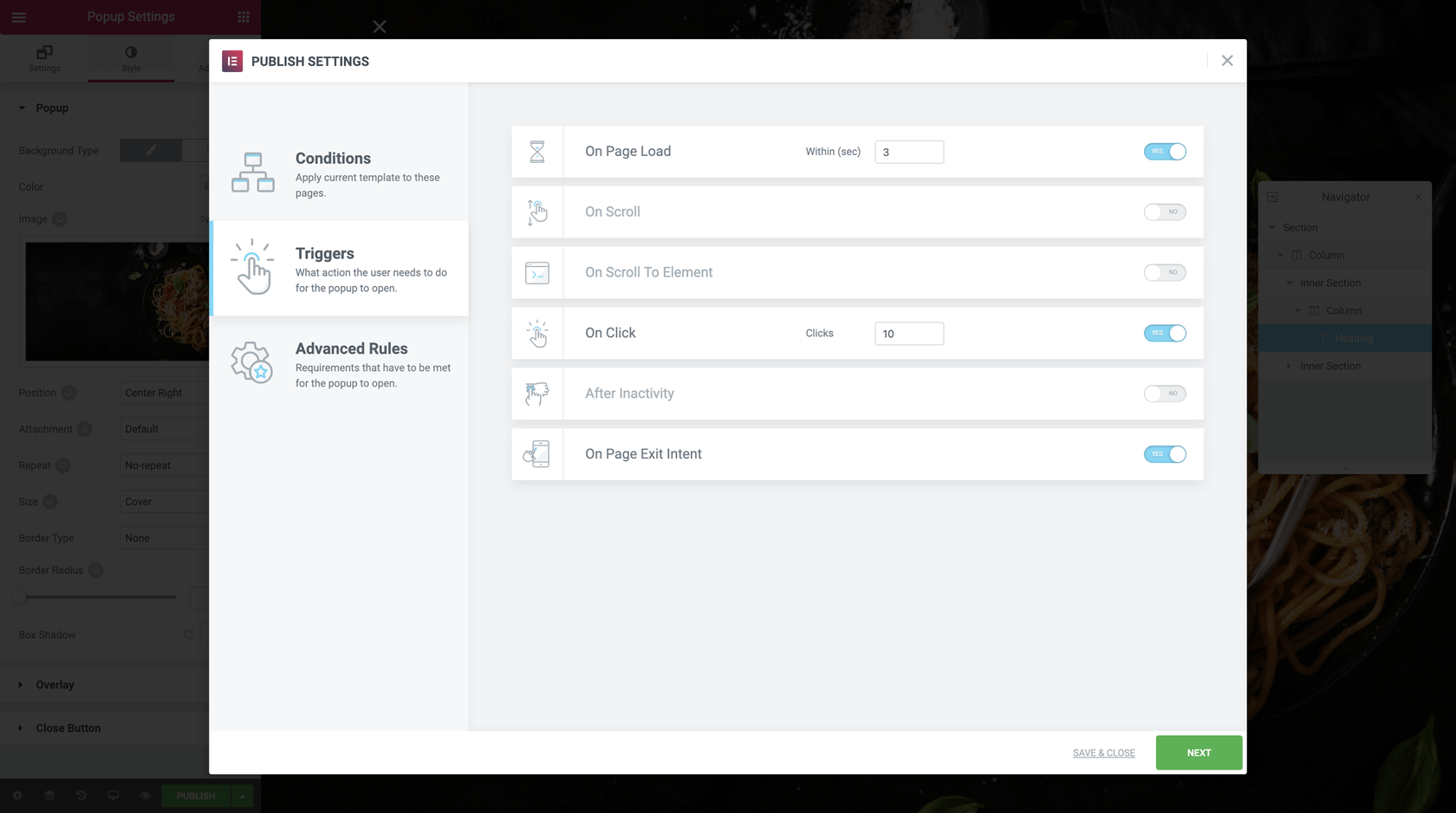 The last one is the Advanced Rules; these settings let you take further control on your popup's behavior. You can make minor changes too such as how many times your popup should show up to a user. You can also make your popups to show up only after the user is arriving from a specific URL. If you want to hide your popups from your logged in/out users, you can do that as well. With these options, you can target your audience in a much more effective manner.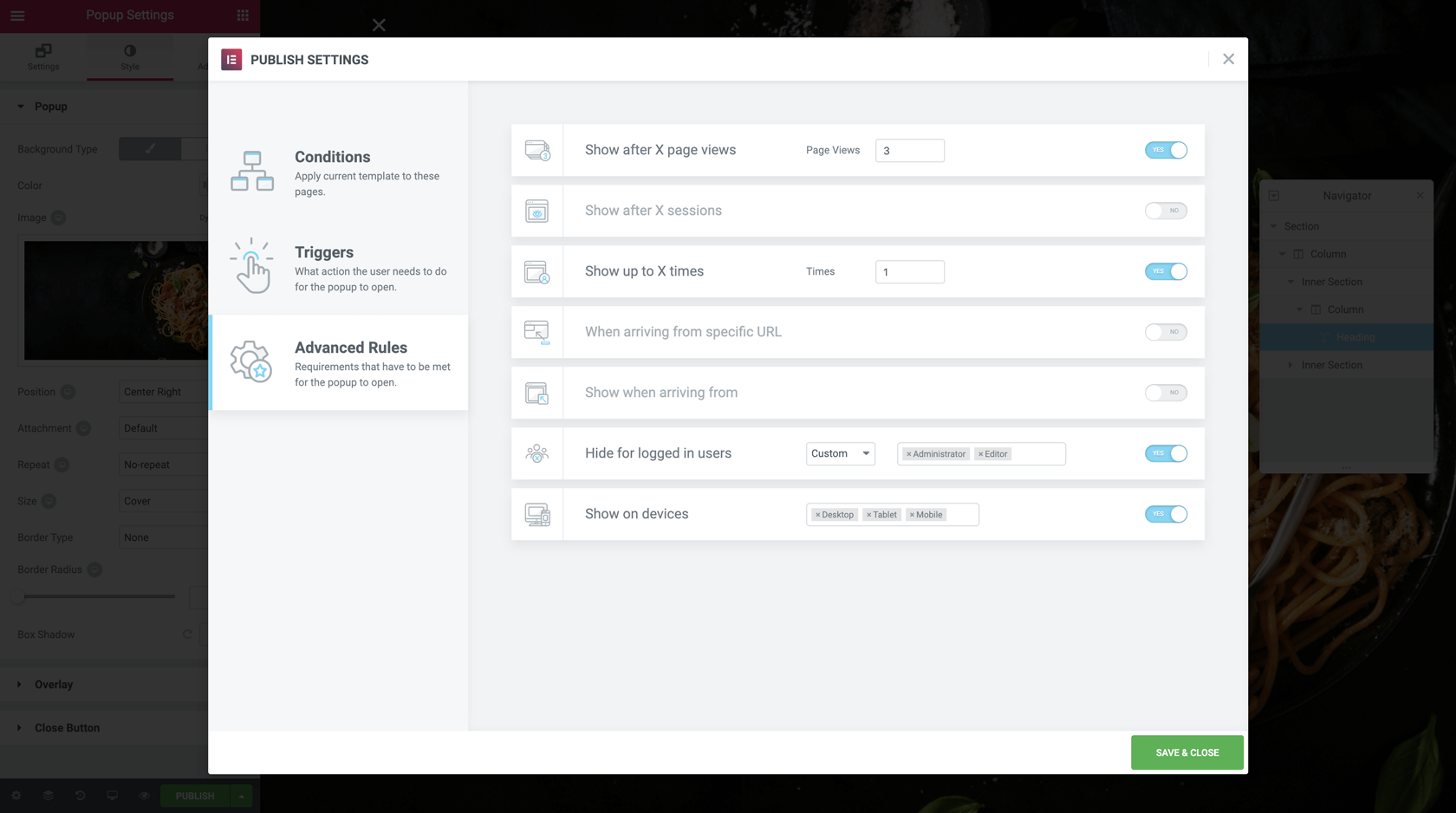 ---
4. Integrations with Popular Email Marketing Services
Elementor has a huge library of integrated tools that you can use in your designing process. Whether it be WooCommerce or Drip, you will be able to bring its functionality easily to your popups as well. These integrations will help you in making your popups more functional and creative. You can integrate with various Email marketing tools such as Active Campaign, MailChimp, Drip, etc.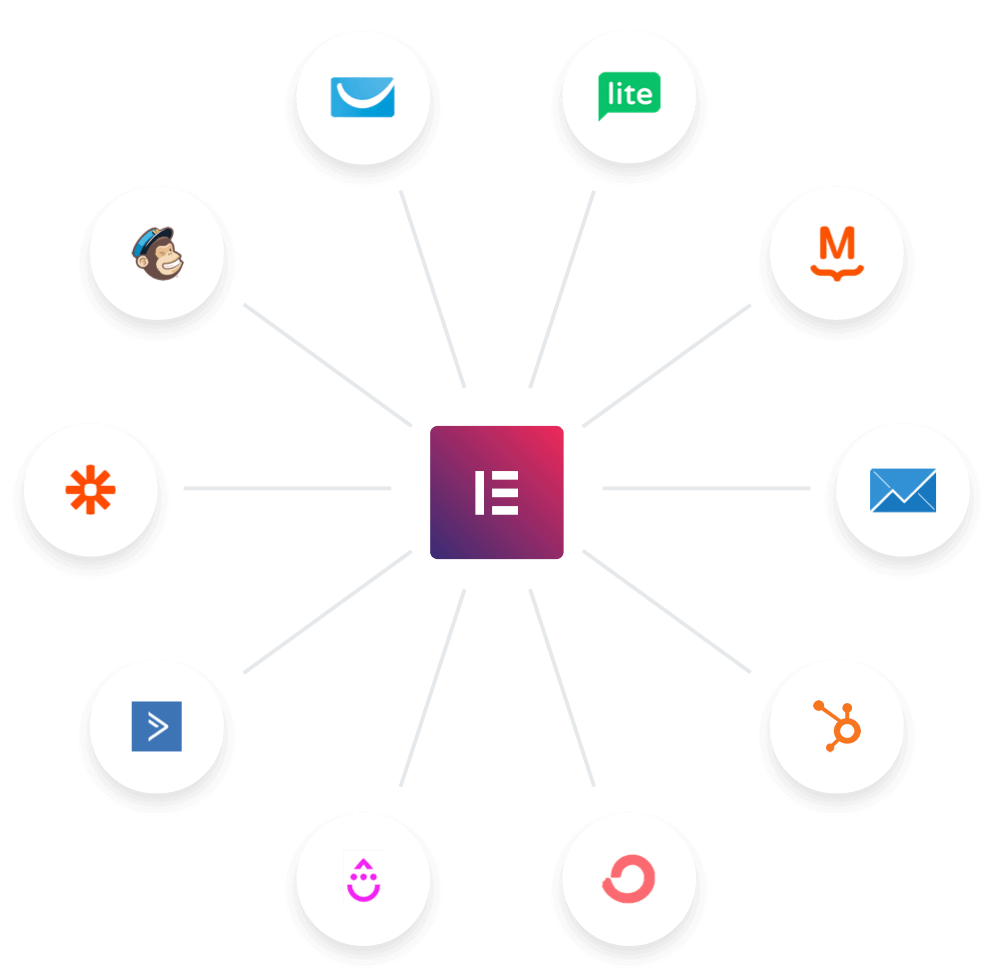 Elementor team also has the well-managed dev resources available with which you can create your own integrations to work with your Popups. Having these many integrations does add up to the overall strength of the builder.
---
5. Other Notable Features
The list of features of Elementor Popups Builder does not end here. The Popup builder has various other notable features too such as the delayed close button option and the auto-hide setting to makes your popup less annoying. You can also disable the close option and can prevent the user from scrolling when the popup is active. If you happen to be running multiple popups, you can enable the option to avoid multiple popups counterfeiting and annoying the users. You can find all these settings in the Advanced settings of the popup and can activate them with a toggle of a switch.
Another great feature of the Popup Builder which sets it apart from most of the existing Popup services is that there is no limit to page views or the number of popups. Many popup plugins have a threshold which is often back up with a pricing plan, but this is not the case with Popup Builder. You can create as many popups you want and can display it to as many users you want.
---
What's missing in Elementor Popup Builder?
Surely Popup Builder has a lot to offer to the users but there are some areas where the popup builder needs to make improvements. Let's have a look at the cons of Popups.
1. No Split Testing Available
One of the most important features that a popup builder require is an option to implement AB testing. Of course, you can always find your way around it by limiting one popup to selected pages and another popup to a different group of pages. And adding two different contact forms to both the popups to see which popup gets the most opt-ins. But this is just a workaround and not a feature that is part of popups. Having this feature will help in making the popups more marketing oriented.
2. Missing Exit Animations
Now, this is a feature which will most likely come in the future updates but as it is missing right now, so it has to be on the cons list. While there are pretty good entrance animations, having exit animations would have been good too. As of now the popup simply disappears when the user clicks on the close button which might not be the most pleasant option in some cases.
3. No Start or End Dates
If you wish to run time-bound campaigns on your website, you cannot do that as of now. There is no option to set a time parameter for your popups. If you still want to do it the only way to make it work is by starting and ending the popups manually.
5. Analytics Absent
Popups are mostly associated with leads and not having the option to see how your popups are doing is not something that can be missed out on. Most of the popular lead generation plugins have a separate section dealing with analytics and data of how the popups are doing. This feature definitely holds a strong value and should be added in the upcoming updates.
These were all the things that I personally felt missing from the Popup Builder by Elementor.
So… Is It Worth It? My answer is a Yes!
Considering the most important factor that it is coming with no additional charge and is totally free and comes with Elementor Pro plugin makes it a great deal!
Surely Elementor Popup Builder is great but can it replace the already existing tools for popups and lead generation in the market? In most of the cases yes. If you need any advanced functionality then it will be good to look for a Popup Builder plugin.
There are tasks such as the designing and targeting that elementor has made a lot simpler, but it would have been much more useful if popup builder had the features I have mentioned above. But it is too soon to conclude and criticize elementor for not having these features as Popup Builder just came out, and there must be updates and features coming up in the future which may or may not bring more functionality to the users.
So far, Elementor has made a great entrance to the world of Popups, and I would say the features and functionalities it has brought to the table is something that can't be missed and worth giving a try. If you haven't tried the popup builder, do check it out and if you want to see the popup builder in action, watch this popup tutorial series by the Elementor Team.
If you want to know more about the popup builder, you can check here.
What do you think of the Popup Builder? Do you think Elementor Popups will be able to give competition to the already existing popup and lead generation plugins available in the market? Let us know by commenting it down!
If you found this review useful, do share it. 🙂