Displaying reviews helps you build trust, set credibility, and give prospective buyers confidence to invest in your products. So if you're looking for a simple way to add Google and Yelp reviews to WordPress sites using Elementor page builder? Your search ends now!
I am thrilled to announce that we have added a creative Business Reviews Widget to PowerPack Addon for Elementor. This new feature lets you fetch and display business reviews from Google and Yelp without hustling with any HTML code.
Plus, you get all the powerful customizations and styling options at your fingertips.

Features of Business Reviews Widget 🚀
PowerPack Business Reviews Widget is packed with user-friendly and no-code styling features. You can easily create an eye-catchy section showcasing business reviews on your WordPress website using these features.
Let's check out all the features of this PowerPack widget:
✅ Showcase Reviews from Google or Yelp
With PowerPack Business Reviews Widget, you can fetch your business reviews from Google and Yelp and easily showcase them on any page of your Elementor website.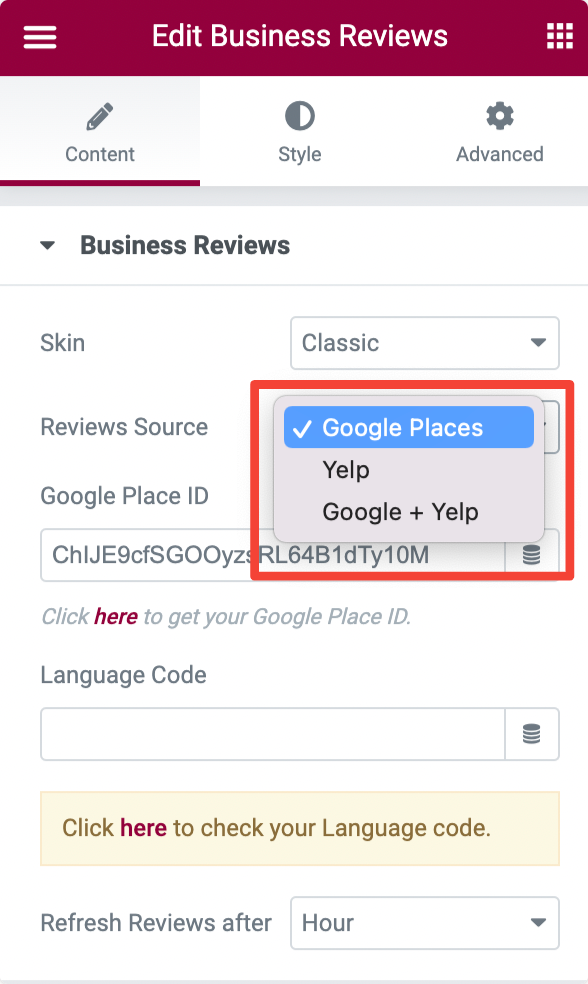 Displaying business reviews using PowerPack Business Reviews Widget is completely a beginner-friendly process. You don't need to write any HTML code, just grab Google Place ID and Yelp Business ID, place them on the widget, and you're done.
✅ Customizable Skins & Pre-Built Layouts
Get customizable skins and pre-built layouts to beautify reviews on your websites. PowerPack Business Reviews Widget offers Classic and Card skin types to display reviews. You can choose your preferred skin type and personalize it as per your preference.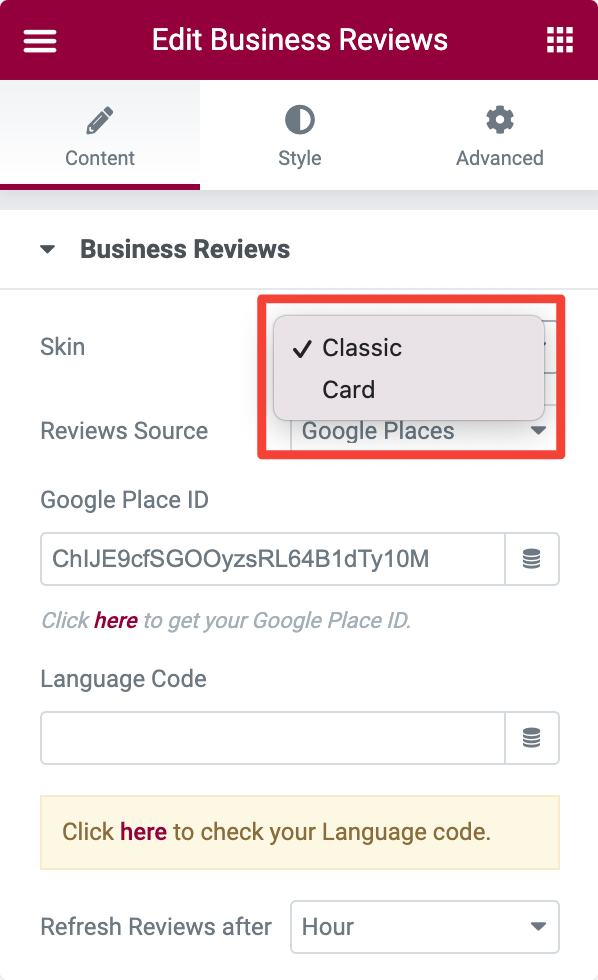 Including skin types, you also get pre-built layouts that save tons of the time required in creating a page design from scratch. Business Reviews Widget offers the standard Grid design and stylish Carousel design layout. Choose the one layout design and flaunt reviews on your web pages.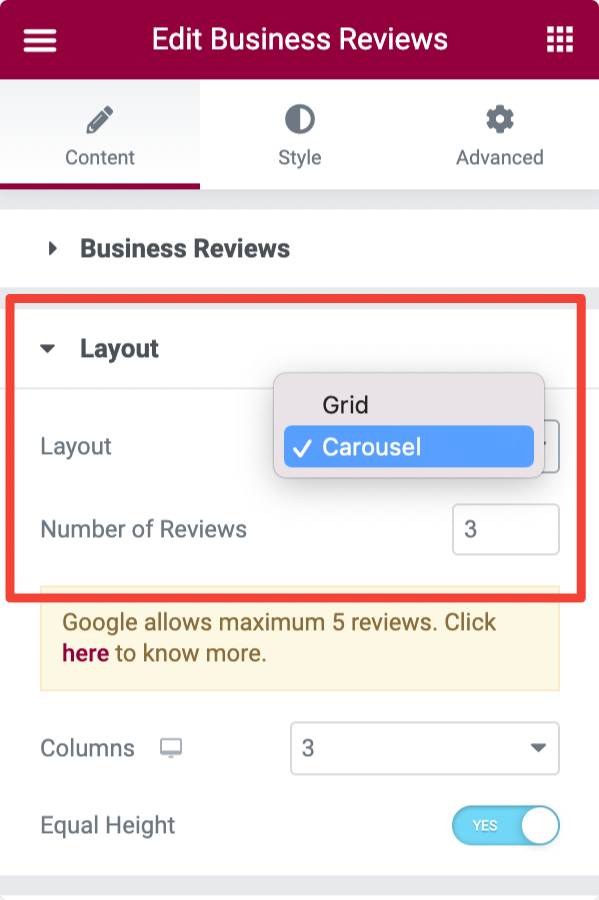 ✅ Auto-Refresh & Powerful Filtering for Reviews
Business Reviews Widget included advanced Auto-Refresh and powerful Filtering feature.
The Auto-Refresh feature automatically refreshes reviews and updates them on your website. You can set a refresh and update review after Hour, Week Day, Month, and Year.
And once you display reviews on your web pages, you can filter them by Rating and Review Date. This filtering feature helps you showcase the highest-rated and newest reviews without putting any extra code and doing any manual work.
✅ Advanced Customization Options
You get all the customization options at your fingertips. Once you have added your business reviews, you can customize them as per your liking.
You get options to show/hide:
Reviewer Image
Reviewer Name
Star Rating
Review Source Icon
Review Date
Review Text
✅ Impressive Styling Features
With the styling options of the Business Reviews Widget, you can style every single element of the business reviews widget individually.

You get options to:
customize the Layout by adjusting the gap between columns and rows
style the Review Box by adding background color, border, padding, separator, and many more.
alter Image by setting image size and adding a border.
style Name, Review Date, Rating, and Review Date by adding background colors, changing typography, setting padding, margin, adjusting spacing, and more.
Get PowerPack Business Reviews Widget for Elementor Now!
Skyrocket your product sales and display business reviews on your website with PowerPack Business Reviews Widget.
PowerPack Elements is one of the best addons for Elementor. It includes 80+ creative and useful Elementor widgets that you can use to create fully-functional WordPress websites.
In the comments section below, let us know what you think about this widget! If you like this feature, share your love by sharing this post.