Doesn't matter what type of website you own, whether it's an e-commerce website, portfolio website, or any other business website. Any online business needs to adopt some marketing tricks to convert visitors into clients.
If you have noticed, many e-com websites display Countdown Timers, especially during the holiday season. Many websites display an attractive sales Popup to gain their visitors' attention. Showcasing your clients' Reviews is one of the best ways to attract visitors and instantly turn them into customers.
There are numerous ways through which you can improve your marketing efforts and increase your sales. You have landed on the right spot if you have a WordPress website built with Elementor page builder and are looking for creative ways to improve your marketing strategies.
In this post, we'll see how you can easily automate your marketing without making any extra efforts and using PowerPack Marketing Widgets for Elementor.
Before we proceed, first make sure you have installed and activated Elementor and PowerPack Addons on your website.
PowerPack Marketing Widgets for Elementor
One of the major benefits of using PowerPack marketing widgets is that you don't have to be a professional developer to customize these widgets. PowerPack widget comes with flexible customization options; one can easily style & customize these widgets without adding extra code or custom CSS.
PowerPack Elementor Addon is the one-stop solution for your Elementor websites. It consists of more than 50 creatively designed Elementor widgets, advanced WooCommerce widgets, and a professionally designed template library.
In this list of 50+ widgets, we have exclusively added 7 advanced widgets, mainly marketing-oriented. Below you can check the list of PowerPack marketing widgets for Elementor.
Popup Box
Review Box
Countdown Timer
Coupons
Business Hours
Number Counter
Promo Box
Now we'll check all the features of each widget and see how you can use PowerPack Marketing widgets to improve your sales number: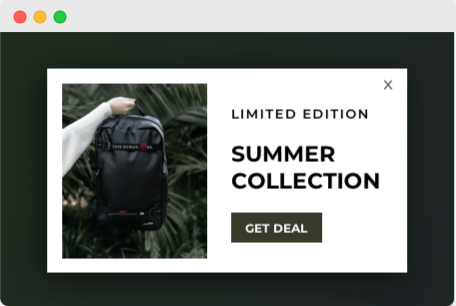 If you are looking for an easy, simple yet attractive way to showcase the exclusive sales offer running on your products, Popups works best for you.
One of the best things about Popups is that you can easily display more information in a single popup without covering your web page space.
Also, popups are easily visible, gaining more user attention, and have more possibilities to convert visitors into customers.
Some people might say popups are annoying and distracting, but that's not true. Popups could be your best marketing tool if appropriately built and designed precisely. With PowerPack Popup Widget, you can create awesome sales popups without much effort.
Popup widget is loaded with advanced features and multiple customization options that let you add attractive promotional modal popups on your websites.
You can customize PowerPack Popup Widget to fulfill multiple marketing goals and create classic popup designs to build email lists. Design attractive popups to point out special sales offers. Display coupon popups, and if you want to create a countdown popup to create a sense of urgency among your visitors, you can easily do that using PowerPack Popup Widget.
Here is a quick rundown of the key features of the Popup widget:
Key Features of Elementor Popup Widget
Supports Multiple Content-Type
Create Popups with custom HTML/ CSS
Advanced Trigger Options
Attractive Animation Effects
Multiple Styling Options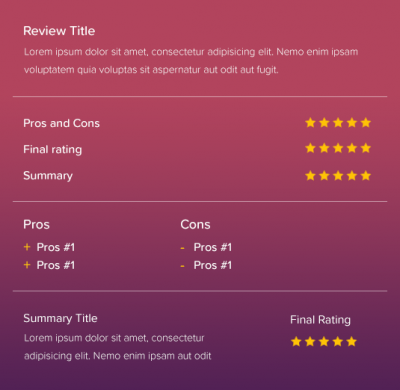 Showcasing customer experience with your product or service is the best marketing technique that you can use to boost your product sales. According to research, approx 95% of shoppers read reviews before making any purchase.
If you have a website built with Elementor page builder and looking for an easy yet creative way to showcase customers' reviews on your website, then PowerPack Review Box Widget works wonders for you.
Using PowerPack Review Box Widget, you can showcase reviews in a gorgeous review box. You can completely style this review box as per your preference.
You can create a fully customized review box with a custom Title, Description, and Image. Also, you get various options such as Stars, Percentage, and Numbers to showcase products' ratings.
Apart from all these, you get a plethora of styling options that you can use to build beautiful review boxes on your Elementor websites.
Let's check all the features of the Review Box widget.
Key Features of Review Box Widget
Create a Fully Customized Review Box
Add Custom Title, Description, and Image
Display Multiple Review Types​: Stars, Percentage, and Numbers
Enable Disable Image Display, Pros and Cons, Final Rating, and Summary
Advanced Styling Options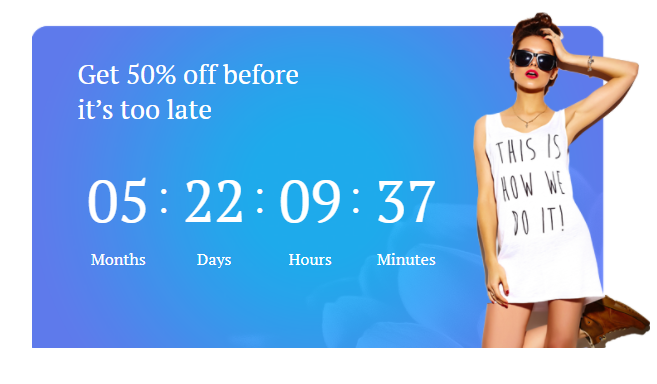 Countdown Timers are the best marketing tool used by many website owners and marketers to incite urgency on their websites.
Displaying countdown timers on websites helps create a sense of urgency among site visitors and motivates them to buy a product.
If you want to create urgency and are looking for a way to display countdown timers on your Elementor websites, then PowerPack Countdown Timer Widget is the one-stop solution for you.
Countdown Timer Widget of PowerPack is embedded with advanced functionality and styling features that help you create attractive countdown timers on your websites, ultimately boosting your sales.
Key features of Countdown Timer Widget
Create fully customized countdown timers
Display Months or Years as per choice
Two timer types: Fixed and Evergreen
Set Custom Actions Once the Countdown Timer Ends
Advanced Design Options
One of the oldest and most clever marketing techniques is to offer a special deal on products to attract consumers. But the thing that needs to be kept in mind is how you showcase deals so that you can gain more profit from them.
As discussed above, you can use Popups to display sales offers on your website. Another prominent way that you can use is Coupons.
Coupons play an essential role in any e-commerce or online business. According to a study, 90 percent of consumers use coupons during the buying process. Also, displaying Coupons during the festive season helps you convert prospective visitors into customers and increase sales.
If coupons play such an important role in your online business, then they must be designed perfectly.
If you have an Elementor website and are looking for a way to display Coupons on your website, you must try PowerPack Coupon Widget for Elementor.
Using PowerPack Coupon Widget, you can easily create a dedicated coupon section or whole coupon page on your site with Elementor.
The coupon widget has exciting and advanced features that let you build fully customized coupons without adding any Custom CSS or code. You get all customization options at your fingertips.
Key Features of Coupon Widget
Multiple code display mode: Click to Copy, Click to Reveal & Copy, No Code Needed
Choose Grid or Carousel layout.
Set Custom Image for Coupon
Flexibility to add Discount Value & Unique Coupon Code
Unlimited Styling Options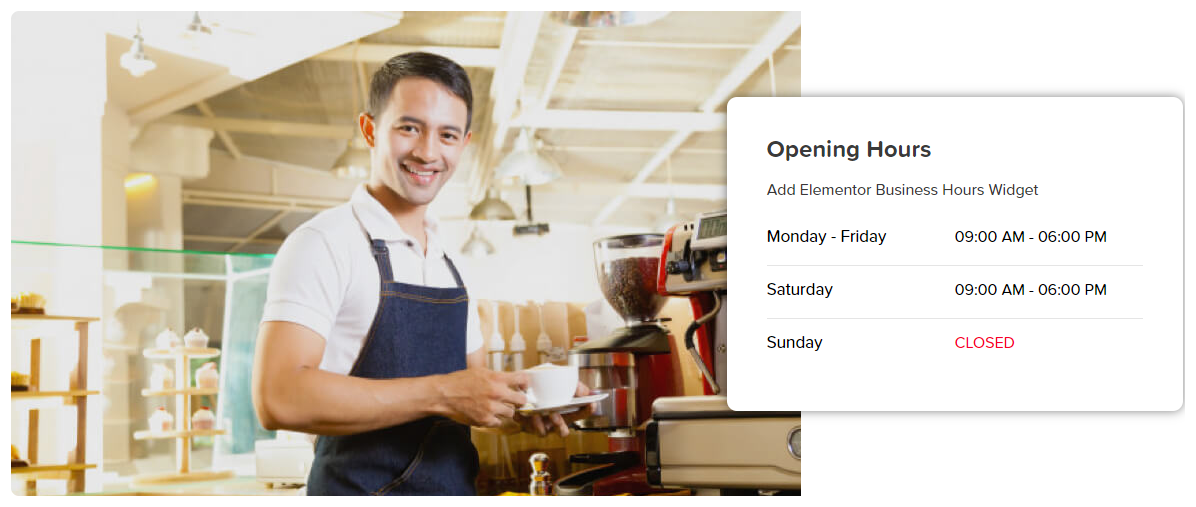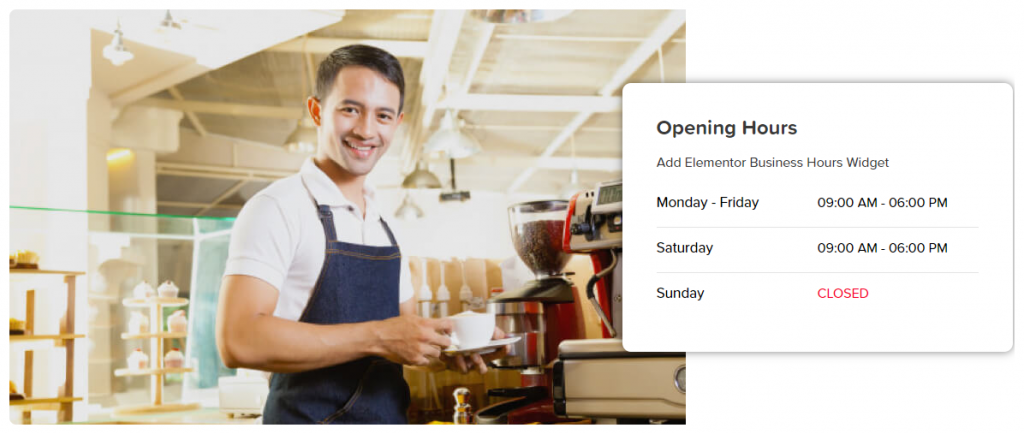 Showcasing small details about your business on your website can improve visibility and attract consumers. Many online companies consider displaying opening hours on their websites so that their visitors know when the company is open.
Displaying business hours on your website helps your visitors know more about your business availability and allows them to plan their visit accordingly. Ultimately helps you to build credibility & trust among your prospective customers.
So if you are looking for a creative yet easy way to display business hours, PowerPack Business Hours Widget works best for you. Using this widget, you can create a dedicated, fully customized business hours section on your website built with Elementor.
Features of Business Hours Widget
Pre-Defined Business Timings
Define Custom Working Days & Hours
Row Style Options
Flexibility to Highlight Any Day
Advanced Typography Options


Displaying a business's best numbers is the best way to build credibility and gain your customers' trust. The Number Counter Widget of PowerPack allows you to showcase and add number counters on any elementor website's page.
You can display your achievements, showcase your business indices, and highlight your business stats beautifully.
With Counter Widget's advanced styling options, you can create beautiful number counters on your websites without prior knowledge. You can add icons and define custom titles to grab users' attention.
Features of Counter Widget
Multiple Icon Options
Add Custom Title'
Divider Options to create clean designs
Spacing & Alignment Options
Advanced Styling Options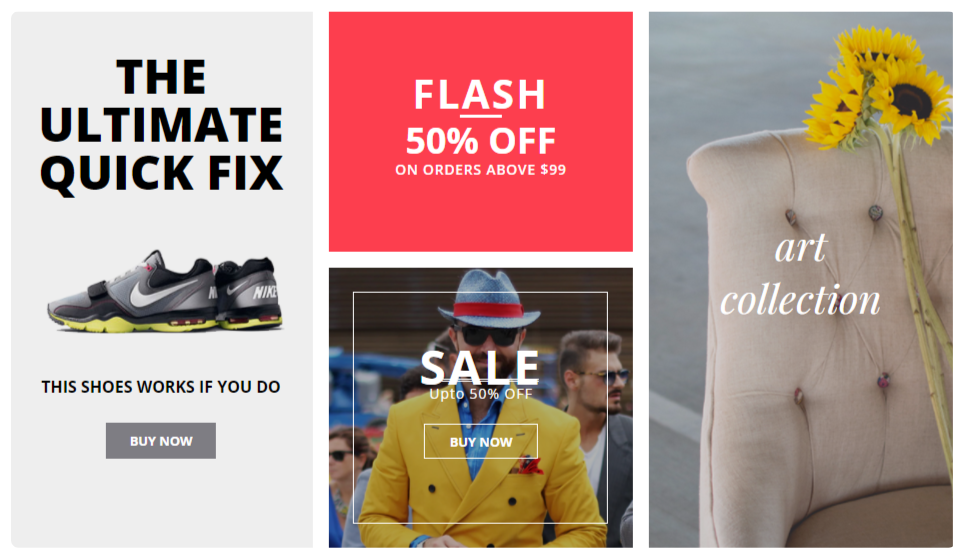 Promo boxes are the best tool to highlight deals and promote offers on a website. Many e-commerce websites use this marketing tactic to grab the attention of their visitors.
So, if you are looking for an easy way to display promo boxes on an elementor website, the PowerPack Promo Box widget is the best choice for you.
PowerPack Promo Box Widget is an advanced widget that allows you to create fully customized promotional boxes on your website.
You can add custom text content, add icons, choose icon types, and display buttons to create beautiful promo boxes. Talking about styling, with the promo box widget, you get a handful of impressive styling options that you can use to unlock your creativity and create aesthetically pleasing promo box designs.
Features of Promo Box Widget
Define Custom Heading, Sub-Heading, and Description for Promo Box
Enable Disable Icon Display
Choose Image as an Icon
Enable Disable CTA Button
Styling Options
Get PowerPack Marketing Widgets for Elementor!
PowerPack marketing widgets for elementor help you to create dedicated sections that you can use to improve your marketing game.
Apart from the marketing widget, PowerPack offers 60+ creatively designed widgets and powerful extensions that you can use to create beautiful websites.
If you liked this article, then share your thoughts in the comments section below. For more PowerPack tutorials, please subscribe to our YouTube Channel.