WooCommerce Product Categories Widget
Showcase WooCommerce product categories on any page with the advanced WooCommerce Categories widget for Elementor
Display product categories in a beautiful Grid, Carousel or Tile layout.
Features of Elementor WooCommerce Categories Widget
Easy Way To Display Product Categories On A Single Page
With the Woo-Product Categories Widget, you can display product categories anywhere on the website. Showcase all available categories on a single page and allow your users to shop the desired product from a wide range.
Product Categories Widget Demo
Flexible & Customizable Pre-Designed Layouts
Display product categories in stylish pre-built layouts. PowerPack Woo-Categories Widget includes Grid, Carousel, and Tile layouts for your product categories display. You can use any layout and customize it to your liking.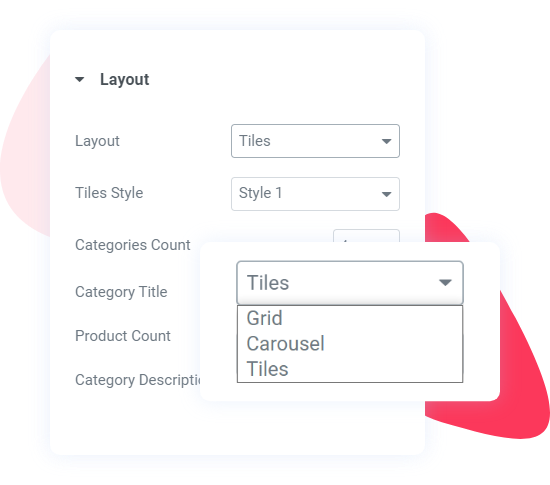 The Ever-Green Grid Layout
The most popular and user-friendly grid layout. Grid-based layouts present the best way to showcase products on an e-commerce store.
Stylish Carousel Layout With Advanced Controls
What's a better way to display product categories than a carousel. With PowerPack categories, you can show your woo-product categories beautifully in a stylish carousel layout.
Showcase Your Product Categories with a Beautiful Tile Layout
If you want something modern and elegant for your categories display, then the Tile layout is the best option for you.
Get Complete Control Over Content Display
Easily enable disable Category Title, Product Count, and Category Description. Adjust the content position according to images and set word limit for product description.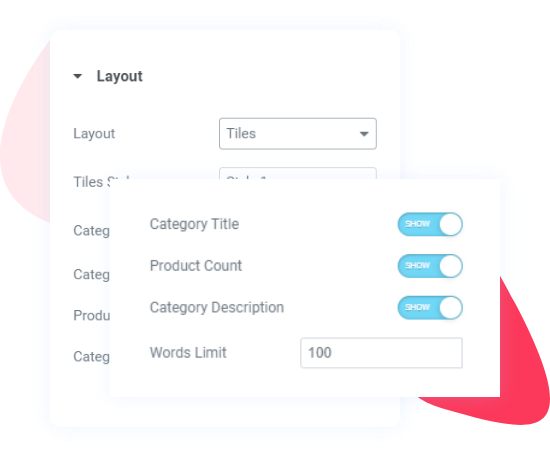 Advanced Filter Options to Display Only Specific Product Categories
With the Filters Feature of Woo-Categories Widget, you can easily apply filters on your categories display. Whether you want to display only specific Product Categories or wish to exclude some categories, we got you covered! Also, if you want to hide empty categories, you can do that as well.
Style Categories The Way You Want
Including all advanced features, you also get the extensive styling options to style & design product categories. You get complete control over layout design, color, typography for every aspect of the widget.
For layout customization, you can easily adjust Row & Column alignment, set border type, and add hover color to the border. For Content Customization, you get options to alter the content color, typography, alignment, etc.