Elementor Advanced Menu Widget
Meet the Elementor Advanced Menu widget by PowerPack Addons. Loaded with easy-to-use options and extensive customization controls. Create advanced WordPress menus with Elementor Menu widget. Complete control over styling for every element, along with various menu layouts.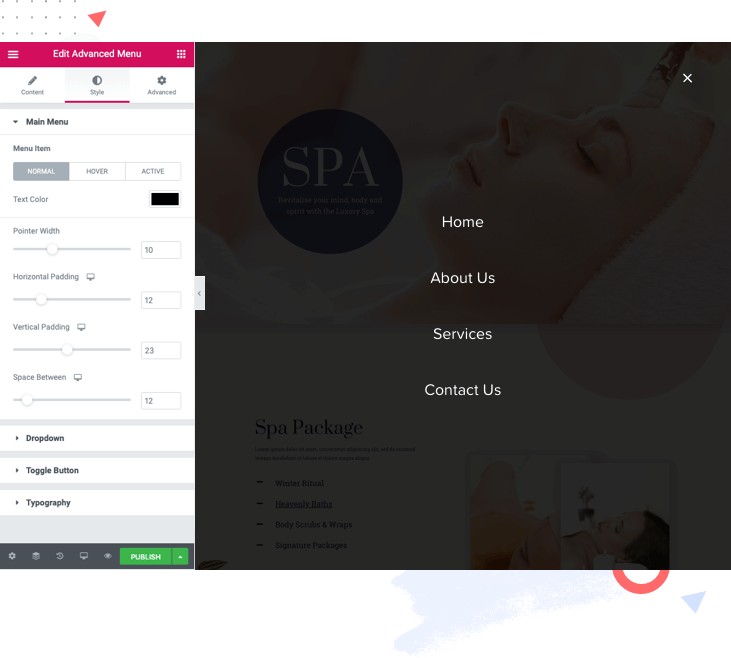 Full-Screen Overlay Elementor Menu For A Minimal Style
Minimal menu & header styles are in-trend. A lot of websites these days prefer to keep a simple navigation toggle icon that loads up a full-screen menu. Full-screen menus are good for small websites with a few pages and minimal design. You can create nav menus using Elementor page builder and include beautiful styles, semi-transparent or solid backgrounds, large text, a sleek close button, and more!
Build Stunning Off-Canvas Elementor Menus
Do you have a website with a lot of pages and navigation links but want to keep the header design sleek? Yes, we have all been there! Off-canvas menu layout with Elementor Menu widget is the perfect solution for such designs.
You can use the off-canvas menu for both minimal and complex designs. It keeps the navigation hidden and displays it in a sleek panel when the menu icon is clicked. Elementor off-canvas menu layout also comes with animation options to jazz up your website's design and style. It's time to get creative.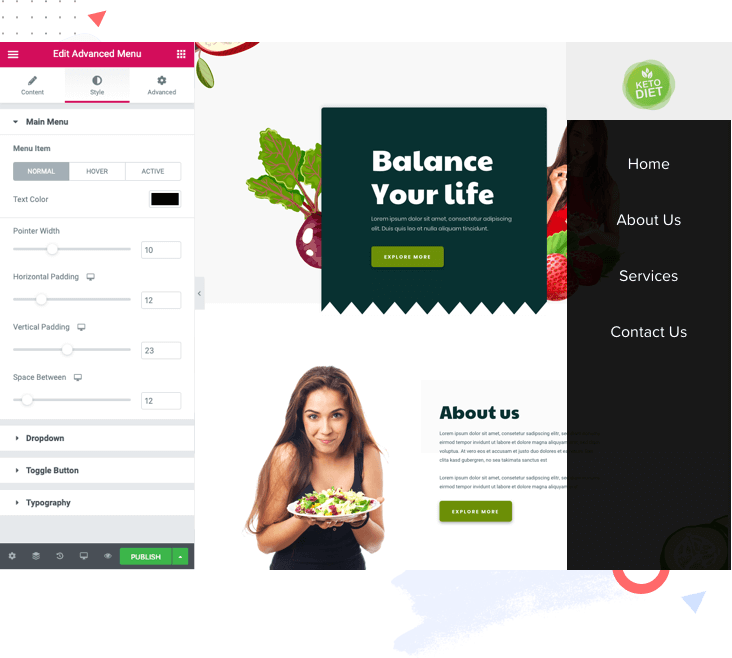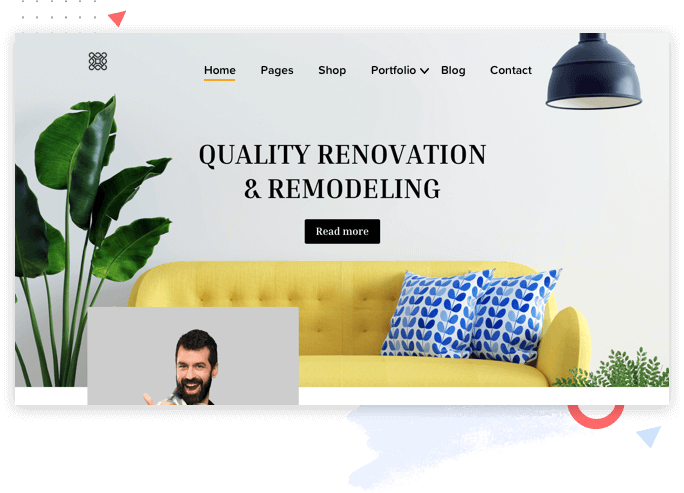 Create Beautiful Navigation Menus For your Elementor Website
Navigation Menus are an important aspect of every website as they allow users to browse through the content easily. Creating a WordPress menu with a beautiful style is now super easy with the Elementor Menu widget by PowerPack Addons. From minimal designs to complex ones, we have got you covered.
Pointer Styles & Animations
Interactive Elementor Menu With Pointer Styles & Animations
Adding hover styles for navigation items is important for interactive behavior. Hover effects make it easy for users to navigate the links. So, the widget provides multiple hover effect styles that you can easily choose from the drop-down options: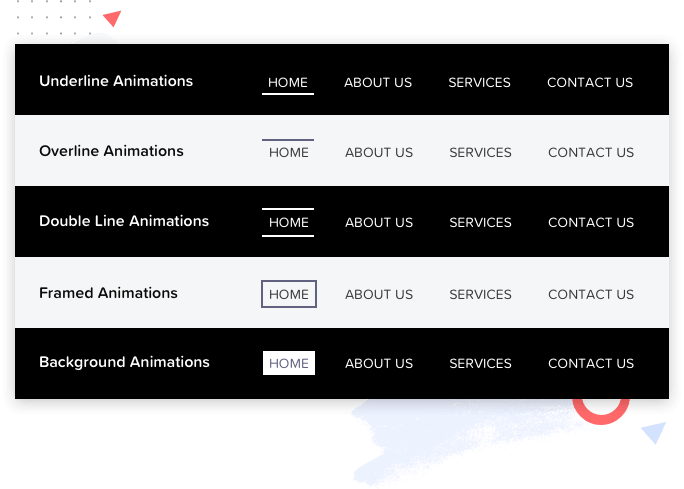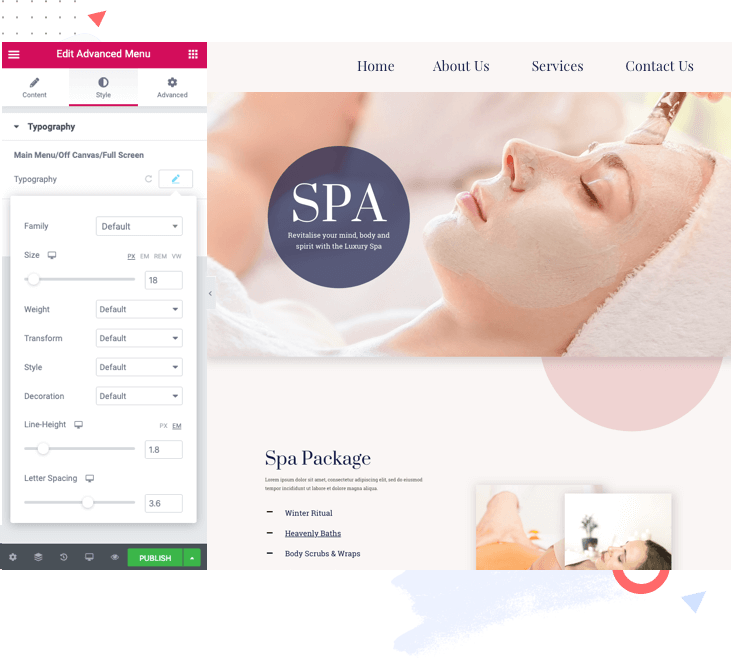 Typography, Background, Color options To Create Beautiful Menus
By customizing typography, background, and color options, you can create beautiful menus in a few minutes and clicks. Elementor Menu widget offers several styling options for almost every element of the menu. So, you can create minimal menus, transparent, semi-transparent, full-width, light, dark, almost any kind of menu!
Take Control Of Spacing & Alignment For Navigation Menus
We understand how important it is to have good control over spacing and alignment. A beautiful design pays attention to details. So, we have taken care of this by adding controls for spacing and alignment in Elementor Menu widget.
You can bring your designs to life with these spacing and alignment controls, along with several other styling options in the menu widget. Some of the features are: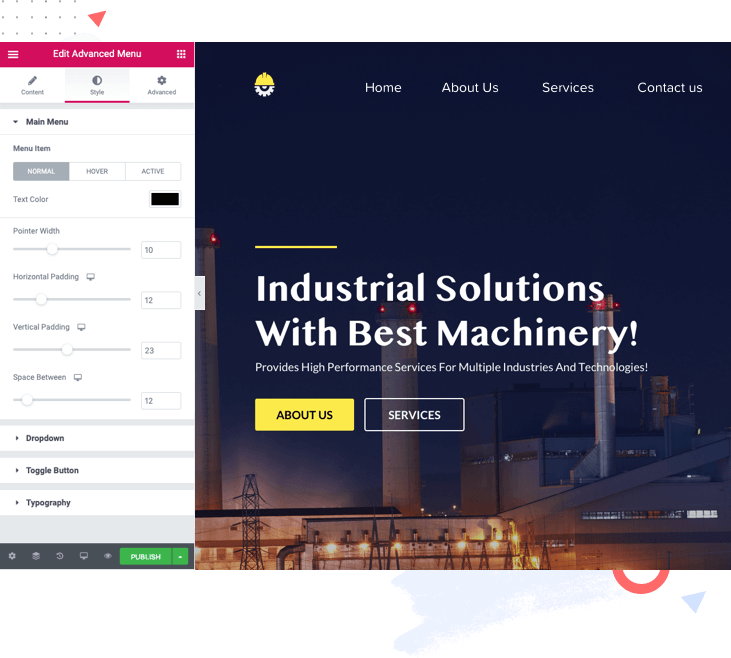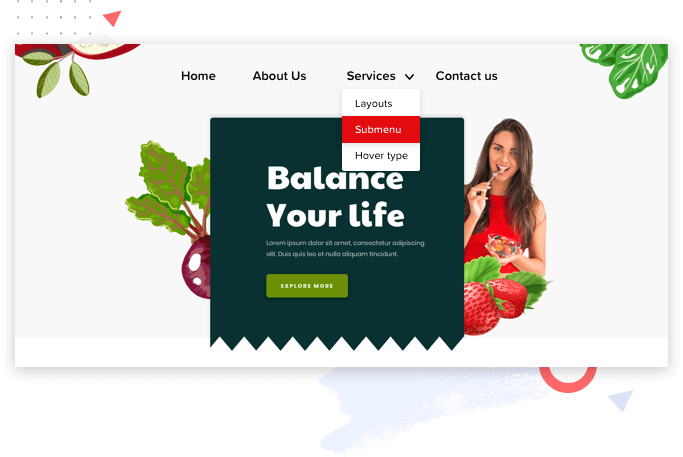 Sub-Menu Styling Options For Better Styling Menu Designs
Let's accept the fact that sub-menus usually do not get the attention it deserves. Why? Because it's painful to control the styling for sub-menu elements.
But not anymore! Elementor Menu widget by PowerPack Addons comes with styling options for sub-menu elements as well. You can adjust colors, typography, background, etc., and even add a separator/ divider style.
Build Completely Mobile Responsive Elementor Menus
The world is going mobile! We want our websites to look beautiful on all devices, from desktop to mobile. So, why not build menus that are easy to navigate on mobile devices?
Elementor Menu widget allows you to customize the styling for all device sizes and create accessible menus. You can also define custom breakpoint, adjust it to full-width, and select between icon or icon + text for the menu toggle actions. Here's a quick overview of the options: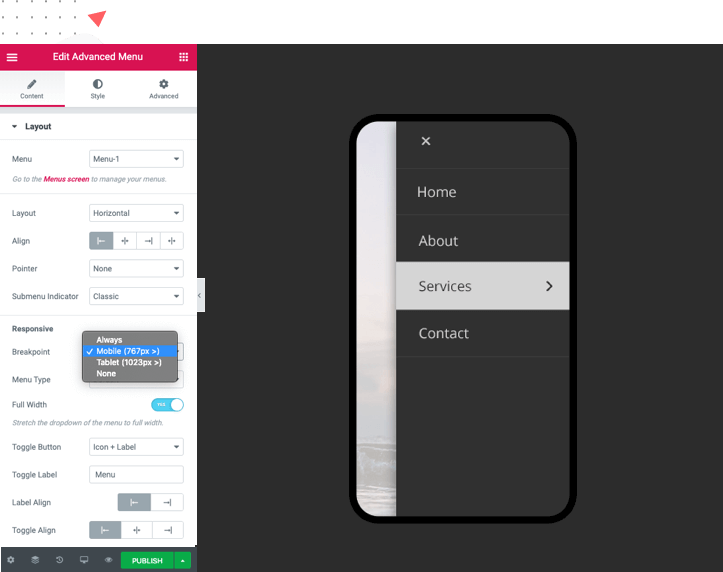 Evergreen Horizontal Menu Layout For Every Elementor Website
Most websites use a standard horizontal sticky menu in a fixed-width or full-width fashion. Elementor Menu widget can be used to turn these boring standard horizontal menu layouts into a beautiful navigation menu with styling options and animations. You get all the advanced features in one widget. No need to install any additional plugin to add extra functionality!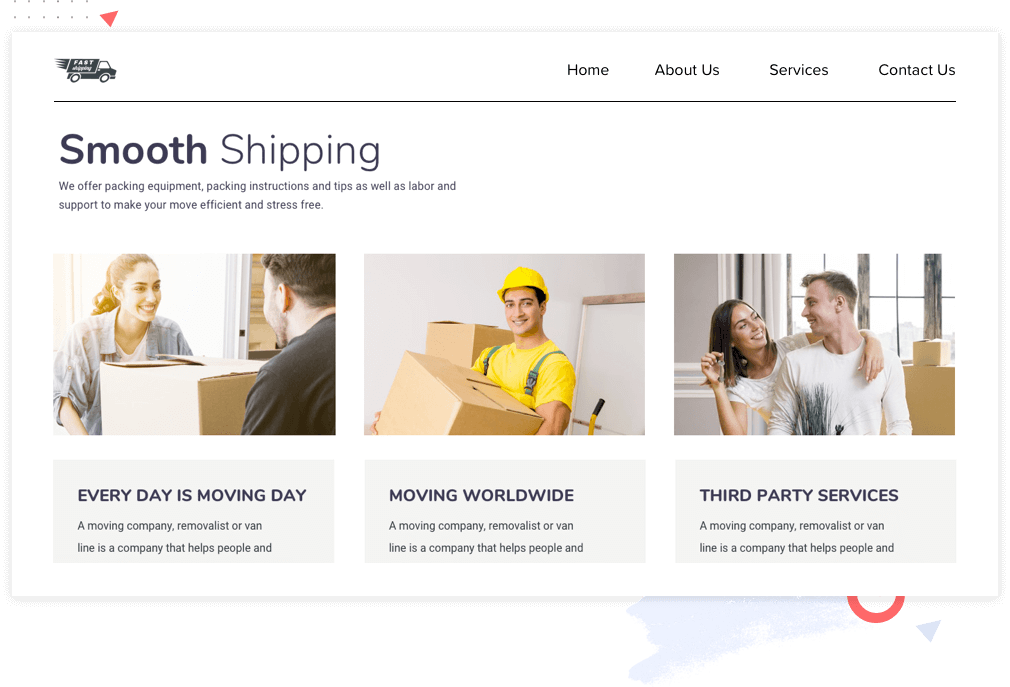 Create Unique Layouts With Vertical Menus
Designers can get creative with their website designs and so we have got you covered with this special Vertical Menu layout.
You can use the Menu widget to create simple and advanced vertical menu layouts.