Display Conditions for Elementor
Protect & Personalize Your Site Content with Conditional Rules
Take control of content visibility on your Elementor website with the PowerPack Addons Advanced Display Conditions Feature. The Display Conditions options give you the flexibility to show or hide content based on different custom rules.
Display Site Content Based on Different Scenarios
With PowerPack Addons Display Condition Feature, you can display your web page content only when it satisfies a specific condition.
Display your web page content only for a specific user. With the Display Condition Feature, you can show/hide different page attributes depending on WordPress user roles like Administrator, Subscriber, Author, Visitor, etc.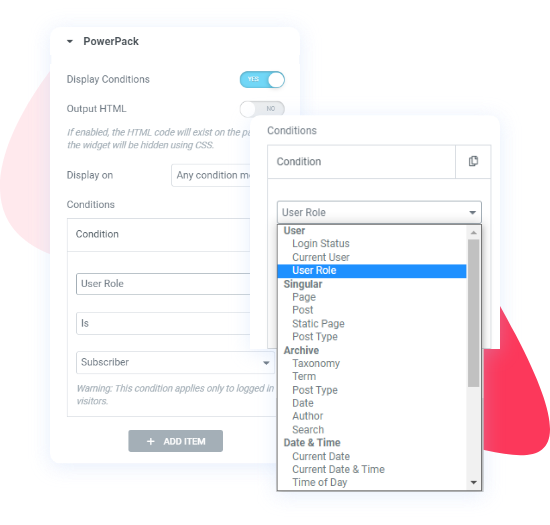 You Are Visiting PowerPack Site as a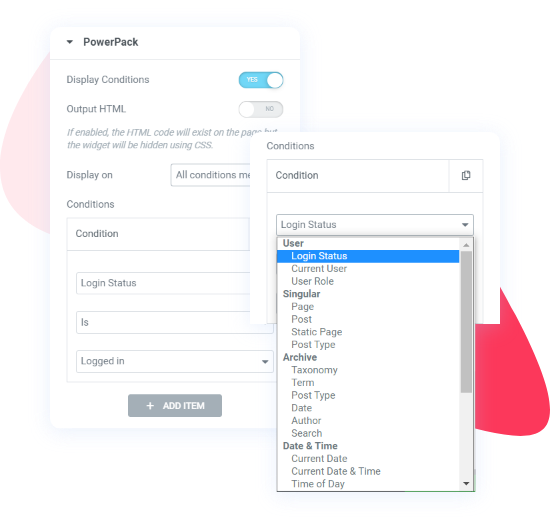 Get the flexibility to show different content to Logged In and Logged Out users.
You are visiting this site as Non-Logged In User, To Access Account and Manage Orders
Want to display your content on a specific operating system? Now you can do this with the advanced Misc option of Display Conditions Feature. You can show or hide content depending on the user's operating system. We have added all mostly used & popular operating system types for your ease.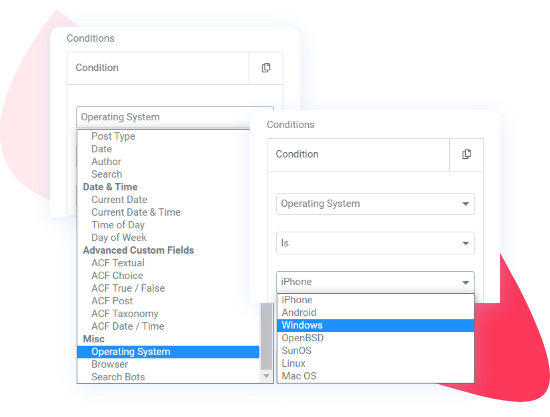 How to enable dark mode based on your OS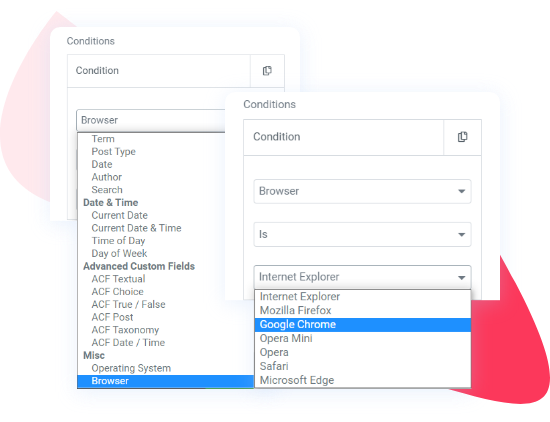 Set conditions & display specific content on a particular browser. PowerPack Display Conditions provides a list of popular browsers to condition the display of the element on.
Which browser am I using?
Want to run a campaign on a specific date range or wish to display special discount coupons specifically on a particular day or a festival?
You can easily achieve this with the Current Date Condition logic; you can set a date range on your campaign contents and display them on only specific dates. This is an excellent feature of your plugin discount if you are running promotions or have a limited-duration like BFCM.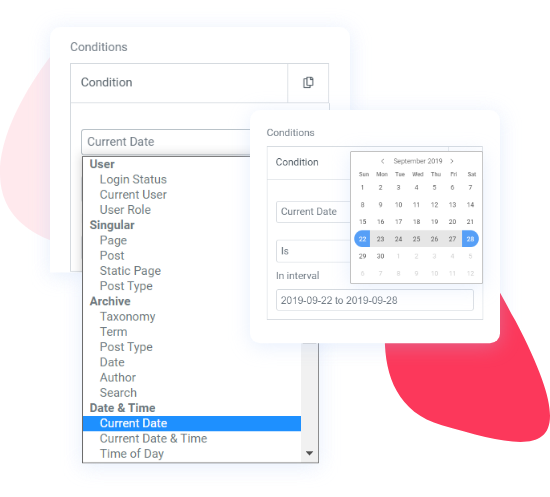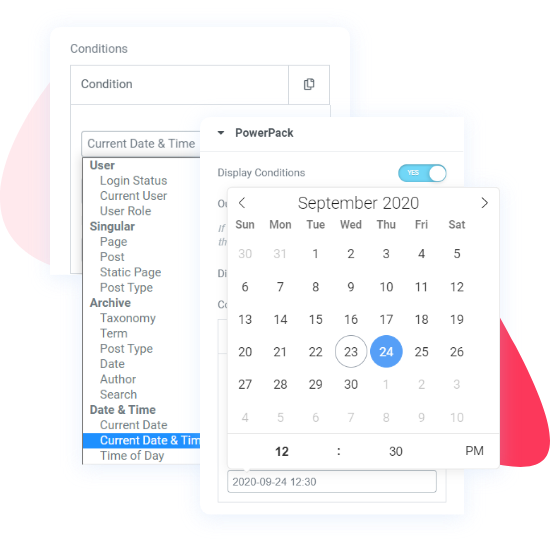 This display condition logic helps you to show page content on a particular date for a specific time. For example, you own an e-com online store and have major traffic on your site at late night hours. With the help of the Current Date & Time condition logic, you can show exciting offers on your website at that particular time. Impressive…isn't it?
As the name suggests, this display condition logic allows you to hide or display your page content at a particular time of the day.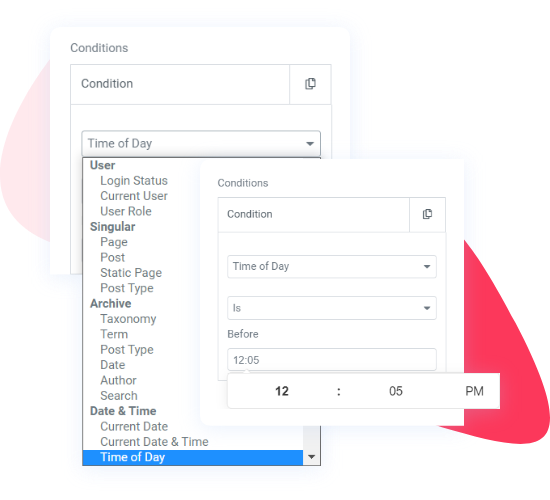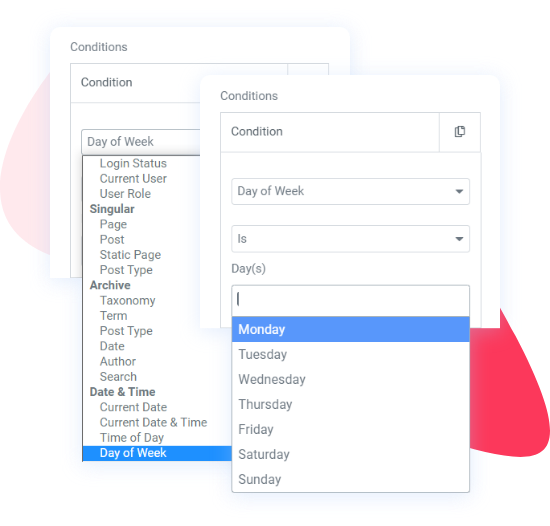 With this, you can display or hide your page content on a specific day. Let's say you want to show an offer on your products only on Sundays; you can easily do that by using Specific Day Condition Logic.
Just like Page rules, Archive rules can be highly useful for complex websites. You can set various restrictions for content based on the following options: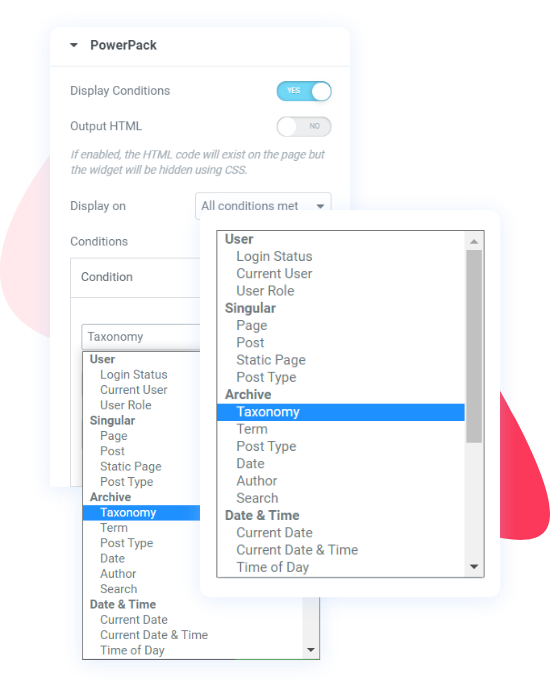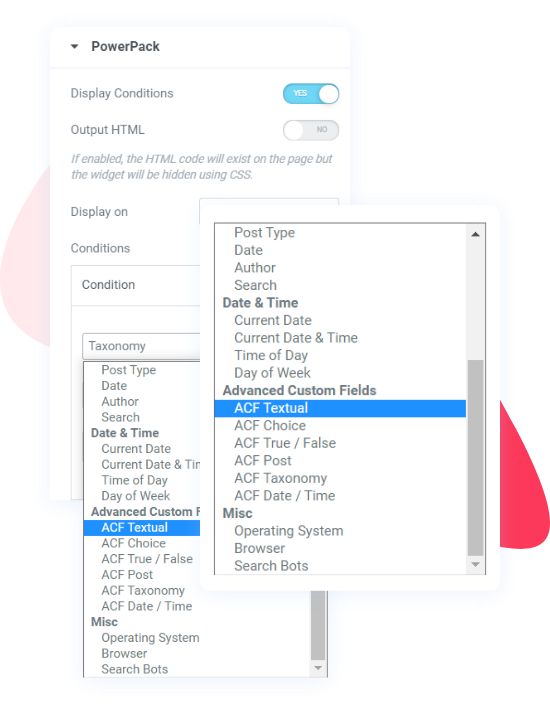 Apart from the conditions mentioned above types, with PowerPack Display Condition Feature, you can also add custom meta options using ACF to hide or show contents on a particular page.
Extensive & Unlimited Combinations
With PowerPack's Display Conditions, you can create unlimited combinations and advanced rules for your content.
This is a huge time saver, as you can do more with existing content without creating multiple templates.