PowerPack turn 2 years young!!! 😍
Today, we complete 2 years of this beautiful journey. From learning from our experiences to celebrating success, we have cherished each & every moment of our journey. We thank you for your continued love and support.
Having extensive knowledge in the WordPress ecosystem, our whole team always has a sense of responsibility to make powerpack better day by day. We received a number of feature requests & feedback from our clients. Keeping all those in mind, our team always improves PowerPack with each update.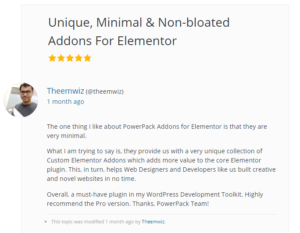 With each update, our team made sure to keep up with your expectations. We received your feature requests, feedback, and several appreciations via email, facebook comments, twitter updates, etc.
---
Let's have a look at our journey:
60+ Unique & Creative Widgets
PowerPack team believes in innovation, & to keep us ahead, we introduce 60+ unique widget & impressive features to PowerPack & WooPack – WooCommerce Widgets for Elementor. These unique additions help Elementor users to solve everyday problems users face. Some of the unique widgets are:
Creative WooCommerce Widgets
Five Star Ratings
We felt the love – many of our users showing their love and appreciation by giving PowerPack 5 star ratings.
50,000+ Active Installations
2 years back we launched PowerPack only with a pro version, and now it has 40,000+ active installs. A few months back, we launched a free version of PowerPack & it has received great response & love from all of you. Now both Pro & Free versions of PowerPack powers 50,000+ websites. We are glad & proud that we could help website owners and businesses to craft a beautiful online presence.
---
What's Coming Next?
Our team is dedicated to making PowerPack better by fixing bugs, introducing new features, & many more. After continued innovation & addition for 2 years, we still believe that there's a lot more to do with Elementor Addons. We are working on a number of new widgets & templates:
Some of the upcoming widgets  & features are:
BackGround Effects feature for Elementor
Fluent Forms Widget for Elementor
Formidable Forms Widget for Elementor
Special Birthday Discount
To celebrate our special day, we are offering an exciting 20% Discount on PowerPack & WooPack. This discount applies to both new purchases and upgrades. If you haven't got PowerPack/WooPack yet, now is the right time!
You can also upgrade your Licenses from 1 Year to Lifetime Package with this exclusive discount.
Send us your good wishes in the comment section; we would love to hear from you. 🙂